Blog posts categorized as: Backyard Chickens
May 16, 2016
Mosquitoes are a fact of life here in Dallas, but this year it looks like we're in for a bumper crop. The mild weather and additional rainfall this spring means a healthy crop of Mosquitoes. They are coming out in droves and are going to make it tough for you to enjoy any outdoor time once the rains pass.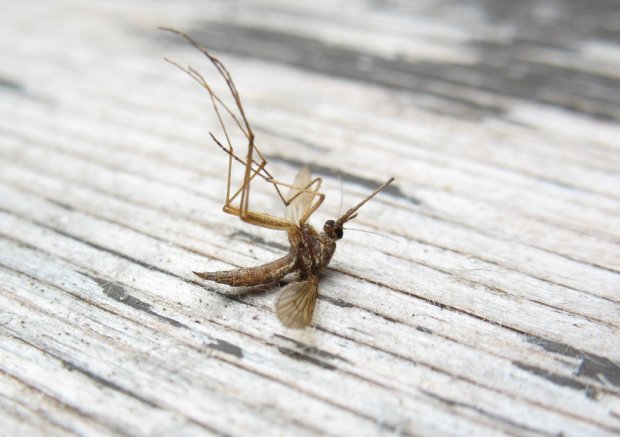 While you may feel there is little you can do to stop the mosquito invasion, there are actually some simple treatments you can use to stop mosquitoes in their tracks. While adult mosquitoes can be sprayed with chemical treatments, or repelled with natural sprays, it can be difficult to successfully control them in this manner. Prevention is always the best medicine.
All it takes is a few handfuls of a natural larvicide to successfully prevent mosquitoes in your landscape.
Bt (Bacillius thuringiensis var. israelensis) also known as Thuricide (liquid form) or Mosquito Bits, is an all natural and amazingly effective preventative treatment for mosquitoes. This naturally occurring bacteria is fatal only to larvae and caterpillars. The species included in this product is particularly effective against Mosquito larvae (and fungus gnats). All you have to do is sprinkle a few handfuls of the bits under your foundation shrubs, any landscape beds with automated irrigation or that you water regularly, drain boxes, low spots in the yard and even gutters.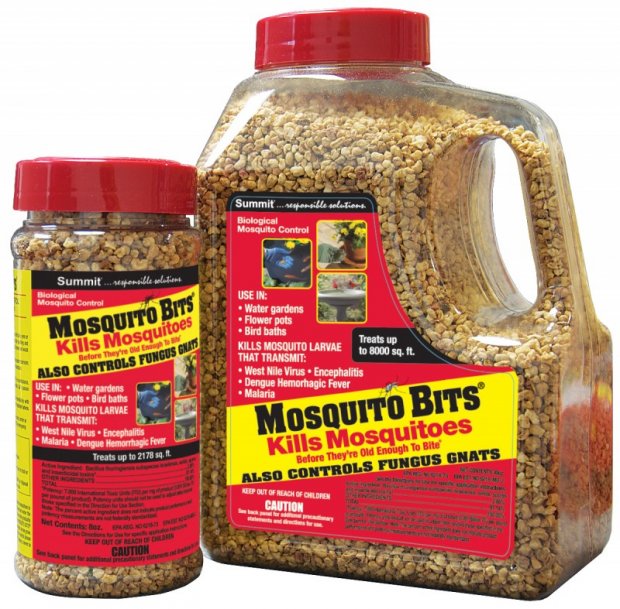 It's a good idea to start putting out your Mosquito Bits in April and continue doing so monthly through September.
The Bt attacks the mosquito larvae and kills them before they even have a chance to mature. This bacteria is safe for children, pets, birds and fish. It's the most non-toxic and most effective treatment for dealing with Mosquitoes.
If you live on a creek, pitch a Mosquito Dunk in it once per month to help control the population. Pass it on to your neighbors and ask they do the same. Do the same for ponds, birdbaths, abandoned pools, or any other standing bodies of water in your neighborhood.
Hopefully, you haven't been contributing to the moisture problem by running your sprinkler systems when it's already rained...or is currently raining. All it takes is a small puddle of water for new mosquitoes to breed. When soils are already saturated, excess irrigation will only make the problem worse.
Preventing mosquitoes now is the best way to prevent a serious infestation problem this summer.
Mar 30, 2013
Last week I had the pleasure of doing an interview with Ken Druse of Ken Druse's Real Dirt blog and podcast. It's a really interesting podcast that covers all sorts of gardening topics and gardening experts for both home gardeners and industry folk like myself. We chatted about gardening trends, how to get people interested in gardening and some of the challenges about perception in the industry. If you'd like to listen you can head over to Ken's blog HERE.
Al little about Ken...he has been called a "gardening superstar." With sixteen books to his credit, frequent television appearances, regular articles for leading national newspapers and magazines, and now with his Podcast, he is one of the nation's leading voices of natural gardening. His groundbreaking book, "The Natural Garden," initiated a design movement that continues to grow in popularity today. Check it out!
Mar 9, 2013
Now that the days are getting longer, you'll probably see a big uptick in the number of eggs your girls are delivering on a daily basis.
Here is what I'm snagging from my coop these days...I currently have 7 hens a workin' (so in this photo there are a few from the previous day).
A chicken's egg laying cycle is dependent on photoperiod (length of darkness) and temperature. Different breeds are more or less sensitive to these environmental factors. So I often hear folks complain about the lack of eggs in the winter and they wonder what they're doing wrong. Nothing! It's just the natural cycle of things. My Silkies actually layed a few eggs here and there over the winter, as will my Barred Rock and Ameraucana. But the others; Polish & Faverolle won't drop a single egg in the winter. Others do better in the summer. This has nothing to do with whether you have chickens in the city, or in the country (I've been asked that as well.)
I also hear folks talking about putting a light in the coop during winter to extend the photoperiod. That' s all fine and well if your goal is heavy production at the cost of a short egg laying life span of your birds. Artificially modifying the photoperiod can stress your chicken's endocrine system. In commercial production, that's not a concern because laying birds are usually sacrificed after 1-year. But in a home flock, you usually have the quality and length of life as a concern with your birds.
So give your girls a break, would ya? When they are in season, they work hard! Everyone needs a little winter rest right? Happy spring!
Nov 8, 2012
It's Garden Giveaway time! Live in the Dallas, Tx area? In need of a professional Horticultural Housecall? Want to start a veggie garden or maybe keep backyard chickens? Well, you do for me and I'll do for you! I'll be giving away an in-depth home garden consultation, which typically values at $175-$250. Seriously? Seriously!
First, head on over to my Halleck Horticultural Facebook page. To enter, write a once sentence comment on the Garden Giveaway post about why you need my help, and please share the post (or recommend my FB page) on your page if you think you have other gardening friends who could benefit from my expertise. I'll let this giveaway run for a week, and then I'll randomly pick a winner from the list of comments (yes, I'll write all your names down and put them in a hat so that it's fair!)
I'll announce the winner next Wednesday 11/14 so be sure to check back! You can read more about my consultation services HERE.
Jul 9, 2012
I don't even know what to say...I mean, could fate BE any more cruel?? Yes...my favorite, sweetest, most docile adopted Silkie, has turned out to be...a BOY. Really? Really??
If you've been reading my blog for a while, you may remember how these Silkies came to live with me. It wasn't by choice. I wrote THIS post on February 20th of this year...after someone abandoned a box of baby silkies on the door step of the garden center I run. Either in the middle of the night or very early that Sunday morning. It was cold, and the poor babies had no food or water. So of course, my store manager called me...and up I went to retrieve them. They were about 12-weeks old and all had CRD, or chronic respiratory disease, so it took a lot of hand nursing and antibiotics to get them back on track. The first one died within three days and it was a struggle with the remaining four, but eventually they pulled through. All were clucking along nicely, until the partridge colored one, (buff/blue) died mysteriously a couple of weeks ago with a wound to the stomach. So, then there were three. All fluffy and cute, all black.
Now, it can take 6-8 months for silkies to reach maturity, and it can be notoriously difficult for even an expert to sex the birds until they reach that age. So this was a lot of work that had gone into taking care of these birds I hadn't planned on...and I was worried I was going to get stuck with all roosters. That would be my luck, right? So I kept my fingers crossed that the remaining three were girls. At least then I'd get to keep them. I was pretty confident about two of them, and those two have confirmed themselves as pullets just in the last week by starting to lay the tiniest cutest eggs; but the third showed a slightly different morphology...the feathers were a bit different..but no comb or waddles yet. Until about the last month (which would be right on schedule). Yes, yes, I know that I've been in a state of denial. Why? Because he's the sweetest bird. Seriously. I didn't figure that the most docile sweetest bird of the bunch would turn out to be a boy. And now I don't want to part with him.
As his comb grew larger and waddles developed, I knew I was probably in for major disappointment. As of today, I can no longer choose denial. I mean, look at that pose he's making above? THAT was him being his proud self right after trying to awkwardly mount two of the girls just a couple of hours ago. Yep, and in that moment he became...Rico Suave. Even so, he's still my sweetest bird. Now, he hasn't made a sound yet and I'm not sure how long that will take or if he'll even make much noise at all. As you may know, Dallas ordinance prohibits keeping roosters. Not because they are a nuisance, but rather certain people made nuisances of themselves by engaging in cock-fighting. So thanks for that you jerks. In any case, I'm going to have to find a loving new home for this dude with someone in a city that allows roosters. At least I'll have a couple of girls to hang on to. They just don't like me as much as Rico does! Whaa.
So, after 5 months of nursing, hand feeding, raising and becoming attached to him, Rico has to go. He's a beautiful boy and would make nice breeding stock if you are raising silkies, or just need a man around the house. You'll need to live in the DFW area (but not city of Dallas), be able to meet me somewhere in the DFW area, be able to show me that you have experience raising chickens and a photo of your secure coop and run. He's had a good amount of space to roam and I'd like to keep it that way. He's been raised completely on certified organic feed and gets plenty of fresh greens and worms. So I'll be looking for someone who raises their birds similarly. I have no idea if he was given any vaccinations when he was a baby...he was successfully integrated into my existing flock, who were all vaccinated for Merecks, but nothing else. All are healthy. All the birds get along very well, and he's pretty docile with all the girls, but that took about 4 weeks of transition time after moving the silkies from a separate enclosure. Everyone needs a little time to work out the pecking order. Realize that silkies are smaller than other breeds. Even though he's a rooster, there is the possibility that he could get ganged up on by your birds, so a gradual transition is always recommended. You'll need to plan on quarantining this new bird from your existing flock for 30 days just to be on the safe side in terms of health.
Please comment on the post if you have questions or comments, or if you'd like more information about adopting Rico please email me directly through my contact page.
Jul 1, 2012
Interested in interesting people of Dallas? Check out the new Dallas People 2012 issue of The Dallas Observer that's on newstands right now. Jim Schutze of The Dallas Observer was kind enough to include me in the issue and I'm honored. This chicken thing has gotten pretty popular...but I swear, I'm a horticulturist! But I'll go ahead and take that new title of "The Chicken Quihote" and slap it on my resume. Why not?! LOL
Jun 15, 2012
Ready to pick up some birds for your backyard chicken flock? North Haven Gardens is hosting their monthly chicken sale tomorrow, Saturday 6/16 from 10am-1pm or until sold out. It's first come, first serve. Plus, NHG has some gorgeous plants in stock in the garden center right now and lots of it is on sale. With this mild weather and rainfall, it's a great time to plant!
May 18, 2012
This is the gang that's waiting for me every morning before I leave for work and every evening when I return. Yes, they do call me mommy. What a gang they are! Ready for your own urban backyard flock? North Haven Gardens is having their monthly pullet sale tomorrow Saturday, 5/19/12 from 11am-2pm, or until sold out!
---