Blog posts categorized as: Roses
Apr 14, 2017
The "Terrible Twos" aren't just for toddlers.
If there is one thing that gardening can teach you, it's patience. Crafting a beautiful garden or a productive veggie bed takes time and practice. Many failures will happen on the road to success. Often, we head to the garden center with a vision; then expect that vision to manifest overnight. Rarely is that the case and disappointment ensues. Whether you're building your garden DIY style, or having it designed and installed by a professional, you're going to have to give your plants some time to settle in an come in to their own.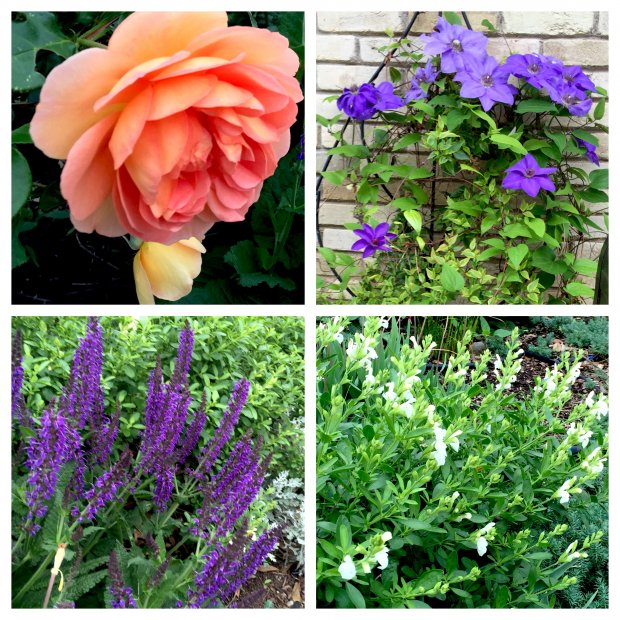 These are images of plants hitting their third year in my garden, when they really started to put on a show (after looking fairly pathetic for the first two years). Rose 'Pat Austin', Clematis 'Ramona', Salvia 'May Night', white Autumn Sage.
For most small shrubs, vines, perennials and perennial bulbs, the third year in the garden is the charm. As the old garden saying goes "the first year they sleep, the second year they creep, the third year they leap!"
When newly planted, you must remember that your plants are basically still container plants with a limited root system. You're going to have to water them more often and you can't expect much top growth within the first year. Most of the plant's energy needs to go towards developing a vigorous root system with which to take up water and nutrients.
By the second year, plants will begin to put on some top green growth, but don't expect peak performance or an abundance of blooms. Roses and perennials may still seem a bit scraggly. This is the stage when you might start questioning your plant choices and think that they "should be looking better by now". Hold tight.
It's typically the third year in the garden in which your plants will begin to reward your patience. This is when they'll start to look like the specimens you see on the tag or in that glossy plant catalog. You'll typically see a growth spurt of top growth and blooms. Now, this doesn't mean that it takes three years for all plants to reach their mature size; while many herbaceous perennials will come into their own during the third year, it often takes much longer for larger shrubs and trees to reach their desired size. But it is the time when you can expect to see a significant flush of new growth on most plants.
Now, for larger trees know that it often takes much longer for them to get established. The three year rule is still works for most trees 10-gallons, or smaller, when planted. Large-caliper trees can take more than three years to really begin to put down a good root system and start putting more energy into top growth.
So before you rip out your scraggly perennials or blame your landscaper and and ask for replacement plants, remember that just like you would your toddler, you need to give your plants a chance to grow out of their terrible twos.
Jan 17, 2016
Rose Rosette Disease: If you love your roses, then what you see in the photo above should move you to action immediately. The effect might seem "neat" but those witch's broom clusters of growth mean your roses have only a short time to live.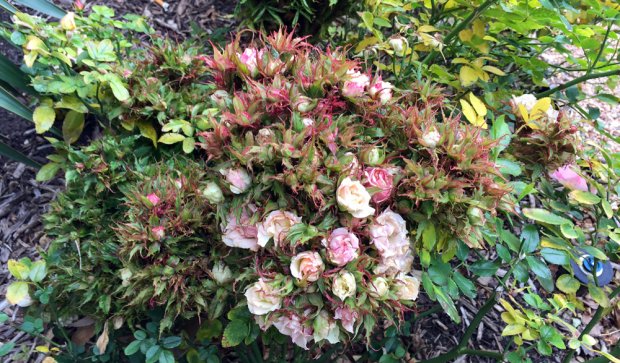 Rose rosette disease is a terminal virus that affects all types of roses. While your plants may limp along for an average of about 22 months after infection, death is inevitable. There is lots of research going on now to combat this destructive virus, there is currently no cure. It is a virus.

The best thing you can do for your landscape, and that of your neighbor's, is to remove the plants immediately. Don't compost them. It is best to bag them and dispose of them. The virus is spread by a mite that moves from plant to plant. Leaving infected plants in the ground will only cause more plants to become infected.

I provided a link below to an article I wrote on Rose Rosette for an industry publication last year that you may find helpful whether you're in the green industry or a home gardener.
A Plague of Roses, Garden Center Magazine
Aug 28, 2014
In the Green Industry, June,July and August are crammed with trade shows and conferences so that us plantgeeks can stay up to speed on all the new & cool plants, products and technology. My suitcase has pretty much stayed packed for the last three months! I'm happy to be back in Big D now and will be sharing photos and thoughts about all the garden goodies and landscapes I visited in my travels. Cinncinati, Columbus, New York, Portland and San Antonio...lots of photos to come!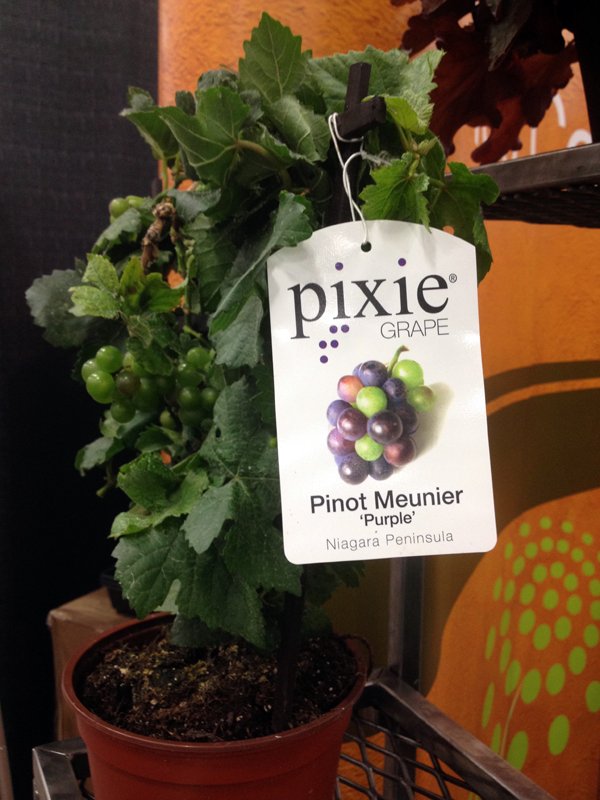 My favorite new plant release so far...the Pixie grape! Tiny wine grape plant that grows to only 18". Perfect for patios!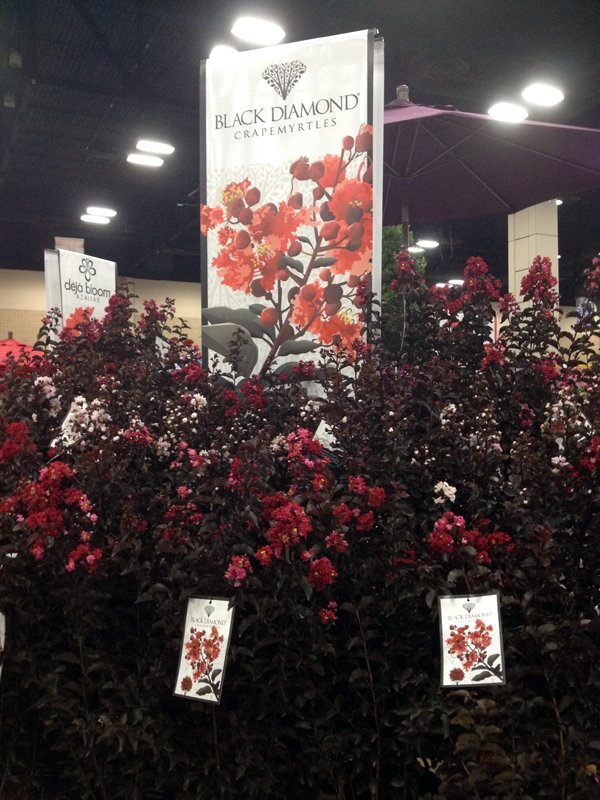 I love black foliage...several great new colors of Black Diamond crapemyrtles will be available 2015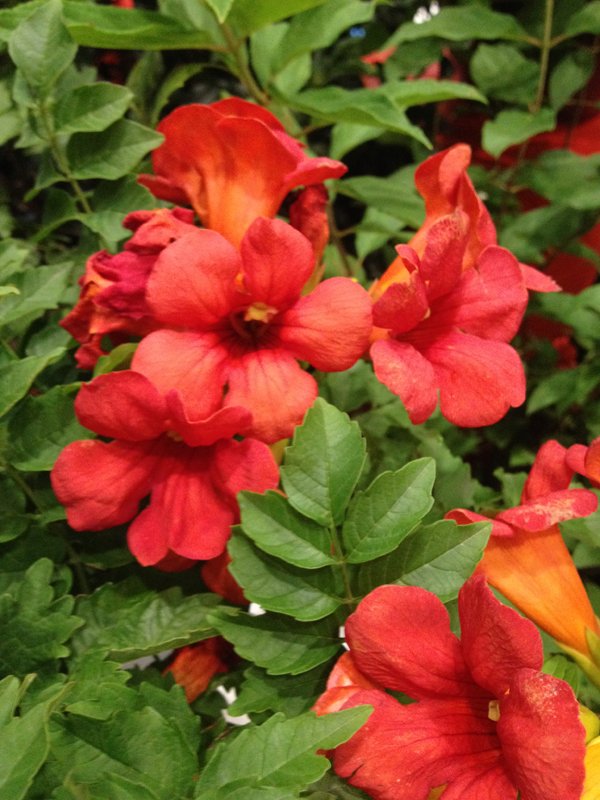 A non-invasive shrub forming trumpet vine? Wha?? Summer Fire Jazz Campsis is gorgeous!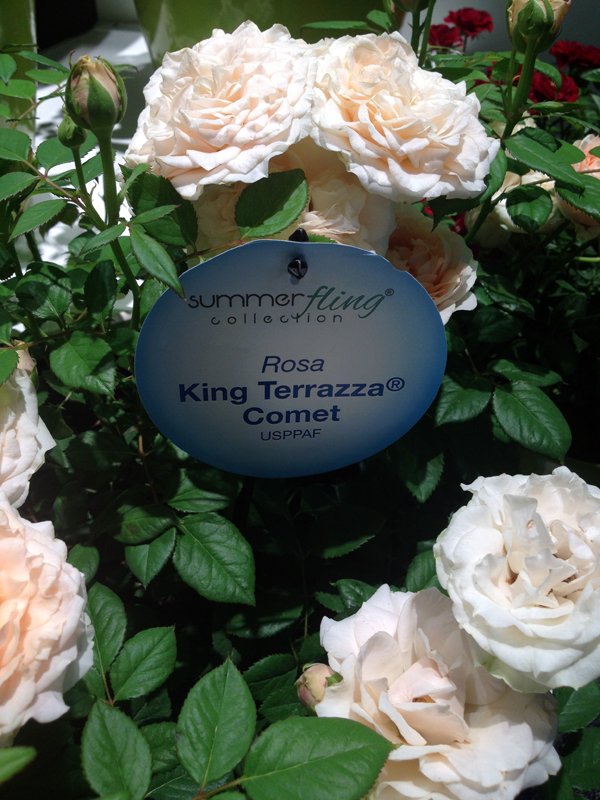 Not that they won't melt here in Texas (can't say yet) but the King Terrazza series of roses are really beautiful. this is Comet.
I have tons of stuff to share, but it's going to take a bit to get through the photos!
Apr 14, 2014
When you're a gardener, every day that makes up the transition from winter to spring is like having a birthday. We can't wait to hit the garden each day to discover emerging bulbs, leaves and blooms. Each new bloom sends the endorphins rushing through our system. Seriously...plants are like a good dose of crack to us plant addicts. I have no plans to kick my habit any time soon. Or ever.
So what's blooming? Now that the final tulips are exiting stage right, my garden will transition over from what has been a predominance of white flowers to purple. Everything is coming into bloom a bit late this year due to the extended cool temps.
The white bearded iris are always the first to bloom in my garden and around town. They are always my first official signal that spring has arrived. These beauties will soon be followed by purples and blues.
The butterflies should be showing up in no time now that the Scabiosa (pincushion flower) is peaking out.
These are the best smelling blooms around! Texas mountain laurel is one of my absolute favorite plants. This is the first time this young plant in my garden has bloomed!
'Joe Woodard' rose is just peachy, and the first to crack a bloom this spring. I love this tidy compact bloomer.
Savia 'May Night' is kicking into gear with some stunning electric purple blooms. The cool temperatures are really amping up the flower colors this spring.
All the crossvine has expoded into flower in just the last couple of days. Gorgeous! There's lot's more going on in the garden, but I'll save some for later. What's blooming in your little patch of happiness?
Jan 21, 2014
I have gotten some push back about it being too early to prune roses (per my mention yesterday on Facebook that it was getting close to time to prune mine). Here's the problem - target dates for pruning roses fall between the beginning of February and Valentines Day here in Texas. BUT, here in Dallas (8a) we often have roses that are budding out before those dates.
The best time to prune roses is just before bud break; meaning before the new leaf buds start opening. Ideally, we wouldn't prune until after the last average frost date. Well, here in Dallas that isn't until late March. If you waited until then to prune your roses, you'd find that many of them might be fully leafed out and starting to bloom! So that's not going ot work. If your roses are already budding out (you'll see small leaf buds beginning to swell and turn a redish color) , that is a signal that it's time to prune. That may happen before the typical target dates, as is happening in my garden right now. I've found that for the last three years in my current garden, if I'd waited until Valentine's Day to prune my roses most of them would have already been leafed out; so it would have been too late. I'm often pushed back to the 3rd to last week of January on my pruning, and that has been effective.
Pruning times depend on your specific location, micro-climate, exposure and types of roses (don't prune climbers until late-spring after flowering). Some types will bud out faster than others. My hybrid English roses are a bit slower than the others in my garden. Different classes of roses require different amounts of pruning. The closer you are to the original rose species, the less hard pruning you'll want to do. Whereas modern hybrids that bloom most prolifically on new growth will need heavier pruning.
There are standard "rules" to follow in gardening...but climate changes and your individual situation varies, so these "rules" aren't always black and white. The micro-climate in my back yard, which is south facing, is significantly different than my front yard, which bears the brunt of a much colder northern exposure. There is often a good 10-20 degree temperature difference between the two spots. You may find that the roses on the southern side of your home need to be pruned earlier than those on the north side. Or your home may be buffered by many surrounding homes or structures that keep your garden a few degrees warmer than the neighbor across the street with a large open property. Gardening is very local. The art of gardening is learning when to follow, bend or break conventional "rules" based on your individual situation. You must spend time in your garden to observe growth patterns of your plants year to year. You can't just follow rules from a book, or any one person. Good guidelines are what folks like me can give you. But you have to put in the time in your particular garden to learn its nuances and unique characteristics.
If your roses aren't budding yet, then don't prune them. Pruning before bud break, which is too early, will push your plant into early budding making the new growth susceptible to cold snaps. But, if your roses are already budding out, you can't stop them. You may just have to cover plants if we get another hard freeze. If cold temperatures return and the bud development stalls, then wait to prune. But if plants keep pushing out bud growth, then you may need to go ahead and start pruning. If you wait to start pruning until after they leaf out, you risk losing the opportunity to clean/shape them properly, encourage the most possible blooms and potentially damage new growth.
Rose pruning is always a bit of tricky business. So I'm not telling you when exactly you should prune yours. Watch your plants and monitor the weather. Gardening is a verb folks!
Mar 3, 2013
Ok guys, it's time to get planting! Now is a great time to get roses in the ground in Texas. Independent garden centers should be flush with their new 2013 inventory of rose plants and it will be the best time for you to find those special varieties you may be looking for. Remember, good drainage is key. Amend your soil with organic compost and expanded shale to improve drainage. Fertilize at planting time. It's too late to prune back your roses, at least in the North Texas, DFW area. But you can do some light pruning in August along with another fertilization. You might think I have enough roses...NOPE. I'll be planting six new 'Polka' climbing roses along my West side fence this week. It's ther perfect shade of peach...
Feb 6, 2013
Ok folks, if you in DFW, you're going to need to go ahead and get your roses pruned! Roses are already budding out and if you wait too long, you'll end up removing too much new growth. Normally, Valentine's Day is a good pruning target. But with this warm weather, you need to get on it asap! Fertilize with a rose food after pruning.
Jul 2, 2012
There's a pretty hefty outbreak of Rosette disease making it's way around North Texas right now. You may be well aware of this if you have an 'Knockout' roses in your garden as they've taken the hardest hit this spring. What is Rosette disease you ask? Well, it's thought to be a virus (but the organism itself has yet to be identified) spread by the eriophyid mite, Phyllocoptes fructiphilus, or by grafting.
If your rose plant/s are infected, the first symptom you'll usually see is rapid elongation of new shoots, followed by something called "witches' broom". The new stems are stunted and begin clustering into many small branches. The leaves will be distorted and tend to be very red in color.
The problem with this disease is that it is as of yet un-cureable. The infection will typically kill a small or young plant within two years. A larger more established rose can survive as long as five years. But if you allow infected plants to stay in your garden, you'll only expose the rest of your (and your neighbor's) healthy plants to the disease. Sadly, the best option is to dig and remove the plant completely. Roots and all.
Because the causal agent of the disease is not soil borne, you should be able to re-establish new healthy roses in the spot where you removed the diseased rose. But you must make sure you remove all the remaining root tissue from the soil. However, if there are other infected plants nearby, or wild multi-flora roses growing around your neighborhood, your new plants can be re-infected by the mites as they move from plant to plant.
When you garden organically, as I do, the focus is on building healthy soil to grow healthier more vigorous plants. And yes, vigorous plants with a strong immune system are better able to ward off any number of pest and disease issues. Because I have faith in nature I'm sure that there may be rare cases of roses being able to run the course of the disease and survive. I just don't have any real documentation of that happening. While we might wish it did, gardening organically does not make your rose plants immune to this viral disease. While feeding and pruning your infected plants may make you feel better and hope that you can cure it with love, it's still not a cure. As I stated above, you can limp an infected plant along for a few years...but remember your infected plant is still acting as a host for the virus, which can easily spread to roses in the rest of your garden if the mites are present, not to mention the rest of your neighborhood.
Do us all a favor: The best horticultural practice when you have Rosette is to remove the plant and roots completely in order to stop the spread of the virus. Amend the soil with organic compost and apply a bio-stimulant (like Medina soil activator) and/or product that contains mycorrhizal fungi (Espoma Bio-Tone is a good one). Then, you can either try replanting with new healthy roses or a new species.
photo courtesy Virginia Cooperative Extension Service
---