Blog posts categorized as: Gardening No-No
Feb 26, 2016
Too often, noob gardeners and plant lovers are discouraged from further cultivating their green tendencies due to the killing: The killing of their plants. Guess what noobs...you think you've got black thumbs? Puhlease. Let me assuage some of your plant-death guilt by telling you that as a professional horticulturist, I've killed way more plants than you ever will in your lifetime. EVER. And guess what else? That's ok and I'm going to keep doing it. With relish.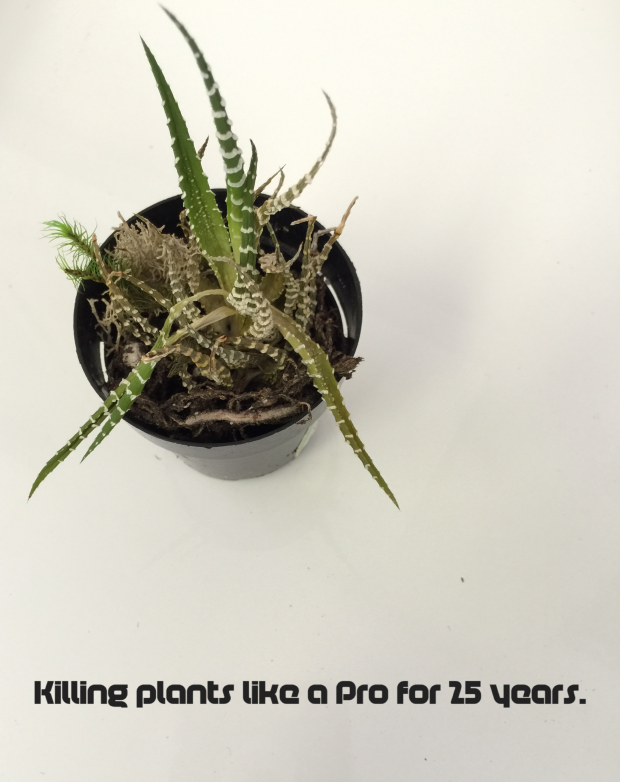 The world will not end and you get to try again. In fact, killing plants is the only way you really learn how to grow them the right way (good thing it doesn't work that way with puppies).
People get really touchy about this subject. Many, after killing only one plant, give up plant-keeping and gardening althogether; before they've really even gotten started. Is it sensitivity? Or Ego? Do we think we're entitled to get everything right, all the time, the first time? C'mon. Cut yourself some slack and allow yourself to enjoy both the fleeting joy and the wisdom you'll gain from killing a few plants now and again.
Same goes for cut flowers and blooming gift plants. Why must they be permanent? What do we think they owe us? C'mon. Surround yourself beauty. Even the fleeting kind. It's worth it.
OH, and the best part of killing plants? You get to buy more. I'm just sayin'.
So what...you forgot to water the philodendron in your living room and overwaterd the echeveria, both to death. Show me your dead philodendron and I'll show you the 100 I've murdered.
Walk it off. Go buy more. Figure it out. I BELIEVE IN YOU.
Now, go get your garden on this weekend. No excuses. Toughen up cupcakes
Mar 27, 2014
I've decided I have to start a blog series called "Gardening No-No". I'm witness to far, far too many hijackings of horticulture by those who obviously know not of what they do. First up in my series of "please don't do its" is THIS hot mess: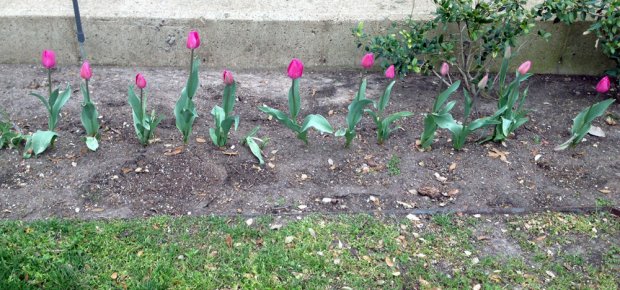 Don't do this.
Ok...really? And this is not an isolated incident. First off, don't plant tulips in rows. It's a Gardening No-No. Because LOOK AT IT. Next, please plant some color, like pansies or violas, on top or in front of your tulip bulbs. Or at least put down some mulch if you're not going to plant any color.
I assume that most people invest in tulips because they want them to look like this: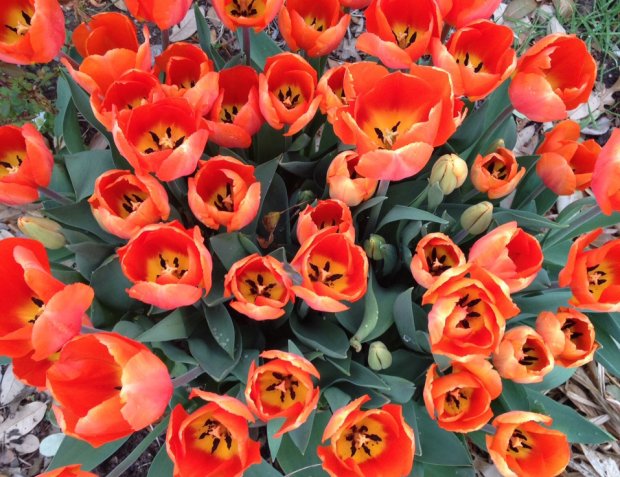 Do this: Tulip 'Lightning Sun' in my garden today
If that's what you want, then you're going to need to plant about 5x the tulip bulbs than you think you need. Always plant more than you think you need. Cluster them in clumps or large swaths for a more natural look.
Also, for anyone who isn't having a good tulip year....meaning they are blasting (blooming way too short), then the bottom line is you're probably not planting them deep enough. I've never had a bad tulip year in Dallas, or a bad year in any of the years I programmed all the display tuilps for the Dallas Arboretum. There are three main tricks to having beautiful tulips here in Texas:
1. You must purchase pre-vernalized (chilled) bulbs. Tulips require a vernalization to develop a flower bud. Most years, our soil never gets cold enough for long enough to acheive this chilling naturally. (This year, we got pretty chilly...I have 3 leftover tulips in the ground from last year that actually managed to bloom).
2. Don't plant them too early, or too late. If you're in N. Texas, that means optimal planting time is in December. Usually after Thansksgiving, but before the end of December. My "golden window" is right around the week of Christmas. Plant in January and you risk blasting or overall poor bloom vigor.
3. You must plant them DEEP. 3-4" is not deep enough. I plant mine a good 8" deep, sometimes 10" deep. They always bloom perfectly and on time. This is probably where most people slip up with tulips in warm climates.