Killing Plants Like a Pro
February 26, 2016
Too often, noob gardeners and plant lovers are discouraged from further cultivating their green tendencies due to the killing: The killing of their plants. Guess what noobs...you think you've got black thumbs? Puhlease. Let me assuage some of your plant-death guilt by telling you that as a professional horticulturist, I've killed way more plants than you ever will in your lifetime. EVER. And guess what else? That's ok and I'm going to keep doing it. With relish.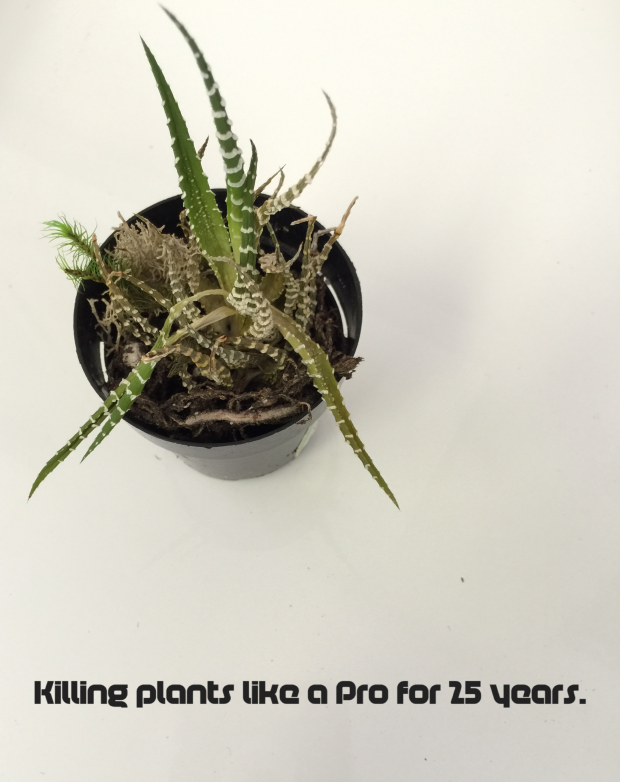 The world will not end and you get to try again. In fact, killing plants is the only way you really learn how to grow them the right way (good thing it doesn't work that way with puppies).
People get really touchy about this subject. Many, after killing only one plant, give up plant-keeping and gardening althogether; before they've really even gotten started. Is it sensitivity? Or Ego? Do we think we're entitled to get everything right, all the time, the first time? C'mon. Cut yourself some slack and allow yourself to enjoy both the fleeting joy and the wisdom you'll gain from killing a few plants now and again.
Same goes for cut flowers and blooming gift plants. Why must they be permanent? What do we think they owe us? C'mon. Surround yourself beauty. Even the fleeting kind. It's worth it.
OH, and the best part of killing plants? You get to buy more. I'm just sayin'.
So what...you forgot to water the philodendron in your living room and overwaterd the echeveria, both to death. Show me your dead philodendron and I'll show you the 100 I've murdered.
Walk it off. Go buy more. Figure it out. I BELIEVE IN YOU.
Now, go get your garden on this weekend. No excuses. Toughen up cupcakes