Whiteflies in the Garden
September 11, 2016
Extra summer rainfall and humidity might be great for your garden plants...but they are also great for garden pests! I've seen an explosion of whiteflies all over landscape plants this past week.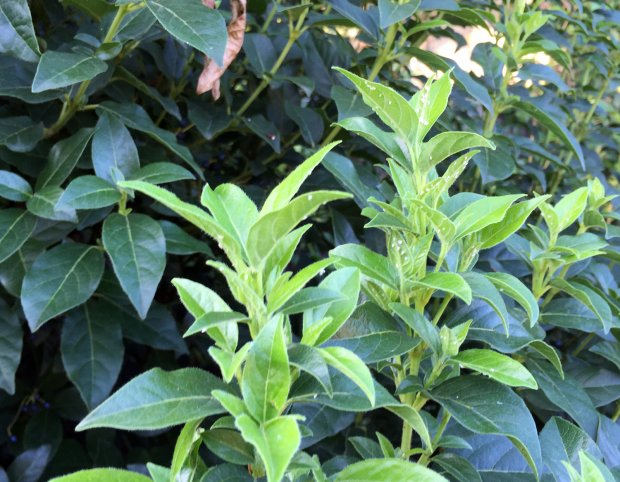 See those little white specs? Those whiteflies are sucking liquids out of this Viburnum.
Whiteflies are tiny flying insects that can infest your outdoor and indoor plants. They suck moisture out of your plants and can cause damage and stunt growth. Insecticidal soaps and horticultural oils are typically strong enough to control whitefly infestations, but know that you'll have to do several follow up treatments, as new whiteflies will continue to hatch while conditions are favorable. So whitefly infestations can take time to eradicate.
In an organic garden, where you encourage a balance of wildlife, nature can help you take care of a whitefly problem. I came across this lovely spider web filled with whiteflies. I realize not everyone is crazy about spiders, but they are incredibly beneficial in our environment and landscapes. They control a lot of pests for you, so when you see spider webs in your garden, let them be!
If you've had whiteflies on your garden plants, chances are you'll have them again the next time conditions are favorable. You'll want to keep an eye out in early spring and plant on treating the same plants preventatively with a natural treatment of your choice.