Veggie Time
April 2, 2007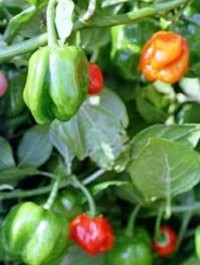 I love to vegetable garden. This past winter we had gangbuster crops of broccoli and lettuce greens. The If you've never let broccoli go to flower before, you must. It will be the prettiest thing in your garden. And it will give the bees a good pollen harvest too. They need it. I'll get a picture posted.
Brussels sprouts weren't as nice as last year, but I attribute that to the excessive succession of freezes we had throughout the winter. The hard freezes totally destroyed my cauliflower - even covered. Never got carrots into the ground this year. The Cabbage was great. I can't get enough of cabbage with a coconut/peanut/sesame dressing. Of course, you have to have cilantro in the garden to make that dressing just right.
This years summer veggie list includes Tomatoes of course (Porter, Brandywine, Celebrity, Sweet 100, Sugary, and a few others). Got most of them in the ground a couple of weeks ago. Unfortunately, I'm missing 'Green Zebra'. Its an heirloom and was my best producer last year. Peppers that just went in the ground include Habanero, Banana, a couple of Jalapeno varieties, Chiles, & 'Holy Mole'. Hotter the better!!! I don't know why I plant so many peppers. I always end up with more than I can ever use. Although, I've gotten very good at pickling peppers....Its eating them all that is the problem. Now I just need a pressure canner..that way I can can the peppers too, or the salsa. Of course, I think my mother is convinced I'm totally incapable of using a pressure canner without blowing up the house. Now, the tank of explosive acetylene gas I use to make jewelry apparently presents no concerns...but the pressure canner....that's another story! Yes, i know mother, I don't know anything....LOVE YOU!!!! 
New this year: Planted 2 varieties of strawberries, 2 varieties of raspberry, and a blackberry. Planted some horseradish roots. The rhubarb I planted last year is coming back really nice. I didn't expect it to in our warm climate. Nice surprise. So I may actually get a strawberry/rhubarb pie out of the garden! I had to plant some fruit, otherwise there is nothing my husband will eat out of the summer garden. Except corn. No tomatoes, no peppers, nada. He misses out on so much...