Book Update: Gardening Under Lights
September 11, 2017
It has been a whirlwind the last few months with speaking engagements around the country and finishing up my book edits. Gardening Under Lights is geared towards new and experienced gardeners & growers (even industry folks) who want to learn about grow lighting and gear, extending their growing seasons, and growing all sorts of edibles and ornamentals indoors.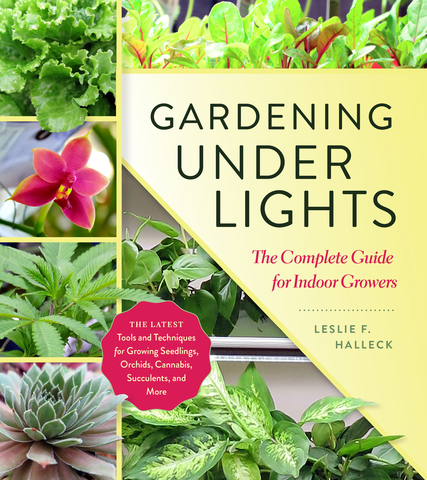 The book is now heading into art production and layout. Start looking for promotion and pre-ordering on Amazon this winter with release date the spring of 2018. Kindle pre-ordering is already up on Amazon. Woo! You are getting a sneak peek of the cover, which could still change slightly before pre-order. I'll update you here on any updates once finalized.
Gardening Under Lights details everything a gardener or hobbyist needs to know to garden indoors. Part One starts with the basics of photosynthesis, the science of light, and how to accurately measure how much light a plant needs. Part Two provides an overview of the most up-to-date tools and gear available. Parts Three and Four offer tips and techniques for growing popular ornamental plants (orchids, succulents, bonsai, and more) and edible plants (arugula, cannabis, oregano, tomatoes, and more) independent of the constraints of volatile outdoor conditions. Gardening Under Lights is a highly-detailed, accessible guide for seed starters, plant collectors, and anyone who wants to successfully garden
And new news, I just singed on for another book with Timber Press, tentatively titled  Propagation, Simplified, set for release in spring 2019. Stay tuned for details.