Time for Tropicals
May 11, 2016
If you're looking to create a tropical feel in your landscape, now's the time. The bit of sunshine we're finally getting combined with the high humidity is certainly making Dallas feel pretty tropical right now.  May through early June is prime time for you snap up your favorite tropical plants at your local garden center. Tropical hibiscus, mandevilla, allamanda and bouganvilla are just a few of the most popular tropicals you'll find. But there are so many more to choose from.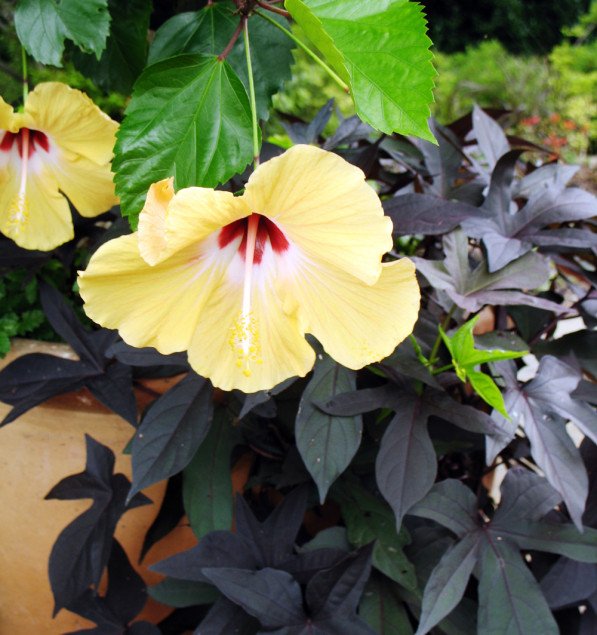 I love to use blooming and foliage tropicals in containers for an instant feeling of lushness in the landscape. Most tropicals make excellent container specimens so they're the perfect choice if you need to quickly spruce up the patio for a party or your Memorial Day holiday weekend.
Tropical hibiscus are available in a dizzying array of colors and add the most tropical feel to any space. You can plant tropical hibiscus in containers alongside sweet potato vine or other trailing foliage plants. Or, plant them directly into the landscape as a feature in a sunny bed. If you're planting in-ground, be sure you've amended your landscape beds with plenty of compost and some expanded shale to aid drainage. Fertilize regularly to keep plants in bloom.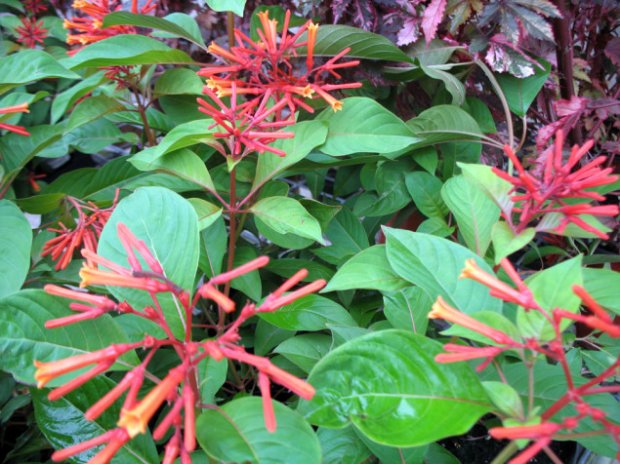 Firebush loves the heat.
If you're looking for a tropical that's irresistible to hummingbirds, Firebush tops the list (Hamelia patens).  This tough, heat loving tropical brings butterflies and hummingbirds to your garden in droves. Firebush offers pretty green foliage and tufts of tubular red-orange blooms. A wonderful plant for both landscapes and patio containers. Plant in a sunny location and provide some supplemental water through summer.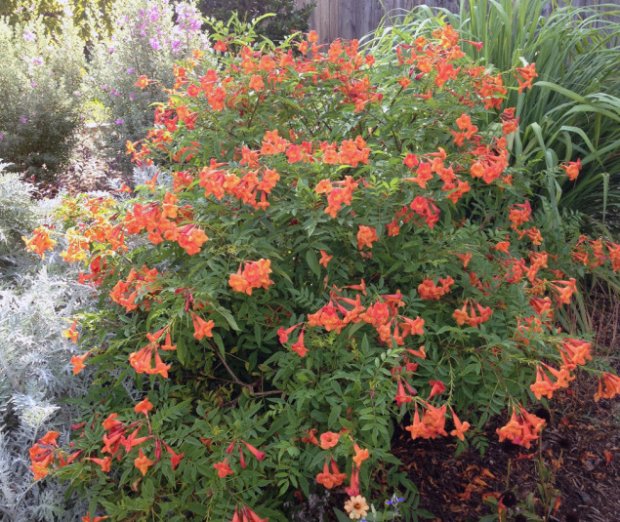 Of course, my favorite Esperanza is ORANGE.
Another hummingbird-favored tropical, or semi-tropical, is Esperanza (Tecoma stans). While plants will sometimes through the winter in our Dallas gardens, often times you'll lose them to a hard freeze. But that's ok, because they'll bloom non-stop until we hit freezing weather.  Esperanza is available in shades of bright yellow, to orange, to almost red.
Hummingbirds will make a beeline for this Esperanza whether it's in a patio container or in the landscape. Plants require little care to look beautiful.
There are so many beautiful tropicals to choose from right now that I could never list all of my favorites. There are many tropicals that may not bloom conspicuously, but rather offer up wonderful foliage color and contrast. Be sure the bloomers get a sunny location and the foliage tropicals a bit of afternoon shade. You know all those tropical foliage houseplants you love? Any of them can be planted outdoors in patio containers and even the landscape if you give them some afternoon shade. Some of the most beautiful tropical containers are created by mixing unusual foliage tropicals with bright bloomers