The South Gets Sustainable at the 1st Annual Perennial Plant Association Southern Symposium
November 4, 2015
We had an amazing time with some wonderful folks from all across the south at this year's PPA Southern Symposium. For our first year planning the event, we had an intimate but enthusiastic group of landscapers, growers, retailers and wholesalers, plus a few students. They came from Louisiana, Texas, Arizona and Oklahoma to learn how to grow and plant sustainable landscapes.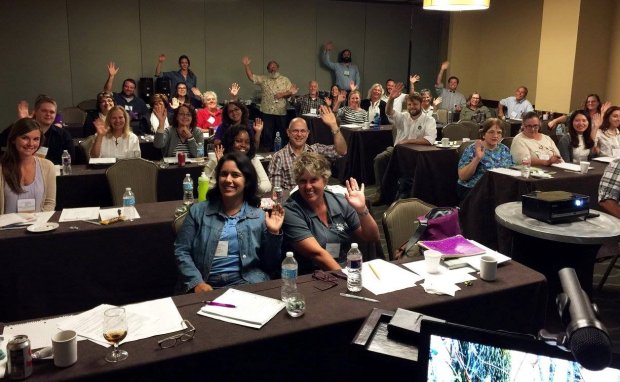 We started off Monday, October 5th, by greeting our fellow green industry pros over coffee, then got right into the fun with an explanation on the benefits of the Dallas Arboretum Plant Trials by DABS Director of Horticulture, Jenny Wegley. Next up, Zac Tolbert of Local Plant Source, Inc. taught us how the demand for sustainable plants are affecting sourcing and purchasing and how to make sure your clients have the plants they want...and need.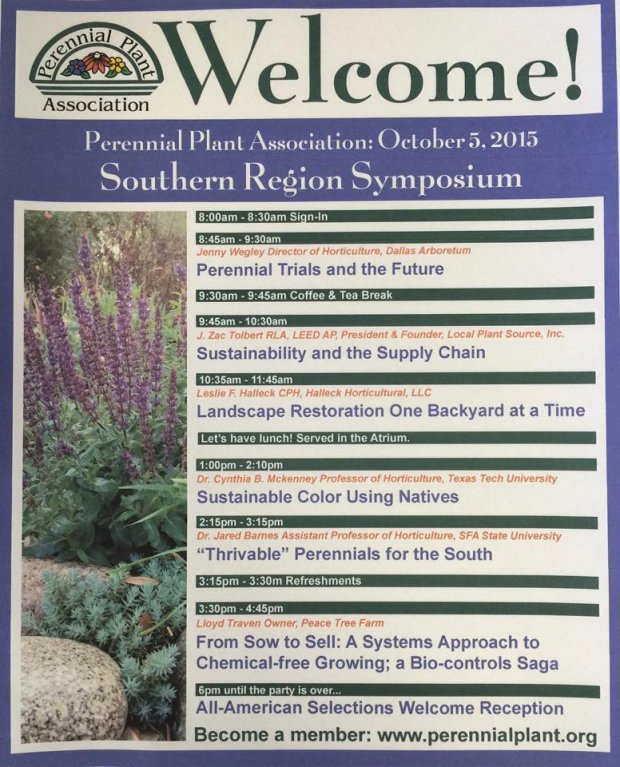 Before breaking for lunch, Leslie Halleck, Certified Horticulturist and owner of Halleck Horticultural, taught us that through patience and practice we can restore our environment for local habitat one backyard at a time.
Lunch brought lively conversation and networking. We made new friends such as new PPA member, Roger Sanderson of the Texas Discovery Gardens and Dr. Elisabeth Sahin of GES Consultancies. Once back from lunch, Dr. Cynthia Mckenney, Professor of Horticulture, Texas Tech University, gave a fun (and informative!) presentation on how to grow a gorgeous landscape using good soil, native and adapted plants, and a dash of creativity! We especially enjoyed her tidbits on area natives, including milk thistle that, if ingested while pregnant, is thought to cause infants to grow excessive hair. WHO KNEW??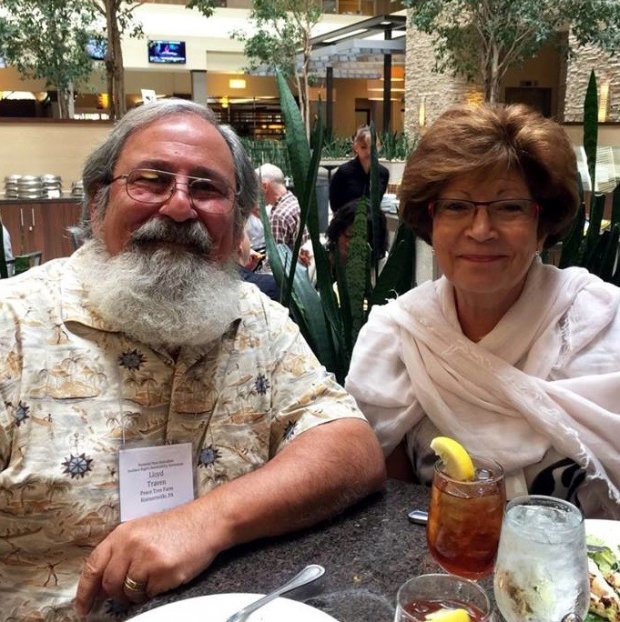 Lloyd Traven, Peace Tree Farm and Dr. Elisabeth Sahin of GES Consultancies enjoying lunch.
The last two speakers of the day, Dr. Jared Barnes, Assistant Professor of Horticulture, SFA State University and Lloyd Traven, owner of Peace Tree Farm, duked it out for most animated talk. Dr. Barnes spoke about "Thrivable" Perennials for the south. He fawned over tough tropicals such as Chinese Yellow Banana, Musella lasiocarpa and Poke Salad, Phytolacca americana 'Sunny Side Up'. If you haven't met Dr. Barnes before, you'll know him by his vastly creative array of bow ties.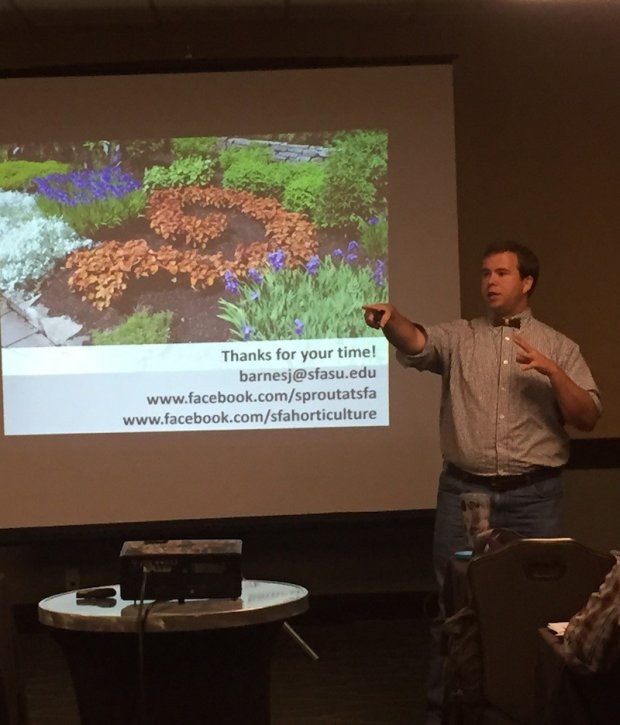 As the piece de resistance of the day, Lloyd Traven taught us that growing in a commercial greenhouse without the use of chemicals CAN be done! Through the careful use of bio-controls predatory insects and careful planning, you can grow a diversity of crops together clean and pesticide free. Peace Tree Farm is an OMRI Certified operation.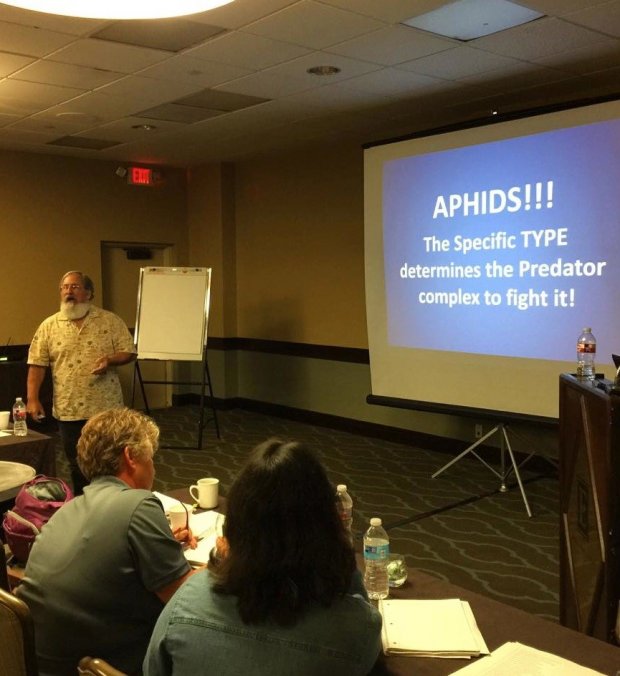 Big thanks to North Haven Gardens in Dallas for providing us with wonderful volunteers for the day of the event!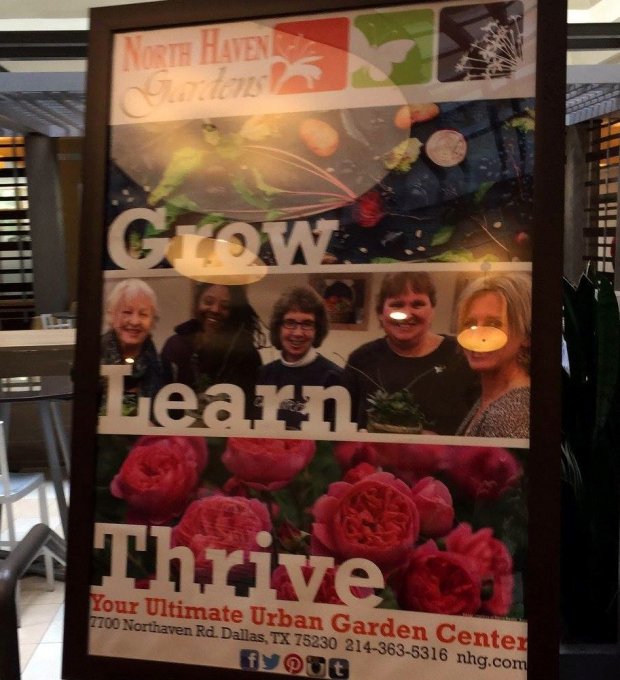 If you were unable to come this year, we hope to see you next year. We plan to make it an extraordinary event. In the meantime, please consider becoming a member of the Perennial Plant Association. We'd love to see our community of green professionals in our area grow and become a stronger resource for networking, shared ideas and improved business practices. Join HERE.