Texas Sage: Who wore it best?
August 31, 2015
If there is one landscaping practice I simply won't succumb to it's formal boxed (and boring) foundation shrubs. I prefer to pick plants that will grow to the size I want them, where I want them, and then let them do their thing. Of course a little tip pruning is required for any foundation shrubs now and then, but overall I like my foundation beds much more natural.  In order to bring foliage and bloom interest (and bee food) into my #frontscape I've incorpoated a number of Texas sage plants.
Some sort of wet stuff came down from the sky in Dallas the other day. After an intensly hot and dry summer, a bump in humidity and a bit of rainfall has sent my Texas sage shrubs into a blooming frenzy. Ok, some of them. Not every Texas sage performs the same; there are several species and a number of cultivars available. So, which one do you think is wearing it best right now?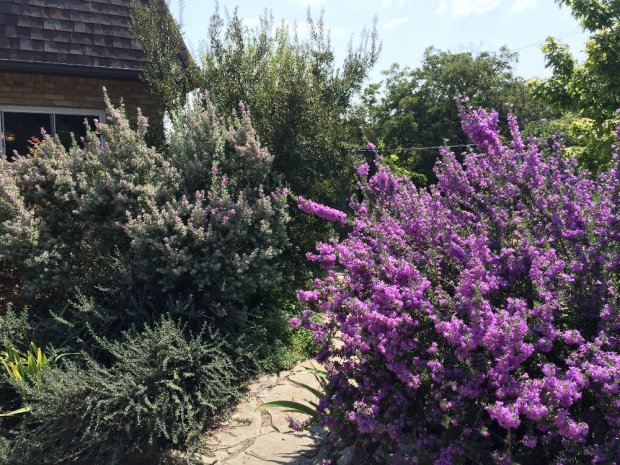 You'll see Texas sage 'Silverado' on the left...and Texas sage 'Rio Bravo' on the right. It's an easy choice, no? The 'Rio Bravo' is so heavily loaded with blooms that some of the branches are bending under the weight. It's a glorious sight to behold and the entire shrub is vibrating with overjoyed honeybees. It looks like this every time it blooms.
While there are some blooms on the 'Silverado', it never blooms as intensely as my 'Rio Bravo'. Now to be fair, the 'Silverado' gets a tad more cast shade from the house. My other 'Silverado' on the opposite side of the house do get a bit more direct sun and thus will bloom a bit heavier. But even they can't match the profusion of blooms on the 'Rio Bravo'.
You'll notice that the foliage on the 'Rio Bravo' is more green than silver, so even though the 'Silverado' doesn't bloom as heavily, it does provide me with the intense silver foliage I want in the bed. So either way, it's a win/win.
Anyhoo, couldn't resist showing you a "who wore it best" from the garden.