Texas Sage Blooms Abound
August 2, 2016
When rainfall and humidity show up, so does a bounty of purple. You may have noticed a bevy of Texas sage blooms around town for off and on a few times this summer, in conjunction with some unexpected summer rains.
What makes them bloom?
Texas sage respond to a couple of different signals that tell them it's time to bloom. High humidity or sudden soil moisture before and after rainfall will push plants to bloom; seemingly overnight. Texas sage plants are sometimes called "barometer bush" due to this effect. The recent unexpected humidity and rainfall we experienced last week was just what your Texas sage plants have been waiting for.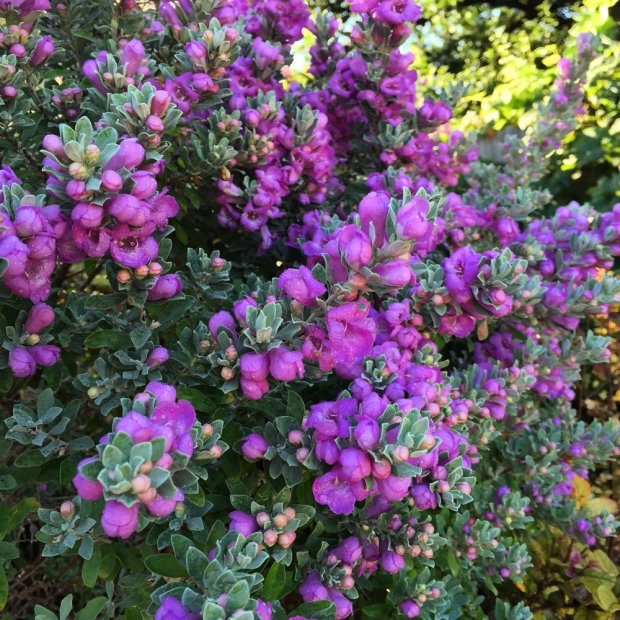 Texas Sage 'Rio Bravo' in full bloom.
Texas sage are one of the prettiest and toughest of Texas native shrubs. Plants are mostly evergreen and produce stunning silver foliage that perfectly complements the lavender to purple blooms. There are a number of varieties to choose from, most growing to an average of  5-feet tall and wide. If you need something smaller, keep your eyes peeled for dwarf varieties such as 'Thunder Cloud'. If you want something a bit more expansive and impressive seek out 'Rio Bravo'. It grows 5 to 6-feet tall and wide and is a heavy bloomer.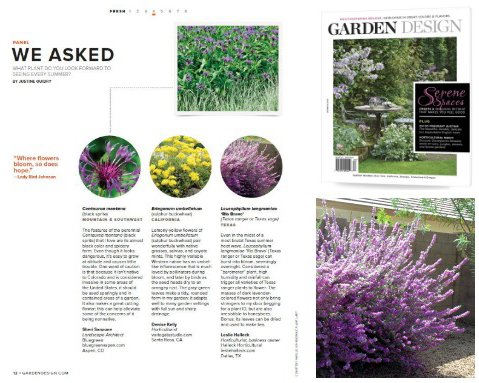 SPECIAL OFFER! My friends over at Garden Design Magazine asked me to offer up my favorite tough summer plant...in return, they are letting me give YOU a FREE issue when you subscribe to this stunning (ad free) quarterly Bookazine. Click the photo or HERE.
Texas Sage thrives in full sun and well-drained alkaline soil. They will tolerate a bit of shade, but too much shade will result in leggy plants that don't bloom heavily. Supplemental water in summer will help plants grow faster and bloom more, but over-watering or poor drainage will kill Texas sage quickly.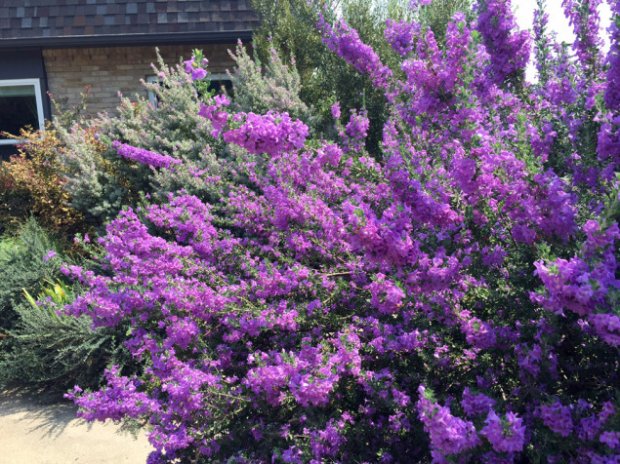 Crimes against horticulture
When it comes to certain shrubs, au natural is the way to go. Texas sage is one such shrub. One of the worse horticultural offenses committed here in Dallas is the constant shearing of Texas sage shrubs into what I can only describe are large caterpillars…or balls. WHY? Please don't.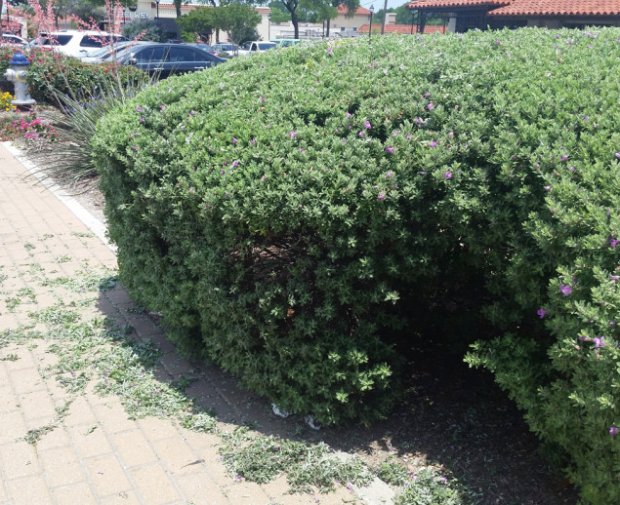 SO…so wrong. Don't plant shrubs that are too large for the space and you won't have to butcher them.
1. Continual shearing of Texas sage will weaken them…and kill them.
2. You lose all the blooms when you shear them (so why plant them in the first place?)
3. They look terrible. Just, terrible.
So pretty please, put the hedge shears away and let these beauties do their thing.
As we head into fall, it's a great time to start refreshing the landscape and adding new shrubs and trees such as Texas sage.