Pruning Your Fruit Trees
January 30, 2017
It's just about that time to prune your fruit trees, while they're still dormant. Fruit trees are treated a bit differently than shade trees when it comes to pruning. While we never want to over-prune or over-thin our large shade trees, smaller fruit trees are often heavily pruned each year in order to produce the best yields of fruit. Timing your fruit tree pruning can be a bit tricky, especially with our fluctuating weather here in Dallas. Your goal is always to prune as late as possible, but before any bud break occurs on your tree. Some fruit trees will start blooming by mid-February, so now's the time you need to start pulling out your pruning gear.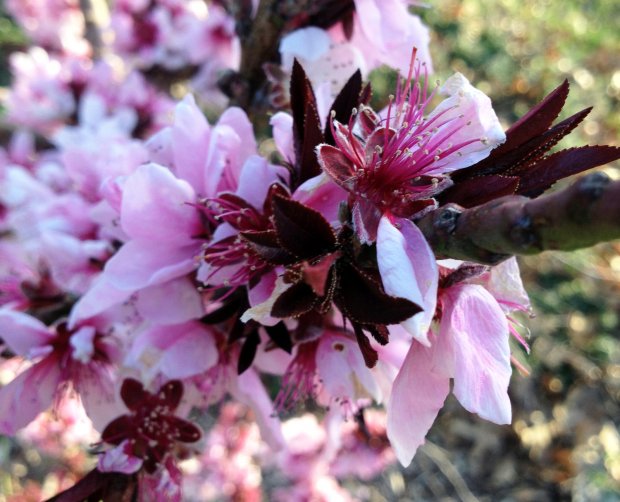 Each variety of fruit will bloom at a different time. The best approach to timing your pruning is to prune the later blooming trees first, followed by the earliest bloomers. That means you'll  start with apples and pecans (although large pecans should be pruned by a professional tree care company). Peach and plum trees will follow, as they bloom the earliest here in Dallas.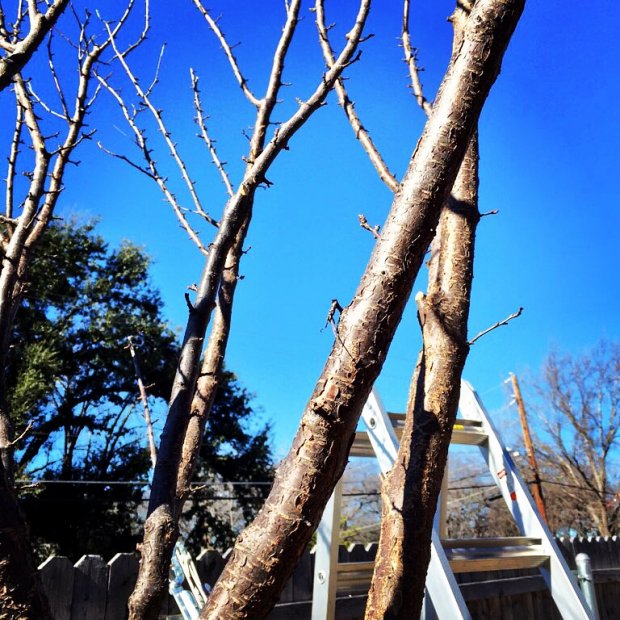 Hard pruning of fruit trees should begin the first year they are in the ground. Hard pruning to properly shape the tree continues each winter for the next several years. As trees mature, you'll perform lighter maintenance pruning. Depending on the type of tree, you'll either train it using the central leader method, or the open center method.
Apples, pears and plums should be pruned using the central leader method. This means you allow the tree to grow a central main trunk that is tall than all the surrounding branches. The rest of the tree is shaped into a pyramidal form.
Heavier fruiting trees, such as peaches, nectarines, apricots and almonds, perform better when pruned using the open center method. By removing the central leader branch, you'll create more of a vase shape to the tree. This allows more sunlight to reach all of the central branches and reduces branch breakage.
You'll also need to do some "thinning" and "heading".  When you thin branches, that means you'll remove them at their base. This allows more light into the interior of the tree. "Heading" involves pruning off the tip of the branch in order to encourage more fruiting lateral branches.
If you have fruit trees and have fallen behind on necessary pruning, or you're thinking about planting new fruit trees, now's the time to pick up a fruit tree pruning book to learn the best techniques.
Haven't planted fruit trees yet? Now's the perfect time. Local garden centers should have a good stock of fruit trees that are appropriate for our climate and can give you a primer on pruning.