Passion Flower: Prized Garden Possession
June 10, 2016
There are few flowers we grow here in Dallas that are as exotic and intriguing as the passion flower. If you happen to have a passion flower vine in your garden, then you've no doubt been enjoying an explosion of blooms. While the heavy rains have caused many homeowners and landscapes some serious grief, vines like passion flower have happily soaked it up. Vines have grown leaps and bounds over the last two months and the honey bees, bumble bees and other pollinators couldn't be happier about it.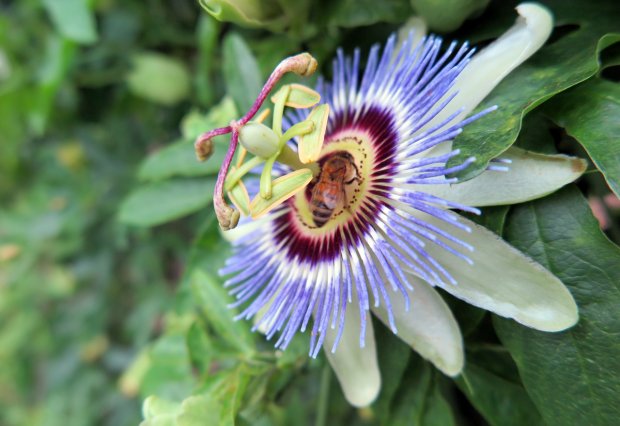 Passion flower quickly attaches to any nearby structure, be it a fence or arbor.
If you're looking for a perennial vine that can quickly cover a structure, such as an unsightly fence or a featured arbor, passion flower vine is a wonderful choice. There are a number of species and varieties of Passiflora spp. available, with flower colors of white, blue, purple, pink, red and orange. Some passion flower varieties aren't completely cold hardy here in Dallas; they may die down to the ground in winter, but typically reemerge the following spring.
Passiflora caerulea, or blue passion flower (pictured in the photos), is a cold hardy specimen that typically keeps most of it's above-ground vines and foliage over winter in Dallas, depending on the weather.  Passiflora incarnata, also known as purple passion flower or may-pop, is one of the more cold hardy and popular species for our area. Both will host butterfly larvae and produce small fruits. If you want deep red flowers, Passiflora vitifolia is widely available, although plants aren't quite as winter hardy.
If you're looking to attract butterflies to your landscape, passion flower vine should be at the top of your shopping list. Gulf fritillary will flock to your vines en masse. They will lay their eggs on the vines, as it is a host plant, so be prepared for their caterpillars to munch on your plants a bit. Passion flower vine recovers quickly, so there's no need to fret about any damage.
For the best results, plant passion flower vine on a southern exposure with plenty of direct sun. Plants can tolerate some dappled or late afternoon shade; too much shade will thin out the vines and limit blooms. Be prepared for vines to grow large and assertively. They'll attach themselves with spiraling tendrils to any nearby structure. Now is the best time to find a good selection of passion flower at your local garden center.