Natural Mosquito Prevention INSTEAD of Spraying!
March 11, 2013
OK PEOPLE, Dallas is planning to increase it's aerial spraying program this year. I find this not only unwarranted but reprehensible. The chemicals they will yet again be raining down upon us are not necessary...if they'd just focus on prevention. But see this mosquito problem is one that we the people can get control of ourselves, if we just put forth the tiniest effort. All it takes is a few handfuls of a natrial larvicide to do the job. And guess what? Now's the time you need to be planning for prevetion. While we've had a few cold snaps, we've also had a lot of warm days. The Fleas are already hatched out and jumping. Mosquitoes won't be far behind.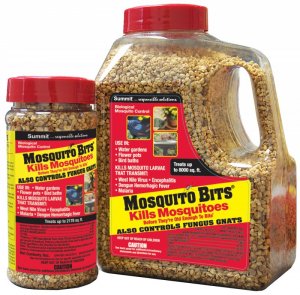 Bt (Bacillius thuriengensis var. israelensis) also known as Thuricide (liquid form) or Mosquito Bits, is my not so secret weapon to having no mosquito problems in my yard. This naturally occuring bacteria is fatal only to larvae and caterpillars. The species included in this product is particularly effective against Mosqutio larvae (and fungus gnats). All you have to do is sprinkle a few handfuls of the bits under your foundation shrubs, any landscape beds with automated irrigation or that you water regularly, drain boxes, low spots in the yard and even gutters. I do this about three times per year. Timing depends on the weather. If it's warm early, I'll put out my first application in April, if it's not then early May. Then again in June and July. If you have ponds, birdbaths or live on a creek, purchase the floating dunk form and just pitch one, or a piece of one in the standing water.
The Bt attacks the Mosquito larvae and kills them before they even have a chance to hatch. This bacteria is safe for children, pets, birds and fish. It's the most non-toxic and most effective treatment for dealing with Mosqitoes (Hello, Dallas?)
Quit over-watering your lawns and quit watering them over-night. Highland Park, Preston Hollow and Park Cities...you are major culprits. I know this, because I've personally inspected many of your irrigation systems...I know how much and how often you're watering. That's why you have so many fungal problems and decline in your St. Augustine and on all those Indian Hawthornes and Azaleas. I'm not saying it's all your fault..but realize many of you have maintenance companies that are setting your irrigation improperly.  If you need help figuring out how much and when to water, please drop me a line! But, I know plenty of you Lakewood and East Dallas Hipster residents that are just as over-generous with your watering. So no one is off the hook here!
If neighbors, or neighborhoods, got together on prevention we could make a huge dent in the city's Mosqiuto population. Make a deal with your neighbors...if you live on a creek, each one of you should get together and buy a 4 or 6 pack of the mosquito dunks. Once per month from April or May - July or August, just pitch one out the back door into the creek. You'll be AMAZED at the results! Do you have a housebound or elderly neighbor? How about buying a pack for them and dropping it off, or better yet, apply the bits or dunks in their yard/creek for them?
See that big jug in the photo?  (from Summit Chemical btw) It will cost you around $12-$13 bucks. Maybe less. Last summer I used about 20%-25% of the container and saw about 3 mosquitoes total on my property. Seriously people, why leave this in the hands of the city when they will only spend way too much of our money on an ineffective and toxic treatment? Spend a few bucks, knock on your neighbor's door, and let's prevent this problem before it even gets started...