Month of Purple…......
June 2, 2007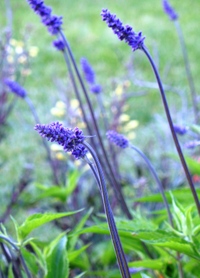 April is usually peak spring bloom time in my garden, with a crazy explosion of colors. While I try to stick to a cool color scheme, bulbs are one of my obsessions. So I end up of with lots of "unapproved" colors because I just can't help but acquire new varieties! Also, I'm obsessed with peach colored roses and they too are at their peak in April.
After this somewhat gaudy spring show, and the month of May begins, my garden takes a big deep breath. May becomes a transitional time. There are usually several weeks to a month of green foliage and the promise of better things to come. By the end of May, however, many of my summer blooming perennials begin to put on their show. That is when I'm reminded that I like to plant purple! It always makes me laugh a little (how much purple there is) but the onset of cool, calming blue and purple blooms is just in time for the arrival of Texas summer heat.
The Scabiosa never really stopped blooming, then the purple asters decided to make a spring appearance. Veronica has been waiting for this moment since last summer and makes for the prettiest contrast against Artemesia. The arrival of the dwarf balloon flowers brought both sets of neighbors over to ask "what is that beautiful purple thing?!!" Salvia 'Henry Deulberg' has been blooming all spring and will continue to do so all summer. The Mexican Blue Sage (Salvia c.)has the prettiest powder blue blooms. Catmint 'Walker's Low' creates a powdery cloud of lavender flowers that will bring on the biggest bee party you'll ever see. Salvia g. 'Black and Blue' still amazes me with its "blueness". Salvia f. 'Evolution' is similar to 'Victoria', but with darker purple blooms and a more dense compact growth habit. French hollyhocks have always been a favorite of mine because they are so easy to grow. These are just a few samples  of some of my favorites. Also in blooming in blue/purples are spiderwort, Baptisia a. hydrangeas, purple oxalis, light blue petunias, lobelia, althea and more. Ah.....so serene.