Harvesting 'Golden Mama' Tomatoes
June 12, 2012
I've been harvesting some fruit off of my 'Golden Mama' tomato plants over the last few weeks, but the big haul is beginning to come in! I filled this obviously inadequately sized bowl to overflowing today, and there are plenty more fruits to come.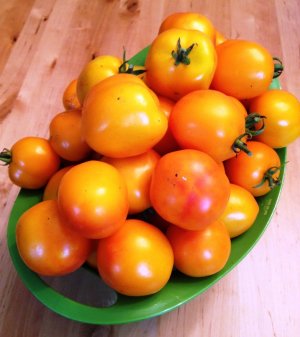 I'm also harvesting some wonderful 'Black Cherry' heirlooms. I've saved the larger fruit for slicing, but what to do with some of the smaller fruit? Well, one of my favorites and super easy thigns to do with cherry or small tomatoes is marinate them overnight, then roast them. So some of these babies will be going into a baking dish, drizzled with olive oil, salt, pepper and fresh rosemary from the garden.
I'll let the tomatoes marinate overnight, then tomorrow, I'll pop them into a 425F oven and roast them for 15-20 min (15 minutes is typically adequate for cherry sized tomatoes, I give it an extra 5 minutes for larger fruit). And there you have it, the most delicious soft warm tomatoes to serve on top of bread, crackers, or anything really. YUM. I wish it was tomorrow already!