Plant Parenting: Grow Lamps for Plant Cuttings
September 9, 2019
Grow Lamps for Plant Cuttings
You don't need a lot of light for cuttings
Understanding artificial lighting needs for all your different indoor plant projects can be a little confusing when you're just starting out. There are many different small lighting kits out on the market, but which one's really work for your needs? If you're doing vegetative propagation - that means taking cuttings from your plants - then you're in luck. Vegetative cuttings need relatively low light levels until they've produced a new root system.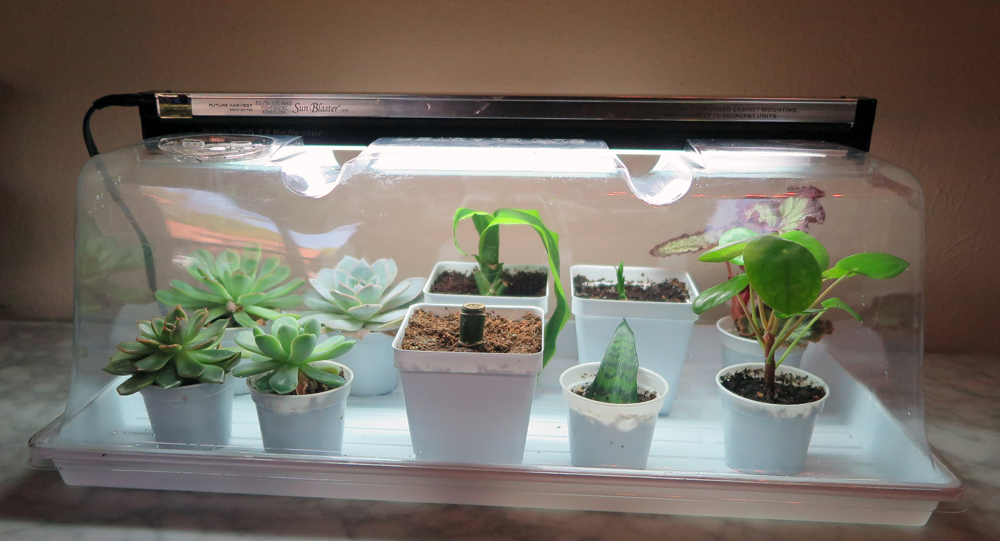 Typically, you can place your unrooted cuttings near a low-light windowsill until they root. Or, you can place them away from a natural light source and instead use a grow lamp. Complete kits that come with one small fluorescent or LED lamp as the main or only source of light are perfect for rooting vegetative cuttings. You can leave the grow lamp on 24 hours a day until the cuttings root out.

Once your cuttings have rooted, and the main roots start producing side branching roots, you can then pot your cuttings up and they'll need to go into a higher light situation (depending on the species).

However, if you're growing seedlings without much additional natural light, a single grow lamp such as the one in this kit won't provide enough light as seeds germinate. Kits with at least two grow lamps are better for seed starting, but I usually use fixtures with 4 grow lamps for seedlings.
To learn all the fundamentals of how to light your cuttings and seedlings, pick up my new book Plant Parenting. To take a deeper dive into light science and how to grow all sorts of plants indoors year-round, pick up my book Gardening Under Lights.