Indoor Plants: Burgundy Oxalis
September 22, 2021
Brighten Up Your Indoor Plant Collection
Oxalis offers up a breath of fresh burgundy foliage
Need some BURGUNDY foliage to shake up your urban jungle?

My Oxalis spiralis subsp. vulcanicola (commonly called volcanic sorrel) is one of my very favorite houseplants that sports deeply colored foliage. It always looks stunning when I move it to my white marble kitchen table for a temporary rotation (light is too low in this spot to leave it here indefinitely). This particular selection is also marketed under the trade name Oxalis Zinfandel TM.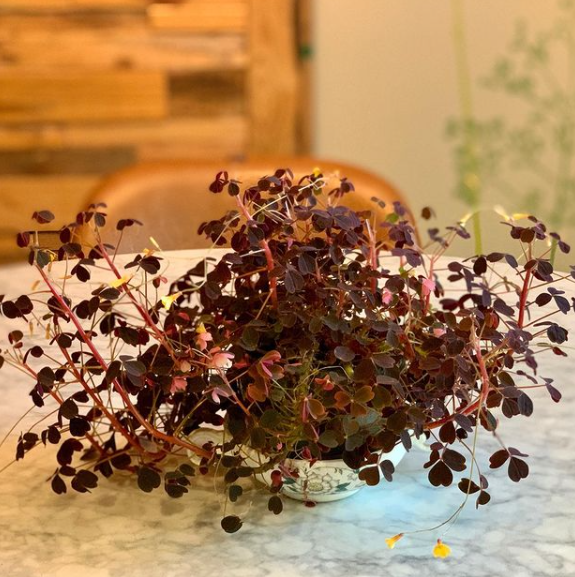 This beautiful sorrel is tender perennial (in Zones 9-11) and an annual in cooler zones. Plants stay compact in a cascading form (10-12" wide-ish and about 6-10" tall-ish). Outdoors they are a part sun/part shade plant (wouldn't take afternoon sun here in Texas very well, but morning sun is ok). So indoors an Eastern exposure would be ideal. Mine, which is currently in a 3-inch diameter container, sits in a North-facing window with supplemental light from a 40-ish watt LED grow light, which keeps it blooming regularly.

Plants do like to be consistently moist and will droop and drop leaves on you pretty quickly if you let plants dry out. So this plant is a good candidate for a non-porous pot (with a drainage hole) and regular bottom watering. You can quickly revive them - if they wilt - by sitting them in a dish of water until soil is again saturated and the leaves perk up. This plant is definitely a candidate for regular bottom watering, but make sure to leach the soil with a top watering every month or so if you always bottom-water.

Happy National Indoor Plant Week!