Bottletree
June 2, 2007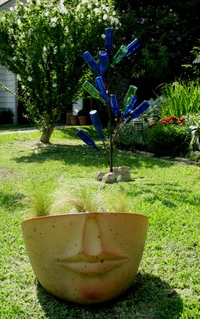 My yard needed a little more funk, so here is my new bottle tree I just installed. It resides behind a planter my neighbors have named "Hairyette Potter"...I love my neighbors!  They are on a mission now to get me new and interesting bottles. I promised them we could do red and green at Christmas....
I'm going to do some planting around the base of the bottle tree. I haven't yet decided what exactly I'll put there. Hairyette Potter is planted with Mexican Feather grass, which is still fairly small. So I'll choose something that will provide some contrast behind the grass.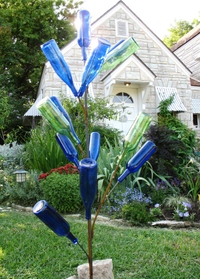 The blue bottles catch the light and are so pretty in the sunshine and brighten up the yard when its overcast. Traditionally, bottle trees were used to trap evil spirits so they wouldn't enter your home. I can't wait to see what kind of little evils I'll catch......