Blue Agave as Living Fences in Ecuador
June 3, 2012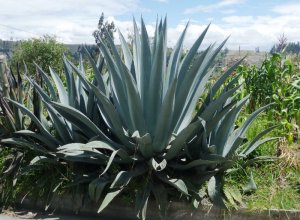 Just came across one of my shots of huge blue agaves in Ecuador...wow. They were truly stunning! (Most of my travel photos end up being plants...I know..it's a problem!)
Interestingly, small farmers use them to create living fence lines around their crops, like corn that you can see growing behind the agave, to keep the cattle out of the fields. It creates quite the fascinating landscape scene! Here, we'd drool over this impressive specimen as a pricey garden feature...But in case you're looking for a creative ideal to keep the deer out of the veggie beds..here ya go!
I pulled this photo because I was thinking about agave in general this morning. As we go into the heat of the summer here in the South, we're all looking for plants that will establish easily, even with heat and watering restrictions. If you have a good local nursery, you should be able to find there a variety of agave species in many colors and sizes to fit your needs. While you may not be building a living fence, you might simply be looking for some showy feature plants for containers on the patio or front stoop. You can plant agaves by themselves in large containers, or you can mix them with other succulents with similar water needs.
If you're intersted in learning to put together stunning succulent containers, and you're in the DFW area, you'll get a rare opportunity to learn how-to from Cody Hoya of Terrain Horticultural Design, on Saturday June 9th at 1pm, at North Haven Gardens in Dallas. You'll learn about the plants, concept, and maintenance for creative succlent containers. You leave the class with a good understanding of how to create a drought tolerant, modern, sculptural and beautiful design. At 2PM Cody will do a short pop-up class out in the garden center to talk about available succulents. Don't miss it!