Basil: Plant and Grow Your Own Pesto!
June 17, 2016
The basil is coming on strong in the summer garden and it's time to start harvesting.
While its closest association is with Italian cooking, basil is actually native to India and used extensively in Indian cuisine. This fragrant and flavorful member of the mint family was originally only used for medicinal purposes. Basil tea was used to treat anything from digestive problems to headaches and anxiety. Today, basil is a culinary essential and there a multitude of varieties and flavors to choose from. With more than 150 species of basil currently grown around the world, the choices can be almost overwhelming. Scents and flavors range from lemon and anise to cinnamon. There are large-leafed sweet basils that grow large and bushy, small-leafed upright varieties such as 'Sweet Aussie' and even a tiny-leafed miniature variety called 'Boxwood'. No matter your space or size of container, there is likely a Basil variety just right for you.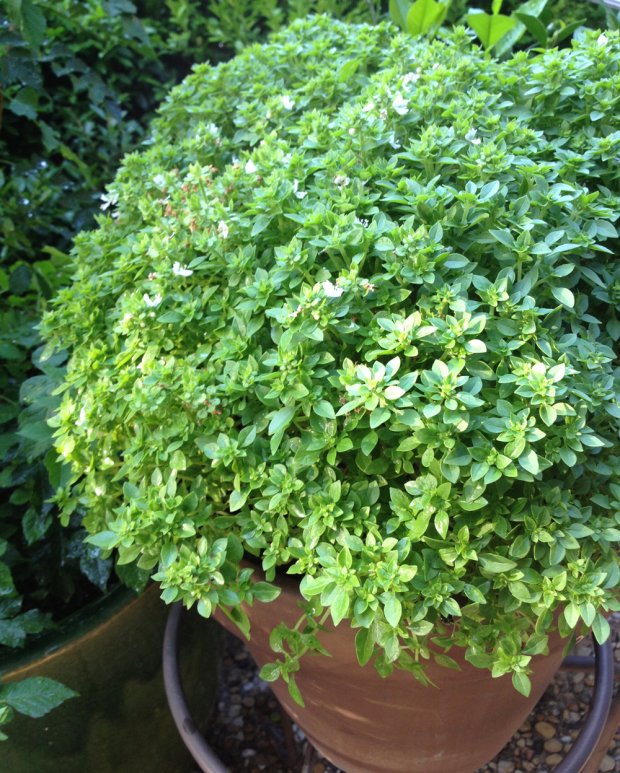 Basil 'Boxwood' has tiny leaves and a natural globe shape.
If you're as addicted to making fresh pesto as I am then a regular supply of fresh basil in the garden is a must-have. Once you've made your own pesto, store-bought pesto just won't do. The challenge with basil can be its tendency to go to flower and seed quickly and abundantly, leaving you with leggy plants that won't continue producing much if any foliage. You'll need to keep flower buds deadheaded proactively to keep plants producing new leaves. 'Pesto Perpetuo' is a variety that doesn't flower, leaving you with an endless supply of fresh foliage to harvest.
If you haven't yet planted your basil, you can do so all summer-long. Plants can be grown in patio containers or mixed into your ornamental and vegetable gardens. Basil needs a full sun location and semi-regular waterings to thrive.