Agave Takes the Heat!
July 25, 2012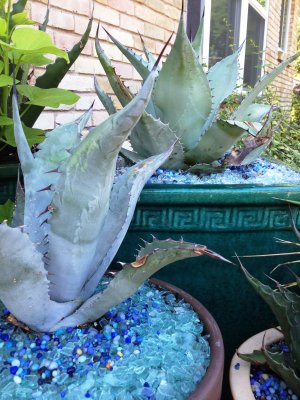 I've started getting a lot of questions about what can be planted now, and what should be planted for fall vegetable gardens.  In terms of what can be planted right now in the heat, focus on things like succlents; Agave, Yucca, Echeveria, Sedum...all are heat-hardy and are able to retain a lot of their moisture. Other heat hardy plants like Ainnas, Aalvias, Centaurea, Lantana, Pentas and herbs can also be planted now. It's a great time to pot up Citrus trees into pots as well as plant perennial hibisucs. Lot's to do in the garden!
My front yard and porch have just about the worst kind of sun exposure...Mostly West facing with a slight tilt to the North. This means the front beds against the house and the porch are shaded for a while in the morning, then get blasted with the hot West sun the rest of the day. Not to mention, I have a large circular concrete drive that radiates back a huge heat load. It puts a lot of stress on the plants in my front garden. Plants in continers on my front porch are especially suceptiple to this heat stress.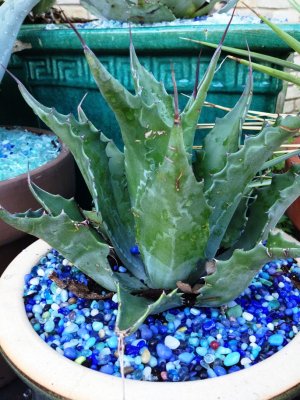 My solution? I've gone Agave! Last weekend I transitioned my front porch pots over to mostly Agave, Yucca, Echeveria and some Sedum. Not only do these tough succulents have a striking sculptural look about them, but they'll take the sun, heat and won't require much water. They prefer to dry out between waterings...which is perfect for a summer container.
You can dress up any container using things like recycled gass mulch, jelly bean class or colored gravel. I toped these pots wiht a mixture of glass mulch and jellybean glass.
The fearsome looking specimen in the second photo is an Agave called 'Jaws'...appropriate no? The colorful jellybean glass is a great contrast.  Check out this segment I did with Good Morning Texas about all these great succulents!