Texas Mountain Laurel
Texas Mountain Laurel, Sophora
Wish you could grow lilacs in Texas, but have realized that's a tough task to accomplish? Texas mountain laurel is an excellent substitute. These Texas natives are stunning spring bloomers with a fragrance to rival even lilacs!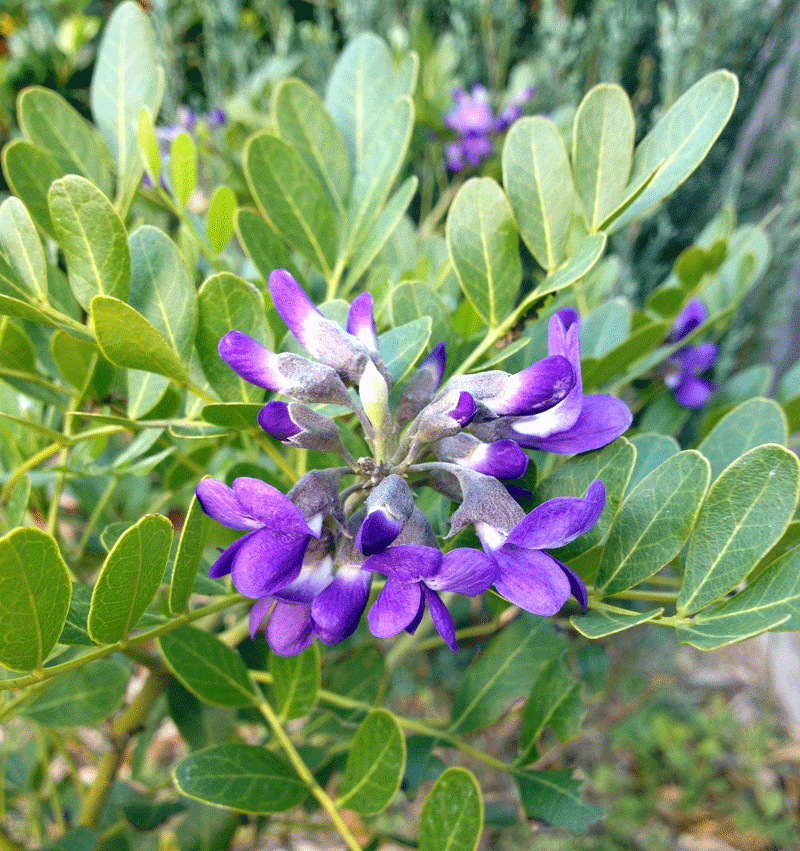 Growing
Texas mountain laurel is very drought-tolerant once established, and prefers well-draining and somewhat rocky, limestone soil. However, you can plant in clay soils, as long as good drainage is provided. Plants are slow-growing, so you'll need to have some patience for plants to reach their desired size.  Plant in sunny locations, although plants can tolerate some shade in late afternoon. Do not over water. Plants can be fertilized in spring and fall to speed up the growth rate. Treat as a large shrub or small tree.
Tips
Makes an excellent evergreen anchor plant in large landscape beds, or a stunning specimen large shrub or small tree. Plant Texas mountain laurel nearby entryways, windows and patios, so that you can enjoy the intense grape Kool-aid -like fragrance. Excellent for use in low-water, low-maintenance landscapes. Pruning is rarely required, but if needed, selectively hand prune; never shear.
Recommended
S. secundiflora is native from central Texas west to New Mexico and south to San Luis Potosi in Mexico. A member of the pea family, its compound leaves are made up of small rounded leaflets. Evergreen, spring blooming.
Features: Glossy, evergreen foliage, large grape-like clusters of lavender to purple flowers in spring, intense fragrance. Green seed pods contain shiny red seeds.
Height: 10'-15'
Spread: 10'
Hardiness: 7-11
Sidebar: The seeds contain highly poisonous alkaloid cytosine, a substance related to nicotine, used as a narcotic and hallucinogen. If the seeds are swallowed whole, there may be little to no damage. However, if seed coating is broken or seeds are chewed they are highly toxic to people, pets and aquatic life.