PPA Southern Sustainability Symposium Press Release
Green Industry Professional? Don't Miss the Perennial Plant Association Southern Sustainability Symposium.
Press Release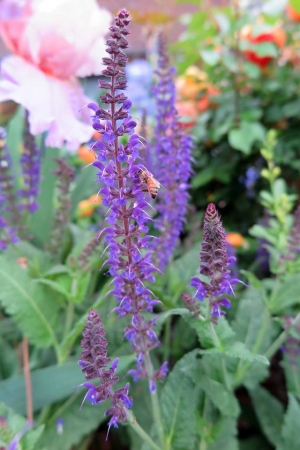 Dallas, TX – (8/24/2015) –Landscape designers, contractors , growers, and retailers in the South face growing challenges when it comes to navigating the impact of extreme weather conditions. Intense heat, drought and flooding are impacting how companies do business, the landscapes they create and what they grow and sell.
The Perennial Plant Association (PPA) has brought together an inspiring and knowledgeable group of speakers to address sustainability challenges and solutions across each area of the green industry. With a focus on perennials, speakers will cover plant trialing resources, heat and drought tolerant plant selections, landscape restoration, sustainability and bio-controls for growers, supply chain issues and solutions for landscapers and retailers, plus using native plants for color.
The 1-day event is being held on Monday, October 5th in Dallas, Texas in conjunction with All-America Selections Summer Summit. The symposium is being sponsored by Halleck Horticultural, LLC.  PPA Symposium participants can also register for the AAS Summer Summit programs and tours.
Read Full Event Description and Program Schedule
WHEN: Monday, October 5th, 2015. 8am-5pm. Sign-in 8am-8:30am
WHERE:  Embassy Suites, Dallas Market Center, Magnolia Ballroom
2727 North Stemmons Highway | Dallas, Texas 75207
Rooms $129/night. Please book BEFORE September 16, 2015 as rooms will not be available after that date.  214-630-5332
FEATURING · Jenny Wegley (Dallas Arboretum) ·Dr. Jared Barnes (Stephen F. Austin University)  · Zac Tolbert (Local Plant Source, Inc.) · Leslie Halleck (Halleck Horticultural, LLC)· Lloyd Traven (Peace Tree Farm)· Dr. Cynthia Mckenney (Texas Tech University)
Tickets
$99 PPA Members
$75 Students
$110 Non-Members
LIMITED SEATING
Beverages and lunch included. 11:45am-1pm
Register by October 1st, 2015
PPA Registration Contact: 614-771-8431, EMAIL
CEUs Available: Texas Nursery & Landscape Association – 6 CEUs
AAS Reception - Monday 10/5 6pm
PPA Attendees are invited to join the welcome reception.
###
PDF Download link below. Please feel free to contact either Leslie or Nikki Rosen directly for more information or additional photos for print. Nikki can be contacted directly at: EMAIL or  c. 972-822-7817   Mailing:  9540 Garland Rd. Ste. 381-342, Dallas, Texas 75218
---