Perennial Salvia
Perennial salvias are reliable, hardy plants and a must-have in low-maintenance Texas gardens.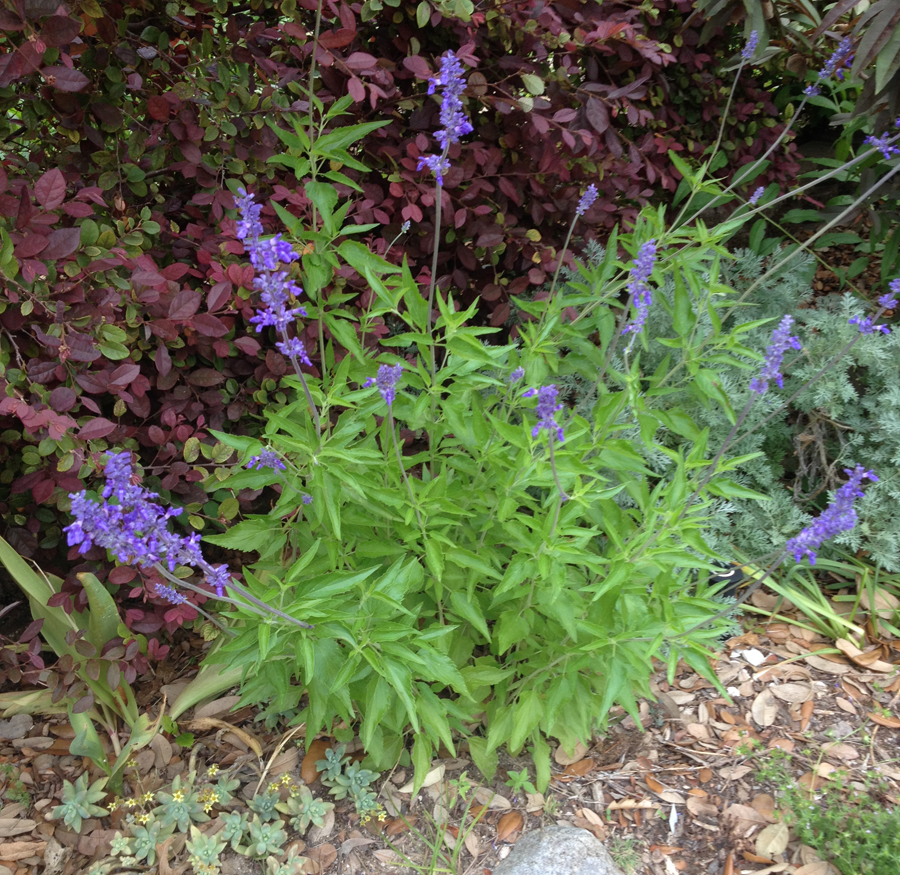 Growing
Perennial salvias prefer full sun but tolerate some shade. The soil should be of average fertility, humus rich and well drained. The plants are drought tolerant once established.
Deadhead to prolong blooming. Trim plants back in spring to encourage new growth and to keep them tidy. New shoots can sprout from old, woody growth; however, if you leave some salvias un-pruned for too long, they become sparse in the center.
Tips
Perennial salvias are attractive plants for a mixed perennial bed or container. Use them in low-maintenance medians and easements where irrigation may not be available.
Recommended
S. farinacea (mealy cup sage, blue sage) has bright blue flowers clustered along stems powdered with silver. 'Henry Deulberg' is a vigorous spreader with pale blue flowers, and 'Indigo Spires' produces masses of true blue flowers. Both are Texas Superstar® plants. 'Victoria Blue' is a compact favorite.
S. greggii (autumn sage) is a dwarf, evergreen shrub that is often grown as a perennial. It grows 12–24" tall and wide and produces softly hairy foliage with snapdragon-like, red, purple, pink or yellow flowers from late summer to fall. Cultivars are available with bright reddish flowers. (Zones 7–9)
S. guaranitica (anise sage) has electric blue, tubular flowers from midsummer through fall. 'Black and Blue' is one of the more striking varieties, with dark calyces and deep blue flowers.
S. leucantha (Mexican bush sage) is a Texas Superstar® plant with silver foliage and tall spikes of lavender blooms in fall. 'Santa Barbara' is an excellent dwarf variety, growing only to 24" tall.
Also called: sage
Features: cream, purple, blue or pink flowers; foliage
Height: 12"–5'
Spread: 12–24"
Hardiness: zones 5–9
Note: Salvias are a favorite of bees.