Osteospermum for Early Spring Color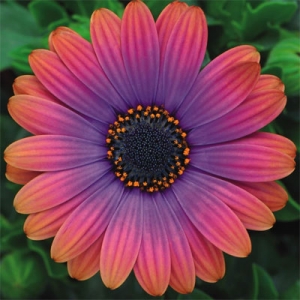 If you're like me, there really isn't any time of the year when you're not hankering to plant color in your garden. Come February, I'm already itching to get started on my spring garden. Lucky for us, we have the sort of climate that allows us to plant color year-round. If you're new to Texas, you may not realize that while February may be on the chilly side, there are many blooming beauties that can be planted in your garden right now. I like to call them "spring transitionals."
Spring transitionals -- or season extenders, if you will -- are annuals, biennials or sometimes perennials that are cold-hardy enough to bloom through the winter and into spring, or begin blooming in late winter and continue through spring. You can plant these varieties in February when it's too cold to plant typical bedding plants such as geraniums, marigolds, impatiens and so on. Osteospermum, or cape daisy, is a great example of a spring transitional annual.
Often considered tender perennials, cape daisies can be planted anytime between October and early March in our climate. For the most part, we treat them as a cool-season annual. Plants are usually cold hardy to about 28 F without protection. If you've planted them in the fall, you can carry your plants through most Texas winters by covering them with frost cloth. Occasionally, you may lose a few plants in very hard freezes. Or, you can simply wait until February to plant them, and enjoy their daisy-like blooms until the heat of the summer sets in.
You may be familiar with the more common purple, pink and white varieties of cape daisy that have been available in garden centers for many years. In the last few years, new varieties with bright yellow and orange blooms have hit the market. This year, a new series of cape daisy, called 'Zion', offers up a particularly lovely color palette of coppers, pinks and blended blooms. My favorite is called 'Zion Amethyst Copper', which sports gorgeous blooms that are near purple in the center, blending to pink and then copper orange at the edges. 'Zion Pink Sand' blends from a creamy yellow center to muted pink edges. 'Zion Red Copper' offers up beautiful purple to coppery-red-edged blooms.
Cape daisies like a full-sun location and prefer well-drained, amended soil. They are also fantastic container plants. Be sure to fertilize when you plant, and feed once per month thereafter. Deadhead old blooms to keep the fresh buds coming.