Don't Resist Change
This article was originally published by Greenhouse Management Magazine for their December 2013 issue.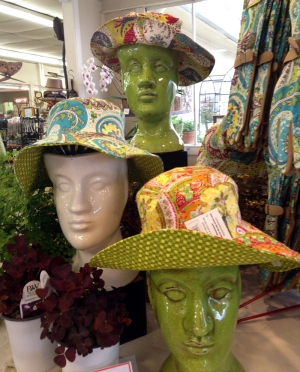 One of the most important questions everyone in the green-industry supply chain should be asking is: Are we relevant to younger home owners? This was a predominant theme of conversation at a recent industry conference I attended. If we're honest with ourselves, the answer is mostly "No." Ask anyone younger than 35 to tell you the first garden center that comes to their mind, and they're likely to answer "Home Depot." Our industry was thriving and growing in the 1990s and the big box stores took note of this trend and capitalized on it. Subsequently, they've done a great job at training new gardeners and homeowners to think of them as their go to "garden center." All while most IGCs sat back and allowed it to happen.
Collectively, Boomer garden center owners seem to feel frustrated about why younger people aren't engaged in gardening and shopping independent garden centers. However, these owners seem reluctant and resentful about making changes and upgrades necessary to attract a new generation of gardeners. Why can't we do things the same way we did 20 years ago and get the same results? Well, we all know the definition of insanity, right?
Talking down to the "youngsters": They hate it and you're guilty of it. Gardening might be your first language, but it's definitely not theirs. Our world, and IGCs, are especially intimidating to newbie gardeners. When you get frustrated with them for not understanding basic gardening concepts, they sense it and will abandon you for a big box where no one will judge them. Remember, you may know as little about the technology that is their first language as they do about gardening. Your challenge is to stop making assumptions about what they should know and invite them into your gardening family in a non-intimidating way, the same way you want to be treated when you walk into a computer store and are bombarded with too many technological choices and "expert" computer geeks. Teaching is a two-way street.
The bottom line is unless your customers, or future customers, see themselves reflected in your business, they aren't going to choose you. The challenge now is to continue to cater to advanced gardening customers who are keeping your average sale up, while pushing ahead on technology and refreshing your image for a new generation.
 
How are we doing with technology?
Again, if we're honest with ourselves we'll admit that we are, as an industry, woefully behind the game when it comes to our digital online presence. That starts with the state of our websites. Most IGC owners I talk to are very reluctant to spend the money necessary to create a respectable, relevant website that resonates with modern garden shoppers.
What we all must understand is that a good website is no longer an extra or a luxury, but a necessity. Potential shoppers don't stop by your store first to check you out; they stop by your website. They will judge your relevance and worthiness by how your website looks and navigates before they drive to your location. If you don't make a good initial impression, many won't bother getting in their car.
Take a good look at your website: Does it say 2013 or 1998? Most garden center websites I look at say the latter. You must allocate real dollars to a good website rebuild or refresh. In my experience, you're not going to get a great dynamic website for pocket change. Websites are a real, tangible and supremely important part of your marketplace now, whether or not you sell online. Your website reflects who you are as a business.
Is your online content dynamic or static? Customers are looking for content that changes, educates, and inspires them. A static website, which is basically just a digital bookmark these days, doesn't cut it. Integrating a blog or a page where content or product updates happen regularly (at least once per week) is a good start.
How social are you?
Gardening is often a communal affair. It's just that many people now commune and share their gardening experiences online. Social media is a must for IGCs these days. At a minimum, Facebook and Twitter are a great way to engage with customers and give them daily gentle reminders of your existence. YouTube is the No. 2 search engine. If you have a smart phone and the patience to shoot a few simple, lo-fi one-minute videos, that's a great way to add dynamic content to your website that drives traffic. Instagram and Pinterest are also becoming valuable sales and SEO (Search Engine Optimization) tools that make fast visual connections with customers. We have to make contact with are customers where they are. And where are they? Online.
Every time someone walks into a garden center with phone in hand, consider it an opportunity to become relevant to them. Encourage them to take photos of their gardens, plants for ID and pest issues so that you have more than a vague verbal description from which to make a diagnosis. Use QR codes on your signs to link to helpful garden tips, plant lists or recipes at your website. Allow customers to show coupons or social media specials to your cashiers on their phone at check out. On your signs, ask customers to "Instagram" their favorite plants and products with your chosen hashtag (#). Invite the technology, then give them something to do with it.
Treat all of this technology as a serious new layer of work that must be budgeted for and staffed. None of it is "free" if you use it right. When you use it right, you'll see a return.
Does customer service really justify the price?
The one case most IGCs have continued to make as big boxes have become bigger players is that our customer service makes up for the higher prices of our products. But I feel we've fallen behind the curve there, too.
A big challenge for many IGCs is getting back to "nice" being a bigger priority than being the biggest plant geeks in town. Good customer service trumps encyclopedic knowledge any day of the week.
On a recent trip to a few IGCs in my area, I wasn't greeted by a single employee at any of the three locations I visited. Most never spoke to me at all the entire time I shopped. Staff at IGCs often seem far more concerned with whatever "important" plant project they are involved in at the moment, than they are with making sales. Our customers can get that treatment for a lower price at any big box store.
Our challenge is to shift to hiring staff not just for plant knowledge, but also for a happy personality and a desire to work with customers proactively.
Change: Embrace it!
While these challenges are serious, the good news is that they can all be overcome if we collectively agree that change is important and we need to embrace it. I feel strongly that if as an industry we had invested as much energy into improving and maintaining our technology, customer service, image, and relevance as we have into plant breeding and plant branding, we'd be well ahead of the game