Daylily
The adaptability and durability of the daylily, Hemerocallis, combined with its seemingly endless variety in color, blooming period, size and texture make them a garden favorite.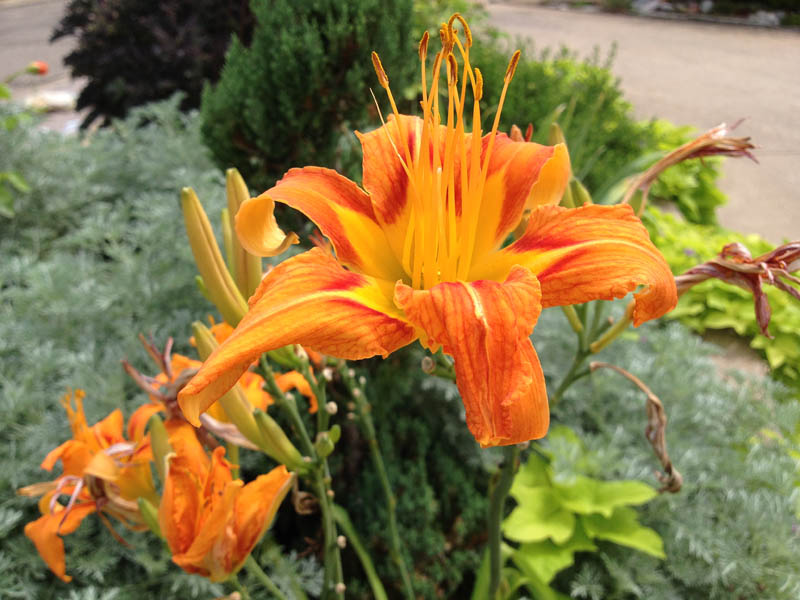 Growing
Daylily grows in varied light conditions from full sun to light shade. Take care not to plant in heavy shade, as flowers will be few and far between. The soil should be fertile, moist and well drained, but these plants adapt to most conditions and are Texas tough once established.
Deadhead to prolong the blooming period. Be careful when deadheading purple-flowered daylilies because the sap can stain fingers and clothes.
Divide every two or three years to keep plants vigorous and to propagate them. The plants can, however, be left indefinitely without dividing.
Tips
Plant daylilies alone, or group them in mixed perennial beds, on banks and in ditches to control erosion. They can be naturalized in woodland or meadow gardens. Small varieties are also nice in planters.
Recommended
Daylilies come in an almost infinite number of forms, sizes and colors in a range of species, cultivars and hybrids. Visit your local garden center or daylily grower to find out what is available and most suitable for your garden.
Features: spring and summer flowers in every color except blue and pure white; grass-like foliage
Height: 1–4'
Spread: 1–4'
Hardiness: zones 2–8
Note: All parts of the daylily plant are edible. The flowers are the sweetest and tastiest part of the plant and can be eaten both raw and cooked.