Cross Vine
Cross Vine, Bignonia
This native vine is known to grow very large and at a rapid rate. It blooms like crazy and disguises unsightly surfaces and structures in no time.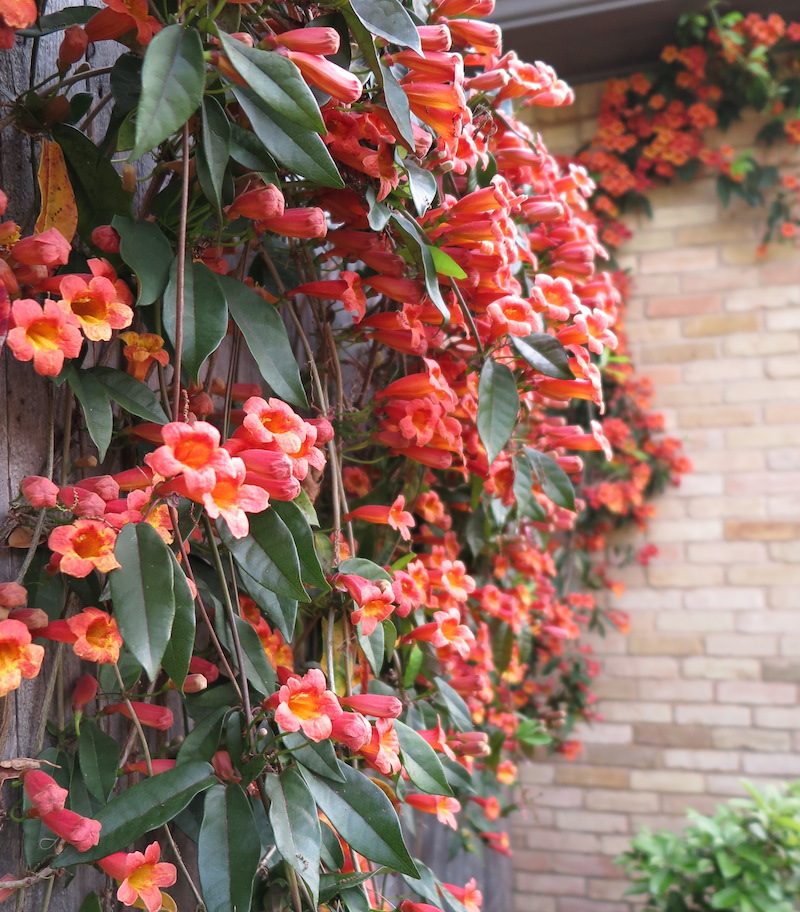 Growing: Cross vine can tolerate a wide range of soil conditions but prefers organically rich, well-drained soil in full sun. Plants perform best if provided dappled sun or some shade in the afternoon .
Prune after flowering and whenever you find it necessary to train it on its support.
Tips: This twining plant climbs up just about anything. The stems climb by holdfast disks at the end of their tendrils and rootlets, which act like little suction cups. When first planted, cross vine needs to be attached to the surface it will eventually climb.
Recommended
B. capreolata is a twining, vigorous vine that produces lush, green foliage along long, tough stems. Orange-yellow, tubular flowers with reddish throats emerge in spring and early summer. The foliage takes on a purplish red color as the days grow cooler in winter. Cultivars are available in other fiery colors as well.
Features: bright, fiery-colored flowers; vigorous, twining habit
Height: 30–50'
Spread: 20–40'
Hardiness: zones 6–9
Notes: Cross vine is sometimes confused with trumpet creeper. Although the two plants look somewhat similar, cross vine doesn't have the same invasive nature, and it blooms at a different time of the growing season.