Chinese Fringe-Flower
Chinese Fringe-Flower, Loropetalum
Chinese fringe-flower is an attractive spring-flowering shrub that can be used almost anywhere a large shrub is desired. The varieties with reddish purple leaves are a knockout!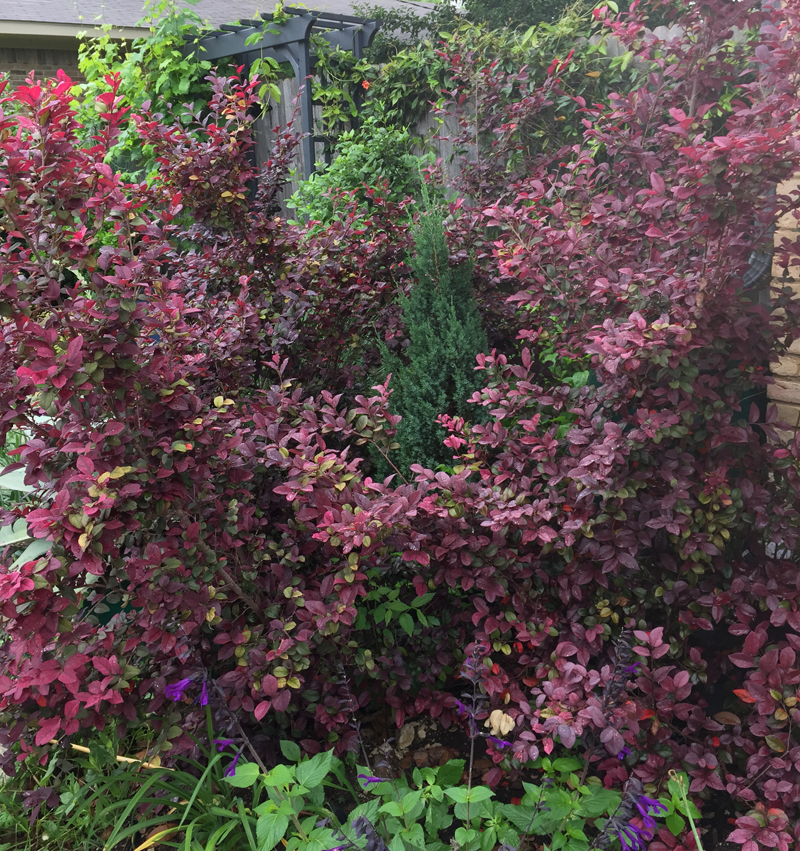 Growing
Chinese fringe-flower grows best in full sun but does almost as well in partial or light shade. The ideal soil is acidic, moist and well drained, with a lot of organic matter mixed in, but Chinese fringe-flower adapts to sandy or clay soils. Once established, plants are drought tolerant; however, they require regular watering when newly planted in order to become established. The purple-leafed varieties are the most popular and are used to provide foliage contrast in both formal and informal landscapes.
Tips
Chinese fringe-flower can be used in a wide variety of shrub and mixed beds and borders. The evergreen foliage makes a nice background for other flowering plants. Plants are best left to grow in their natural form; shearing is not recommended. Perform selective hand-pruning to keep plants in-bounds or to desired size.
Recommended
L. chinense (Fringe Flower', 'Chinese Witchhazel') is a fast-growing, irregular, rounded to upright shrub with evergreen, glossy, dark green foliage and fragrant, creamy white flowers. A number of excellent selections have reddish purple leaves and showy pink flowers. 'Plum Delight' and 'Purple Pixie' are excellent performers with a more compact size.
Features: white or pink spring flowers; attractive foliage color; low maintenance
Habit: low-growing, spreading, evergreen shrub
Height: 3'-10' (species can grow up to 20')
Spread: 4'-6'
Hardiness: zones 7-10
Notes: In the coldest parts of the state, Zone 6, if the plant is frozen to the ground, it will regrow from the roots.