Celosia
Celosia, Celosia
The unusual, wrinkled texture of the celosia's flowers and the incredible variety of flower forms make them a showstopper in any garden.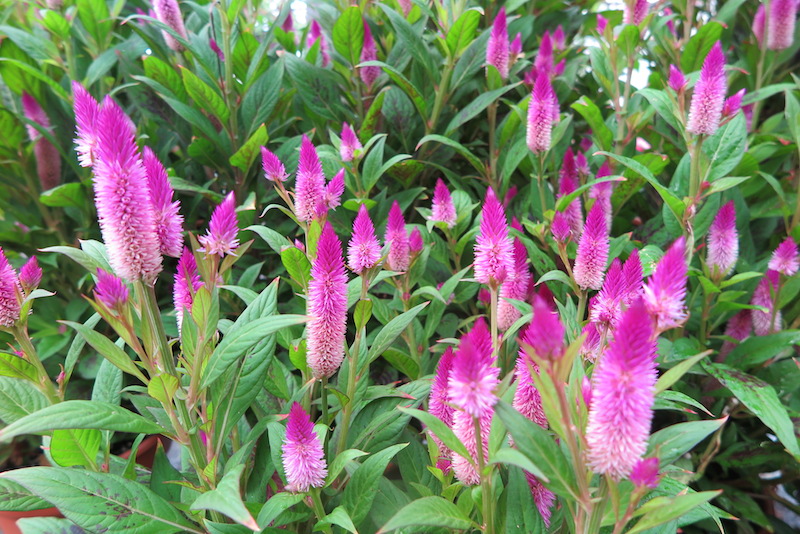 Growing
Celosia prefers full sun and is tolerant of excessive heat. The soil should be fertile and well drained with plenty of organic material worked in. Celosia likes to be watered regularly.
Celosia is a self-cleaning annual, so it does not require deadheading. A plant that has its first flower bloom pinched out will be fuller and bear many more flowers than a plant that has not been pinched.
Tips
Use celosia in borders and beds as well as in planters. The flowers make interesting additions to cut arrangements, either fresh or dried. A mass planting of plume celosia looks bright and cheerful in the garden.
Recommended
C. argentea is the species from which both crested and plume-type cultivars have been developed. The species itself is never grown.
C. cristata (crested celosia) has blooms that resemble brains or rooster combs. This group has many varieties and cultivars in bright, vivid colors.
C. plumosa (plume celosia) has feathery, plume-like blooms. This group also has many varieties and cultivars in deep, rich colors. 'New Look' is a variety particularly well-suited to Texas.
C. spicata (spiked cockscomb, wheat celosia) produces narrow, spiky flower heads, reminiscent of heads of wheat. Unlike C. argentea, spiked cockscomb produces numerous flowers, with an almost shrubby look, in more muted colors. Cultivars are available.
Features: red, orange, gold, yellow, pink or purple flowers
Height: 10–36"
Spread: 10–36"
Notes: The popular crested varieties make excellent cut flowers.