Abelia
Glossy abelia is blessed with attractive foliage, great flowers and interesting bark. This striking, easy-to-grow shrub can attract butterflies, praying mantises and hummingbirds to your garden.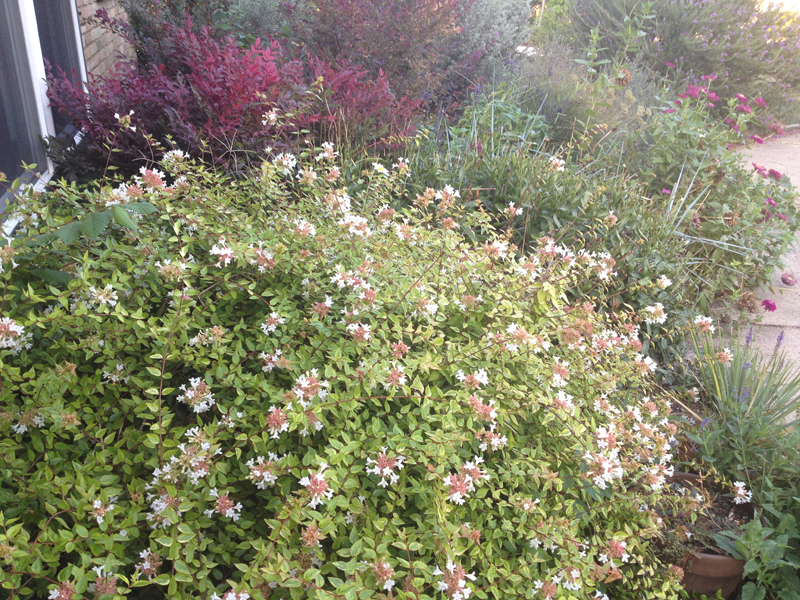 Growing
Glossy abelia prefers full sun but tolerates partial afternoon shade. The soil should be slightly acidic, fertile, moist and well drained, although glossy abelia is adaptable to different soils and extremely drought tolerant once established.
Tips
Glossy abelia is good for both formal and informal gardens and hedges, and it is attractive individually or in groups. It can be used in shrub or mixed borders. Clematis vines weave beautifully through glossy abelia. Standard varieties make excellent background shrubs for mixed beds, while dwarf varieties are perfect for placing closer to front entrances or walkways.
In most areas of Texas, glossy abelia is evergreen; in the coldest parts of the state, it is semi-evergreen. If parts of the top-growth are damaged or killed by cold, they will re-grow from the crown.
Recommended
A. x grandiflora produces white or pale pink flowers sporadically all summer. The glossy, dark green foliage turns red or bronze in fall, persisting through winter in mild areas. In colder areas, the leaves drop, revealing the attractive exfoliating stems. Variegated and compact cultivars are available. These shrubs are large, reaching up to 8-feet.
'Edward Goucher' is typically the most widely known and available dwarf abelia. 'Kaleidoscope,' a relatively new cultivar, offers variegated foliage with excellent fall color on dwarf 3-foot plants. Twist of Lime' offers chartreuse foliage with cream edges. 'Sherwoodii' produces much smaller, finer leaves on 4-foot plants.
Features: white or pink flowers; attractive foliage and stems
Habit: large, rounded, evergreen or semi-evergreen shrub with arching stems
Height: 3'–8'
Spread: 4–8'
Hardiness: zones 6–9
Notes: Deer seem to avoid abelias that have been in the ground for more than two or three years.