Blog posts categorized as: Pollinators
Mar 6, 2017
If you grow vegetables, berry bushes or fruit trees (or all of the above) then you already understand the importance of successful pollination. Flowers need to be pollinated in order to successfully produce a fruit. Even if you don't grow your own produce in your backyard, your trips to the grocery store would be pretty bleak without pollinators. While there are many pollinators in the insect world, honey bees have traditionally been the workhorse pollinators of agricultural crops. But it's not just our food crops that need pollinators. According to published research, cross-pollination by bees supports at least 30% of the world's food crops and 90% of wild plants. Bottom line: We need bees.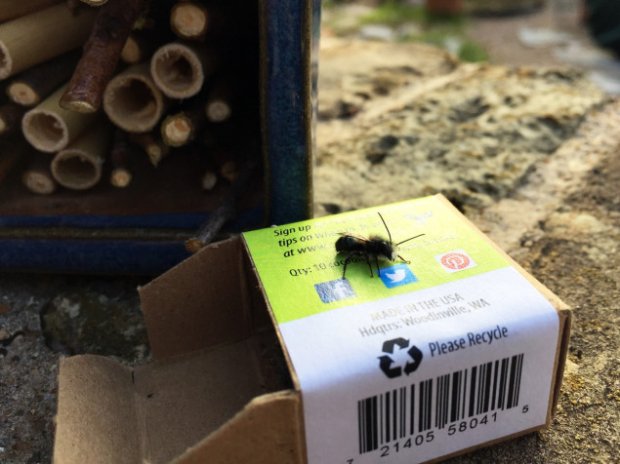 A baby blue orchard bee emerges from its cocoon in my garden. Hello!
You probably know that urbanites have taken to beekeeping with more interest in the last few years. I personally keep several honey bee hives myself. While we need more beekeepers, the reality is that beekeeping is not for everyone. It's costly, requires hands-on education and a serious commitment to tend your hives and continue learning. If you have small children that regularly use your yard, then you may not be able to accommodate beehives on a small urban property. Here in the city, you also have to take more precautions to safely keep bees, being that we all have neighbors close by. So then what do you do if you want to increase your home garden yields and help the overall bee population, but you're not prepared to become a beekeeper? Mason bees are the answer.
Did you know? There are thousands of bee species in North America other than the European honey bee. If you've ever spent time watching the blooming plants in your garden, you've probably seen many different types. If we can boost all of their populations, our food supply will be in much better shape. In fact, by boosting populations of other species, we can help mitigate some of the pressures on honey bees. Mason bees are a group of what I call "gentle super pollinators". They don't produce honey, but they don't sting or require hive maintenance. While the females do have a stinger, they rarely if ever use it. The Blue Orchard Bee, which occurs naturally in our area, is one such mason bee.
Now is the time that baby mason bees will begin hatching out of their winter cocoons. You can pick up dormant cocoons of blue orchard bees and nesting materials right now at local garden centers (call ahead to check availability or have them order for you). Mason bees, unlike honey bees, don't build honey comb in a hive. They simply nest in narrow holes or tubes they find in wood and hollow twigs. I've even seen them nesting in holes in my home's exterior brick. You can purchase mason bee houses, which you fill with paper or reed tubes. It can take several seasons for your own little mason bee population to build up and that hinges on you providing nesting material. Other than the nesting material, all you have to do is sit back and let these powerful pollinators do their thing!
Jun 10, 2016
There are few flowers we grow here in Dallas that are as exotic and intriguing as the passion flower. If you happen to have a passion flower vine in your garden, then you've no doubt been enjoying an explosion of blooms. While the heavy rains have caused many homeowners and landscapes some serious grief, vines like passion flower have happily soaked it up. Vines have grown leaps and bounds over the last two months and the honey bees, bumble bees and other pollinators couldn't be happier about it.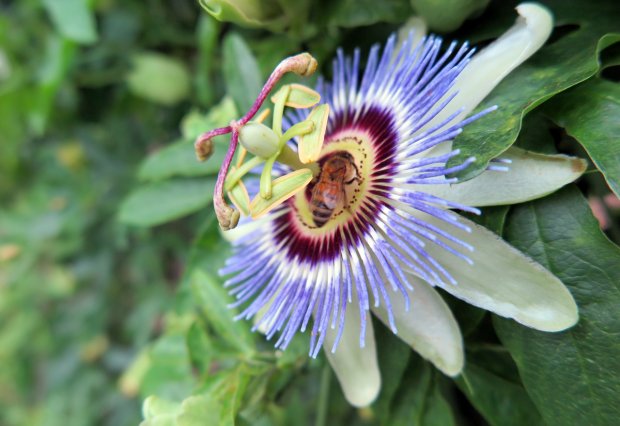 Passion flower quickly attaches to any nearby structure, be it a fence or arbor.
If you're looking for a perennial vine that can quickly cover a structure, such as an unsightly fence or a featured arbor, passion flower vine is a wonderful choice. There are a number of species and varieties of Passiflora spp. available, with flower colors of white, blue, purple, pink, red and orange. Some passion flower varieties aren't completely cold hardy here in Dallas; they may die down to the ground in winter, but typically reemerge the following spring.
Passiflora caerulea, or blue passion flower (pictured in the photos), is a cold hardy specimen that typically keeps most of it's above-ground vines and foliage over winter in Dallas, depending on the weather. Passiflora incarnata, also known as purple passion flower or may-pop, is one of the more cold hardy and popular species for our area. Both will host butterfly larvae and produce small fruits. If you want deep red flowers, Passiflora vitifolia is widely available, although plants aren't quite as winter hardy.
If you're looking to attract butterflies to your landscape, passion flower vine should be at the top of your shopping list. Gulf fritillary will flock to your vines en masse. They will lay their eggs on the vines, as it is a host plant, so be prepared for their caterpillars to munch on your plants a bit. Passion flower vine recovers quickly, so there's no need to fret about any damage.
For the best results, plant passion flower vine on a southern exposure with plenty of direct sun. Plants can tolerate some dappled or late afternoon shade; too much shade will thin out the vines and limit blooms. Be prepared for vines to grow large and assertively. They'll attach themselves with spiraling tendrils to any nearby structure. Now is the best time to find a good selection of passion flower at your local garden center.
Mar 29, 2016
With such a warm winter behind us here in Dallas, we might be seeing hummingbirds in the garden any day now. Do you have the right kinds of plants in your lanscape to attract and feed these the tiny beauties?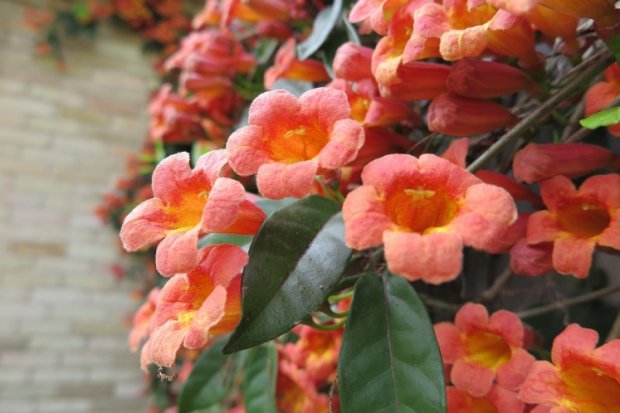 Crossvine is typically one of the blooming plants to attract nesting hummingbirds.
The species of hummingbirds that we see here in Dallas, ruby-throated and black-chinned hummingbirds, spend their winters in Mexico and Central America. Hummingbirds typically begin arriving in the Dallas area in late-March; usually just in time to take advantage of blooming plants like crossvine (in full bloom right now) coral honeysuckle and buckeyes. The autumn sage are already blooming, which will definitely capture their attention.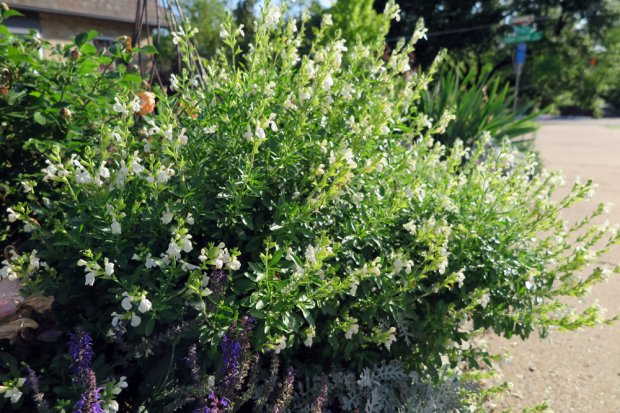 White autumn sage, and salvias of all kinds, attract hummingbirds.
If you want to attract hummingbirds to your garden and you haven't yet put out feeders, now's the time. Plants hummingbirds love typically produce tubular flowers that accommodate their long tongues. While hot colored flowers (red, orange, yellow), tend to be preferred, the hummingbirds in my yard are just as happy to feed on white, blue and purple salvias.
In order to see an abundance of hummingbirds in your garden, you need to attract a female to nest in spring. By putting out hummingbird feeders late-March and planting specific spring-blooming plants, you can entice a female to take up residence nearby if other conditions are right. Plants they love in Dallas gardens include esparanza, crossvine, salvia, honeysuckle, columbine and red yucca.