Blog posts categorized as: Plant Pests
Sep 16, 2016
Growing plants indoors, be they low-light houseplants, or flowering and fruiting plants you're growing under plant lights, doesn't mean you're going to be free of the kinds of pests and diseases you have to deal with in the outdoor garden. In fact, it's often the assumption of new indoor gardeners that they won't have to deal with any pests, and they're often surprised when pests become one of their first challenges.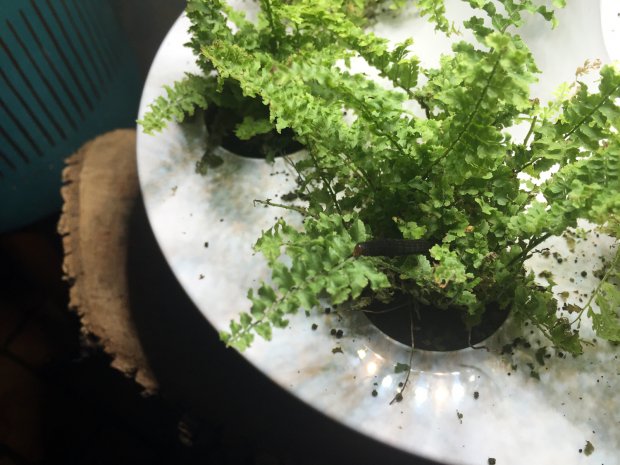 Can you see that dark colored caterpillar munching on my little ferns? Drat!!
The reality is that most plants you bring into your home probably bring a few hitchhikers along with them. A seemlingly healthy and attractive plant you purchase and bring home may all of a sudden appear less than healthy. There may also be "evidence" of the critters doing damage.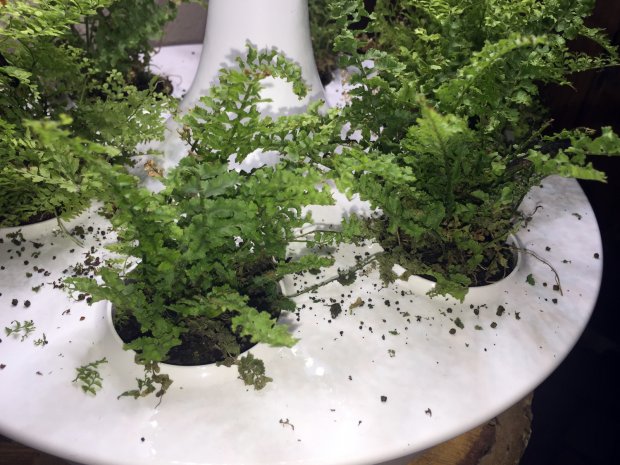 See all those little "balls"? That's frass; a nice word for pest poop!
Recently, I added some small fern plugs to my Ambienta plant grow lamps. Shortly thereafter, they didn't seem to be looking their best, and I noticed frass (poop -those little pellets you see in the photo) collecting around the bottom of the plants. Yep, they've got worms! Most likely the eggs, or even tiny caterpillars, were hitchiking on the plants, and got to work munching away and growing after I planted the ferns. Caterpillers that chew on plants tend to munch either during the night or day, then retreat back under the soil, or to the center of the plant - making it hard for you to spot them right away. So, you have to look for the frass.
Picking off the caterpillars is the first step to controlling them, as that will help remove most of the critters doing most of the immediate damage. Then, I'll spray these little ferns with a solution of Thuricide (Bt), an organic larvacide that will kill the up and coming caterpillars as they munch on the foliage.
Sep 11, 2016
Extra summer rainfall and humidity might be great for your garden plants...but they are also great for garden pests! I've seen an explosion of whiteflies all over landscape plants this past week.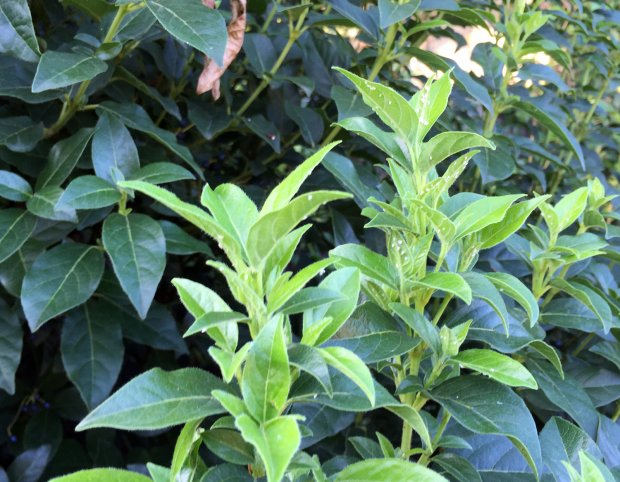 See those little white specs? Those whiteflies are sucking liquids out of this Viburnum.
Whiteflies are tiny flying insects that can infest your outdoor and indoor plants. They suck moisture out of your plants and can cause damage and stunt growth. Insecticidal soaps and horticultural oils are typically strong enough to control whitefly infestations, but know that you'll have to do several follow up treatments, as new whiteflies will continue to hatch while conditions are favorable. So whitefly infestations can take time to eradicate.
In an organic garden, where you encourage a balance of wildlife, nature can help you take care of a whitefly problem. I came across this lovely spider web filled with whiteflies. I realize not everyone is crazy about spiders, but they are incredibly beneficial in our environment and landscapes. They control a lot of pests for you, so when you see spider webs in your garden, let them be!
If you've had whiteflies on your garden plants, chances are you'll have them again the next time conditions are favorable. You'll want to keep an eye out in early spring and plant on treating the same plants preventatively with a natural treatment of your choice.