Blog posts categorized as: Perennials & Annuals
Mar 31, 2009
Spanish Bluebells, Hyacinthoides hispanica, are blooming in North Texas now. These are one of my favorite perennial bulbs here. Anything that falls into the "blue" category will get at least one shot in my garden. These are great for naturalizing in perennial beds, groundcover beds or even turf. They'll tolerate some afternoon shade. Purty.
Mar 15, 2009
The three ornamental peaches I planted last year are all popping. They are each a double flowering variety called 'Peppermint'. Blooms appear in shades of hot pink and white/pink stripes. They are the fascination of my 1 1/2 year old neighbor, Madeline. And the other neighbor, Lonnie...who is not so much 1 1/2 but who nonetheless gets all giggly like a little girl when new things are blooming in my garden. Delights for kids and not so much kids alike! Purrrty.
Aug 22, 2008
Finally...a reprieve. Here in Dallas we've been the beneficiary of some unusual and unexpected, but most welcome, August rainfall. The last week has been cloudy and rainy...it's a little unsettling for this time of year when 105 is the norm...it leaves you wondering what kind of follow up punishment you're in for as a result. Surely...the 100's will return just to spite us. Well, my fingers are crossed at this point that they won't! I usually turn my eyes away from the garden in August...it's just too hard to keep things looking their best. That being the case, plants that take up residence in my garden must have a certain...how you say...fortitude. Survival of the fittest is the name of the game. When we are lucky enough to get a bit of rain and cooler temps, it's amazing how these plants will spring back to life in no time. A few days of clouds and rain allowed my front garden to start looking like it had some life back in it. Here are a few shots of the tough guys...and gals... You'll see tomatoes and herbs in my front beds now, as I plan to work more edibles into the ornamental landscape. The lovely blue tomato cages coordinate perfectly with my bottle tree. Me? Picky? No.... Btw....Kay is one of my staffers...she has magical powers and so does the rain dance. Must have worked.
Above: Beautiful butterfly on Mexican Petunia. 'Celebrity' Tomato, garlic chives, basil, Angelonia...more.
Above: Autumn Sage, Mexican Petunia. Rain lily 'Autumn Sunset'

Above: Mexican Feather Grass, Pennisetum 'Prince', Salvia 'Victoria Blue'. Rose 'Perle d' Or' popping back into bloom for fall.
Apr 24, 2008
So the transition from spring to summer begins...it's sad but also exciting for me. I'm such a bulb fanatic and my spring garden is always so pretty that I hate to see the season fade. The Dutch Iris were stunning and my bearded Iris bloomed gangbusters this year. The tulips and daffodils put on a great show. I believe there is one last lone white tulip still holding on to its petals, but I'm sure after last night's heavy rainstorm, it has expired. I wish I'd had time to get photos up of all the lovelies, but just didn't get to it quickly enough. Sigh. Ah well....ON TO THE ROSES!!!
For those of you who've read my blog in season's past, you may know I'm obsessed with peach colored roses. Now most varieties that fall into that color category are not always the best types for growing in my area (lots of English Austin hybrids, etc.). The Texas climate, with its heavy clay soil, scortching sun, but lots of spring and fall humitidy, doesn't really suit these daintier specimens. But what does any professional horticulturist do? Well, we break the rules of course! Now there are a few better suited antiques that fall into my favored color range, so I have a fairly decent mix of the dainties and the hardies at this point. They've all started popping into bloom in the last two weeks. The garden has smelled just lovely...here are a few photos. Addendum: you can scroll over the photos to see the variety names, but per request I'll provide ID 1. 'Abraham Darby' 2. 'Abraham Darby' 3. 'Perle d' Or' 4. 'Mutabilis' 5. 'Mme. Fraziska Krueger' 6. 'Pegasus' 7. 'Pegasus' 8. 'Tamora' 9. 'Pat Austin' 10. 'Ebb Tide'
Apr 4, 2008
Just a few more shots of the progression of spring color...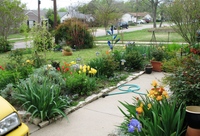 Mar 16, 2008
As it warms up, the garden is really starting to pop (as are the weeds....)
I usually plant mid- to late- blooming daffodils, so they are just now starting to come into bloom. 'Thalia' my favorite white triandrus narcissus has just put out its first two blooms. They are also fragrant. 'Tete a Tete' is a great little fragrant jonquil. I love working edibles into the ornamental garden for the cool season. Curled parsley, bronze fennel and Swiss chard are great for this - and you get to harvest. Summer snowflake, Leucojum aestivum, is in full bloom. Anemone 'Mr. Fokker' is blooming in a few places in the garden as well.





Mar 16, 2008
I'm a sucker for Iceland Poppies. But you know, they so pull their weight in the spring garden. And you get the most lovely photos. Here in Texas, plant them in the fall and they'll bloom gangbusters for you in spring. Just a few new photos from today.
Apr 15, 2007
So a few more things have started to bloom. The first is my 'Ramona' Clematis. I had to plant a 'Ramona' in honor of my Chihuahua, Ramona, of course. Next is Rose 'Ebb Tide'. The photo doesn't do the color justice. It is the deepest purple rose I've seen, highly fragrant, and produces masses of buds. I got it as a test plant before it was released. Weeks roses released it in 2006, so it is new to the market. Another shot of 'Tamora' in bloom. Such a great fragrance. Rose 'Abraham Darby' just started blooming as well. Rose 'Cracklin' Fire' is a cute little miniature. It has that great orangey color I love. It's has a wee problem with blackspot in the spring- as you can see in the photo. But it usually grows out of it with no treatment once it warms up.
Now, as a horticulturist in Texas, I'm fully aware of the roses I'm "supposed" to be growing. Who do I think I am growing all these wimpy English hybrids??? Professionally I've done a lot of testing of rose varieties and contributed data to the Texas A&M EarthKind program. Of course I have antiques in my garden. I'm sure that within the next year or so 'Mutabilis' will be overtaking my front yard, and I'll be happy for it. But, I just have this weakness, stress WEAKNESS, for those big, fat, juicy David Austin beauties. And seriously, they are doing great for me. I maintain an organic garden and haven't touched a rose in my garden with a single treatment in 3 years. Occasionally, during times of high humidity and cool temperatures, foliage fungal diseases will crop up. I generally allow plants to outgrow their problems naturally.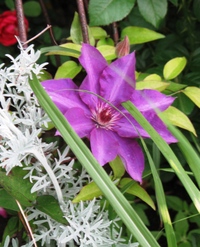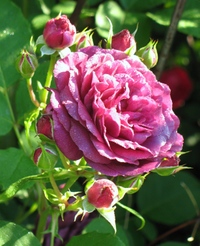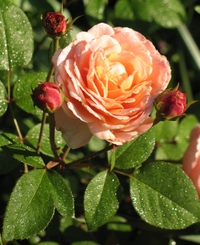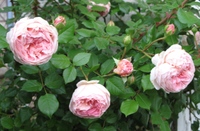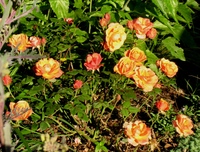 ---