Blog posts categorized as: Perennials & Annuals
Oct 11, 2017
I have to have a bit of a horticultural temper tantrum this morning, which has to do with plant labeling...or rather incorrect plant labeling. Plant imposters, if you will. When you're planting blooming shrubs, it can take a years for plants to establish and begin to fill in to a more mature growth habit and size. So it's pretty frustrating after all that time only to end up with the wrong plant species. Such is the saga of my Texas sage.
While there are many beautiful varieties of Texas sage, my particular favorite happens to be Leucophyllum langmaniae 'Rio Bravo'. Varieties of this species differ in growth and blooming habits from the more common Leucophyllum frutescens varieties. The former having a wider base, sprawling growth habit and heavier blooming, versus the later having a wider growth habit at the top of the plant - often developing naked knees syndrome.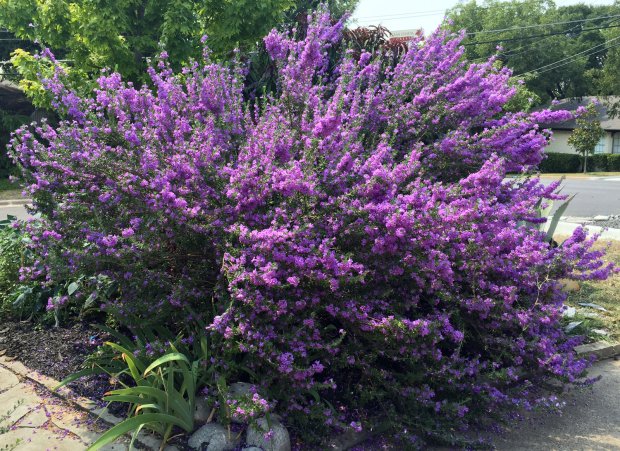 About 4-5 years ago I purchased and planted 3 more specimens of what was supposed to be 'Rio Bravo' Texas sage. I have plantings of a few types of Texas sage in my front yard and the 'Rio Bravo' is always the most stunning bloomer and the pollinators adore it. Adding a few more to my hellstrip would help fill out the space and provide more color and food for insects.
Early on, I suspected something wasn't right, as the small plants began to differentiate and the foliage didn't look similar on all three. As the three plants continued to grow and become larger, it became apparent that one plants was definitely 'Rio Bravo'...but the other two? Not sure...because they never bloomed. And I mean, never bloomed. It was bizarre. After doing some research, the best I could figure was that perhaps these two non-conformers were some sort of parent species of 'Rio Bravo'...or maybe 'Lynn's Legacy'...but again, without any flowers, I couldn't be sure. I thought, ok, whatever this variety is, maybe it has a juvenility period and it needs to mature longer before it will bloom? .
It really peeves me when nurseries and garden centers get their plant labeling wrong...it has long-term and expensive consequences for the home gardener.
By now of course, the three large shrubs have grown in somewhat different forms and don't "match"...which is highly irritating. The one real 'Rio Bravo' in the bed blooms it's head off like it's supposed to...while the other two grow in a different shape and don't bloom. Which throws the entire planting off whack. And again, I was really confused as to why these two Texas sage just refused to bloom. I've spent the last three years grappling with the idea of ripping them out and starting over. Finally last year, I got the first few blooms showing up on the two non-conformers - just a hand full in late fall. While the adjacent 'Rio Bravo' was buzzing with pollinators, not a single insect would touch the flowers on the mystery plants. So..gee...is this variety photoperiodic...a short-day plant maybe...which is why it's only putting on a few flowers in fall? I've been grasping at straws here. About a week ago I committed to just ripping the now large established shrubs out this winter and starting over.
And then THIS happened two days ago, just ahead of some rainstorms that passed through (Texas sage develop flowers in response to increased humidity, changes in barometric pressure, and rainfall):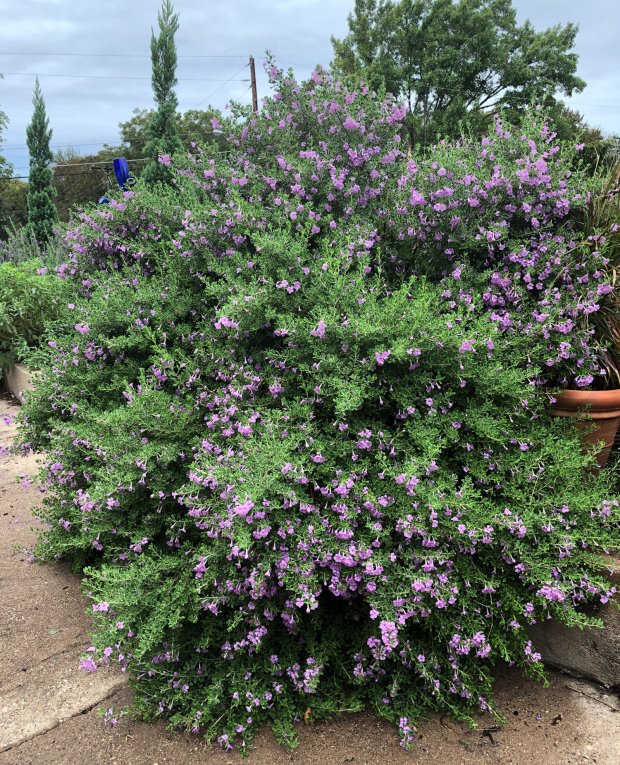 What the??!! It's like it heard me tell it I was going to rip it out...so it got to blooming in fast order! Only took 5 years. So both of these mystery plants are now in full bloom and pollinators were visiting the flowers - for the first time in my observation. Again, best I can figure these are 'Lynn's Legacy'.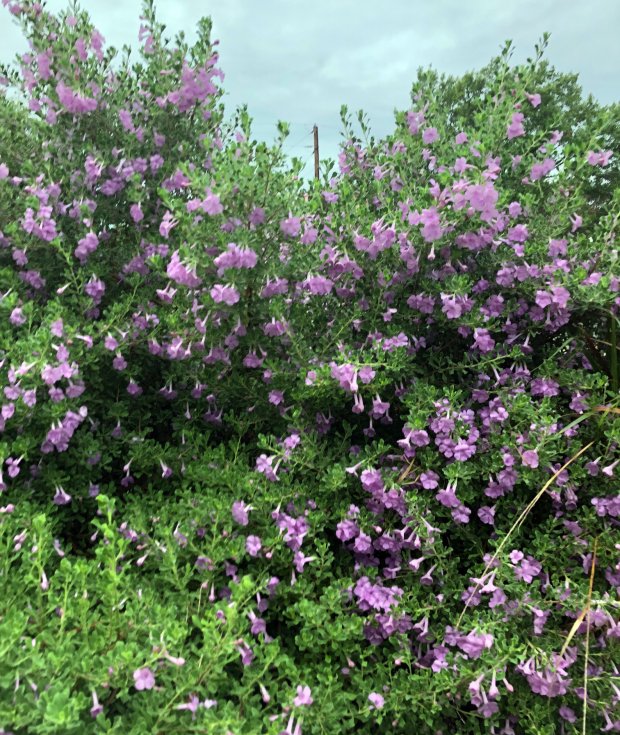 The flower are a bit too pink for my taste (I prefer the deeper violet on the 'Rio Bravo')...but now that plants are actually blooming, I have to decide if they'll stay or go. Grrr.
I've noticed a few sites online that are listing this plant as 'Rio Bravo'...so beware. Alright...plant rant over, I need to go have more coffee!
Save
Oct 6, 2017
It just so happens that as I'm working on my new book on plant propagation, it's also the perfect time to collect and save seeds. During the fall season many plants form their final seed heads that are prime for the picking. Sowing seeds is one of the simplest and most inexpensive ways to grow more of the plants you love. But if you don't pay attention to the garden right now, you may miss out on collecting some of your favorites.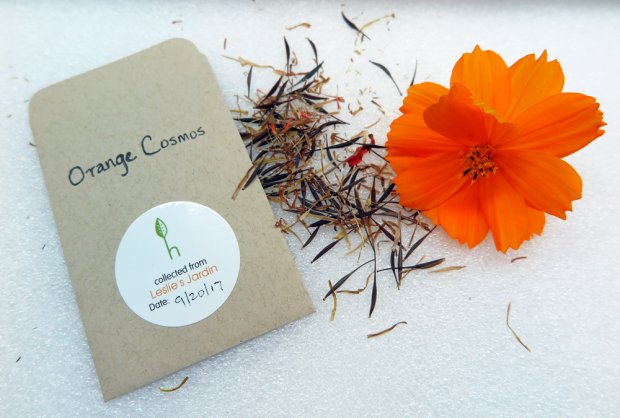 Orange Cosmos Flower and Seeds
Some plants are prolific seeders, such as orange cosmos; one of my favorite orange annual flowers. Right now plants are absolutely covered in mature seeds ready for the taking.
Plants I'm collecting seed from in my garden right now:
Cosmos
Tassel Flower
Clematis
Basil
Tomatoes
Peppers
Garlic Chives
Borage
Malabar Spinach
and more...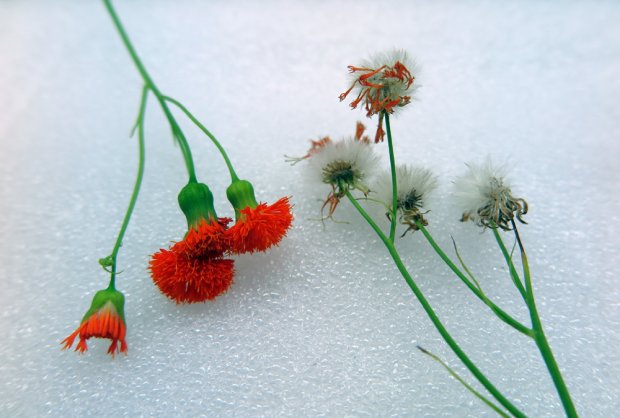 Orange Tassel Flower - flowers and seed heads
When collecting seeds it's best to allow seeds to mature and dry completely on the plant (unless of course you're harvesting tomato seeds, which are wet seeds that benefit from fermentation prior to storage). Keep your seeds in a dry sealed container. You can keep non-tropical seeds in the refrigerator to preserve them longer, but they must be kept dry in a sealed water-tight container. Be sure to mark your seed container with the date you collected the seeds, as over time germination rates wil decline.
So, if you want to collect seeds, now is a great time to look around your landscape for freebies!
Aug 17, 2017
Every time I visit new gardens, I always end up obsessed with at least one plant. On my most recent trip to Denver for the Perennial Plant Association Symposium, I came across just such a plant at several gardens through out my stops around the area.
MOON CARROT!!
This plant is killing me. I must have it. My precious.
I mean...look at it: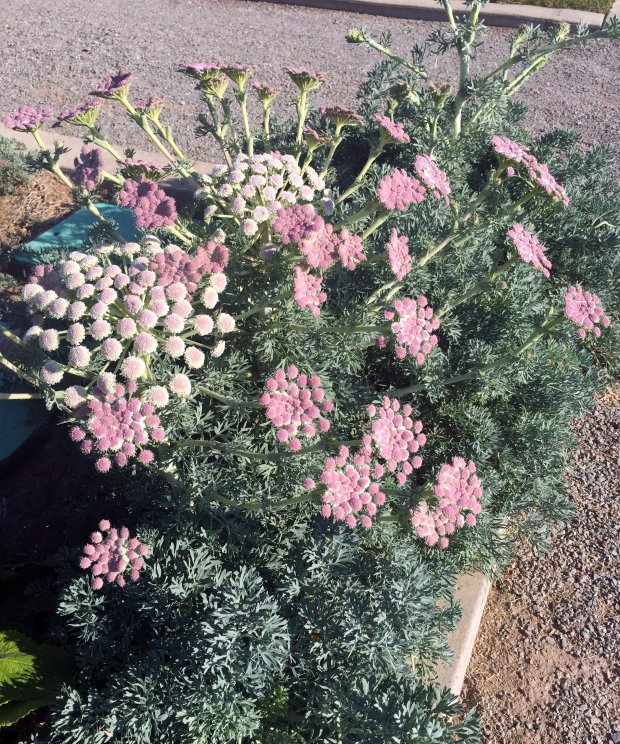 No...look at it!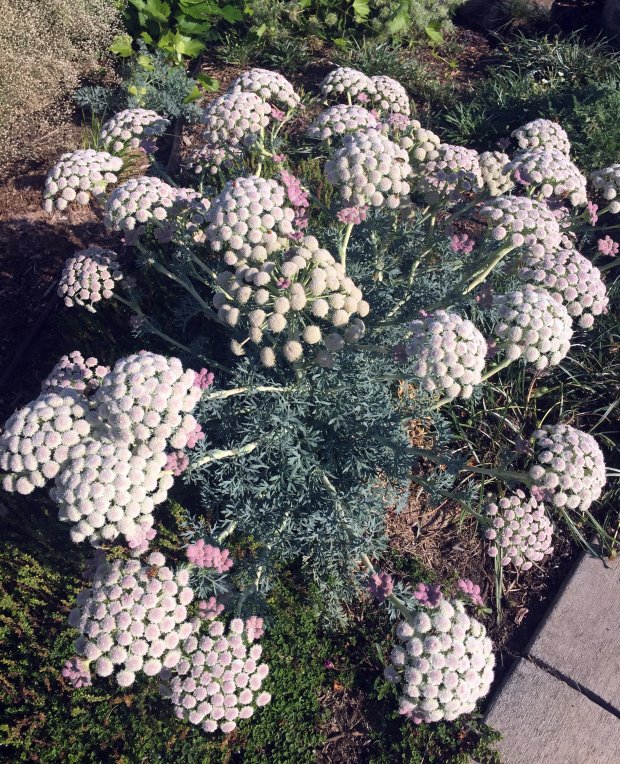 The space orb blooms atop the beautiful blue/silver foliage is just too much. Not to mention, Seseli gummiferum was covered in pollinators. They were just as crazy about this plant as I was. I love the feathery silver foliage of artemesia, but inevitably 'Powis Castle' overgrows its welcome and I end up ripping it out. Perhaps this is my solution plant...
So, what is it? Well, Moon Carrot is a biennial, or short-lived perennial, that grows about 30" tall. It prefers rocky alkaline soils at high elevations...but I'm pretty sure as long as soils are well-drained, we can enjoy this beauty here. I'm gonna make it happen. I'm on a quest for seeds at the moment, but I'll report back once I have Moon Carrot in my garden.
Aug 14, 2017
If you love plants like I do, then you're probably just as easily excieted as I am to get the skinny on the latest new plant releases from the world of horticulture. Summer is always filled with lots of work travel for me, including visits to a number of high-profile industry events. At such events, breeders and brokers put on their new plant dog and pony show so us plant geeks get a preview of what's to come.
My very, very, very favorite new plant at all of the shows this summer is Senecio 'Angel Wings'. Now, I'm easily swayed by silver foliage, but there is just something about the these big floppy leaves - I can't take my eyes off of them. Now, the scoop on this baby is that quantities will be limited next year...but I suspect demand will be big.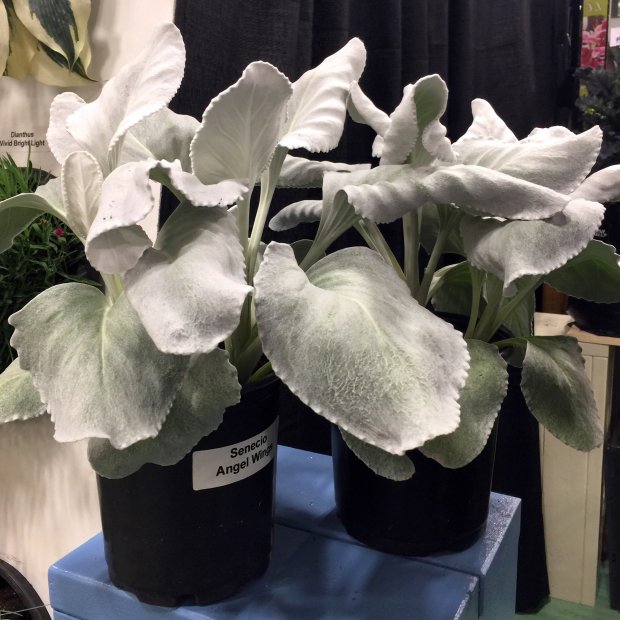 Silver seemed to be en vogue in the new plant offerings, with at least one other Senecio on display, 'Crushed Velvet'...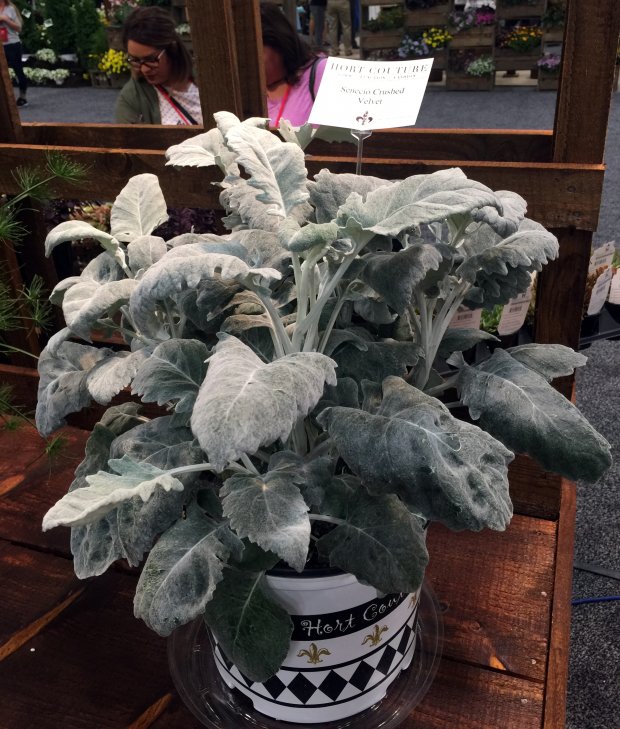 Another fabulous silver overing was Calocephalus brownii...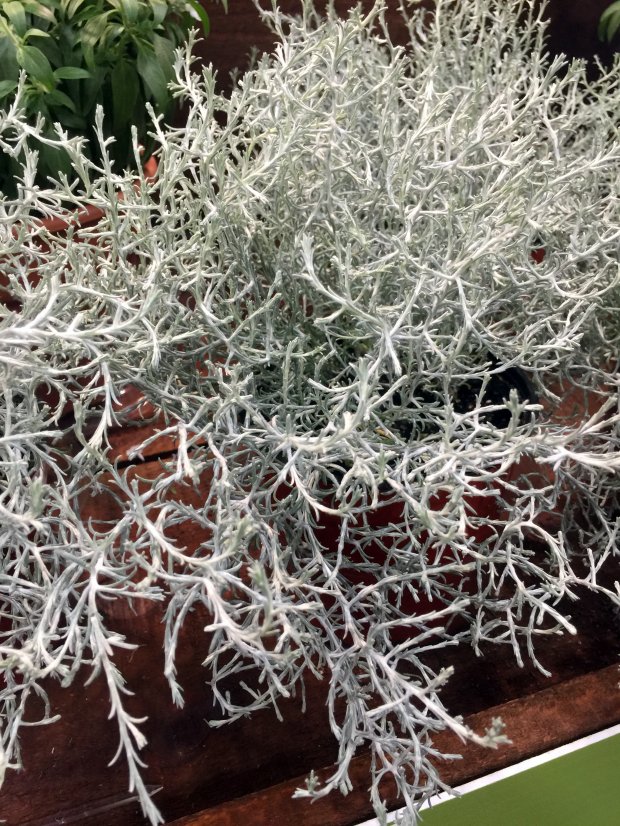 I'm in love!
Jun 23, 2017
If you recently looked at the temperature forecast for the upcoming week you probably ended up uttering something along the lines of "ugh". With temperatures soaring into the high 90s, most of us are beginning to spend more time indoors. Despite the heat, your garden doesn't have to look dull; there are some plants that still strut their stuff in the midst of our ridiculous summer temperatures. Here are a few of my faves: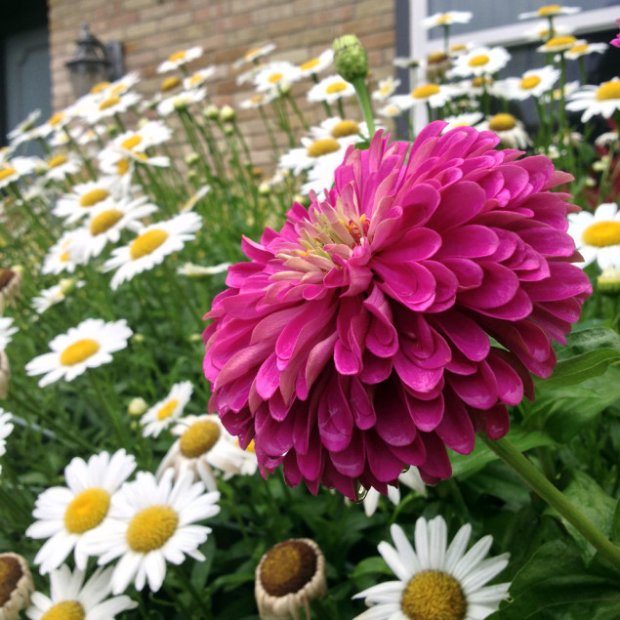 Old fashioned zinnas simply don't get the attention they deserve these days. If you're looking for easy to grow, heat-tolerant annuals you can grow from seed, there's hardly a better performer than tall zinnas. I throw seed out in the garden in spring, step away and let them do their thing with little to no follow up care. They make great cut flowers as well.
See those white and yellow daisies in the background of the photo? Those are shasta daisies. Shasta dasies are an easy and low-maintenance perennial plant that puts on an impressive show of spring-like blooms all summer. Again, a great cut flower.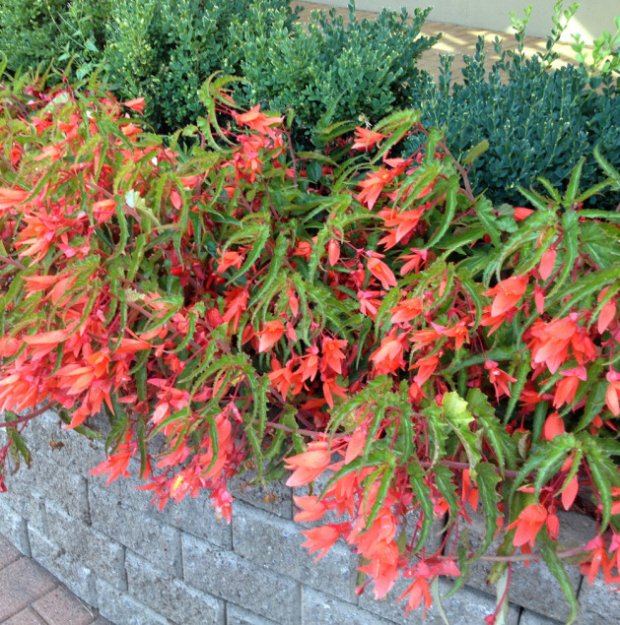 Begonias are as stable of the summer garden here in Dallas, but often you'll see the common garden begonia looking less than perky in August. Begonia 'Bonfire' bucks that trend and puts on a spectacular show through the heat of summer.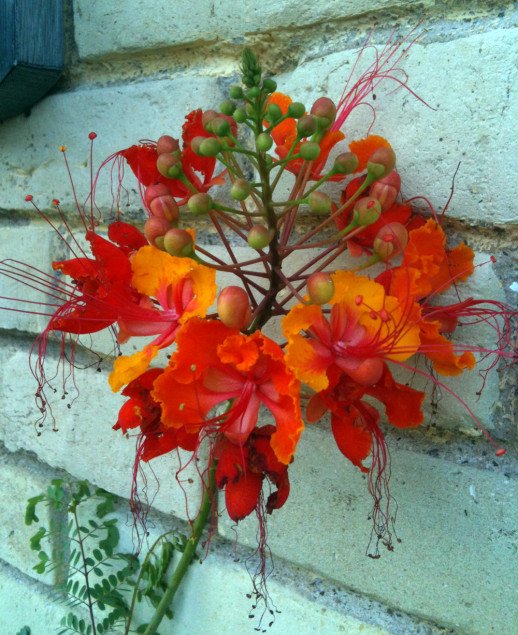 Mexican bird of paradise is not only stunning in the landscape, but stunning when temperatures seem unbearable. This large tropical shrub makes quite the summer statement and the hummingbirds love it.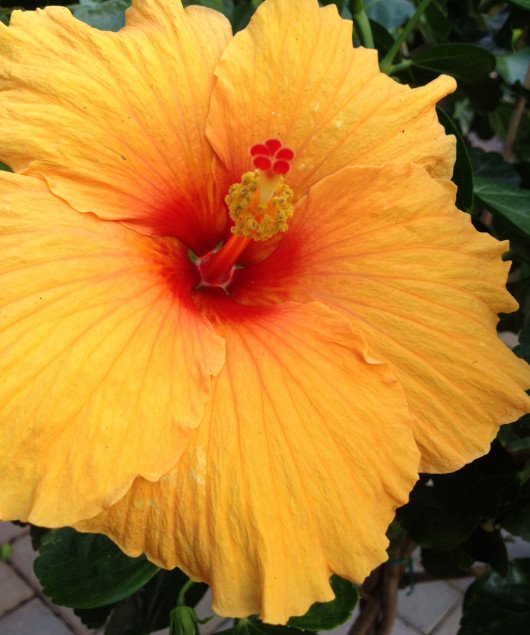 Hibiscus of all colors and sizes thrive in our intense summer heat. Their large and brightly colored blooms will bring your summer landscape to life; plus fill it full of butterflies.
There are many tropical summer bloomers that not only take the heat, but look great right through it. If your patio containers need a refresh, now's a good time to hit your local garden center for heat-tolerant bloomers.
Apr 14, 2017
The "Terrible Twos" aren't just for toddlers.
If there is one thing that gardening can teach you, it's patience. Crafting a beautiful garden or a productive veggie bed takes time and practice. Many failures will happen on the road to success. Often, we head to the garden center with a vision; then expect that vision to manifest overnight. Rarely is that the case and disappointment ensues. Whether you're building your garden DIY style, or having it designed and installed by a professional, you're going to have to give your plants some time to settle in an come in to their own.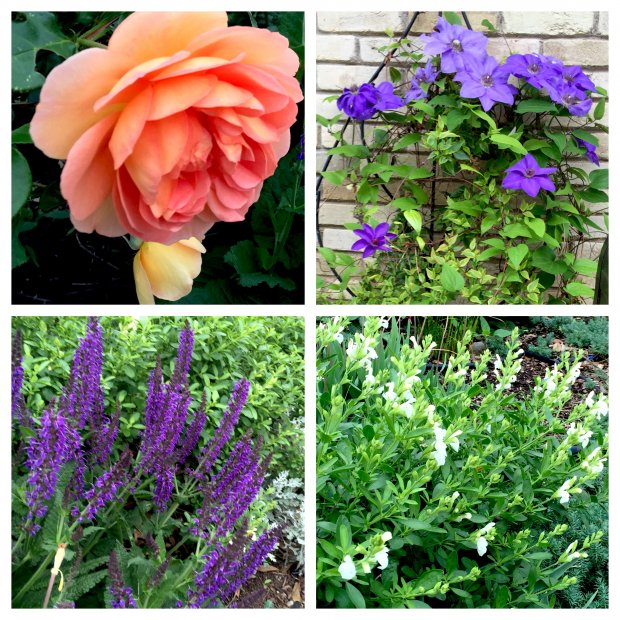 These are images of plants hitting their third year in my garden, when they really started to put on a show (after looking fairly pathetic for the first two years). Rose 'Pat Austin', Clematis 'Ramona', Salvia 'May Night', white Autumn Sage.
For most small shrubs, vines, perennials and perennial bulbs, the third year in the garden is the charm. As the old garden saying goes "the first year they sleep, the second year they creep, the third year they leap!"
When newly planted, you must remember that your plants are basically still container plants with a limited root system. You're going to have to water them more often and you can't expect much top growth within the first year. Most of the plant's energy needs to go towards developing a vigorous root system with which to take up water and nutrients.
By the second year, plants will begin to put on some top green growth, but don't expect peak performance or an abundance of blooms. Roses and perennials may still seem a bit scraggly. This is the stage when you might start questioning your plant choices and think that they "should be looking better by now". Hold tight.
It's typically the third year in the garden in which your plants will begin to reward your patience. This is when they'll start to look like the specimens you see on the tag or in that glossy plant catalog. You'll typically see a growth spurt of top growth and blooms. Now, this doesn't mean that it takes three years for all plants to reach their mature size; while many herbaceous perennials will come into their own during the third year, it often takes much longer for larger shrubs and trees to reach their desired size. But it is the time when you can expect to see a significant flush of new growth on most plants.
Now, for larger trees know that it often takes much longer for them to get established. The three year rule is still works for most trees 10-gallons, or smaller, when planted. Large-caliper trees can take more than three years to really begin to put down a good root system and start putting more energy into top growth.
So before you rip out your scraggly perennials or blame your landscaper and and ask for replacement plants, remember that just like you would your toddler, you need to give your plants a chance to grow out of their terrible twos.
Mar 10, 2017
Daffodils are about to throw down in Dallas.
If you love daffodils like I do, then you might also be tapping your fingers on the window whilst repeating "open, open, open…". Daffodils are just about to throw down in Dallas. You may have seen a handful pop open just before this last ice event. While it might be tough for some of those blooms to recover, there are plenty on the way that have yet to open. If you want to add daffodils to your garden this fall, now is the time to start paying attention to what's blooming so you can pick your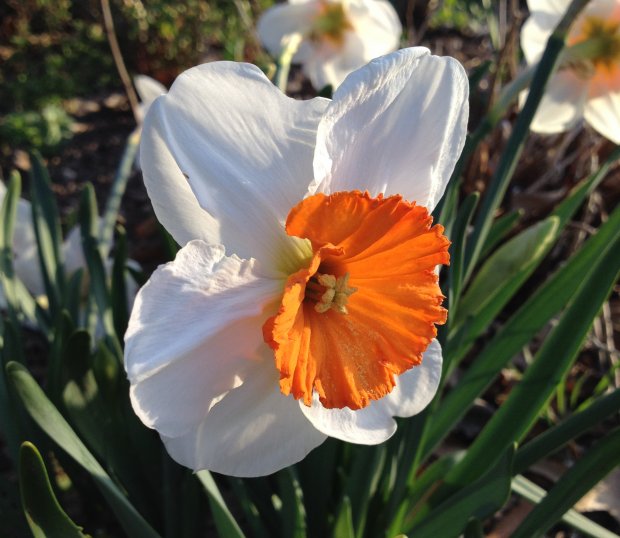 Narcissus 'Professor Einstein' dressed smartly in orange.
Planting these easy-to-grow bulbs is one of the best things you can do to brighten up late-winter landscapes. With at least 25 different species of Narcissus spp., and more than 13,000 hybrids available, possibilities seem endless. Mail order catalogs offer the most variety when it comes to purchasing daffodil bulbs, but choosing the right ones can be like rolling the dice. While traditional yellow trumpet daffodils are the most recognized daffodils, they certainly aren't the only choice for Texas gardens. In fact, many of of the trumpet daffodils can leave you disappointed if you were hoping to perennialize or naturalize your bulbs. Large-cupped, Small-cupped, Triandrus and Jonquil hybrids tend to perform better in our climate and soils.
Here are a few of my less traditional daffodil favorites:
'Thalia' (Triandrus daffodil) If you love white flowers then 'Thalia' should be at the top of your list. This tough and reliable perennial creates large clumps and features pure white flowers with a wonderful fragrance. Each stem produces clusters of 2 to 3 blooms. A late-bloomer, 'Thalia' will close out the daffodil season in April.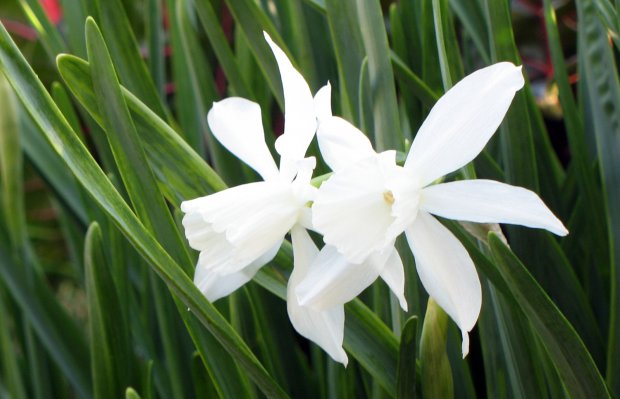 Narcissus 'Thalia is stunning in white.
'Professor Einstein' (Large-cupped daffodil) I can't resist a pop of bright orange in my garden, so 'Professor Einstein' is a must-have. The bright orange cups paired with pure white petals creates a showstopping combination. This award-winner is a good perennializer in our climate.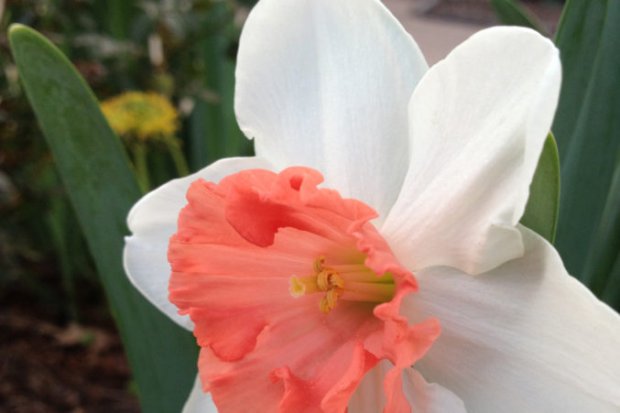 'Chromacolor' (Large-cupped daffodil) I have a hard time resisting the peachy-pinked cupped daffodils as well…I'd have to say 'Chromacolor' is the best of them. The huge flowers can reach 5-inches in diameter with an intense coral to pink cup. One-of-a-kind and gorgeous.
Sep 14, 2016
Once you get addicted to gardening, you'll also find yourself addicted to certain plants. One such addiction of mine is the Iceland poppy. They never get boring, are always in style and I'd plant them year-round if they'd only cooperate.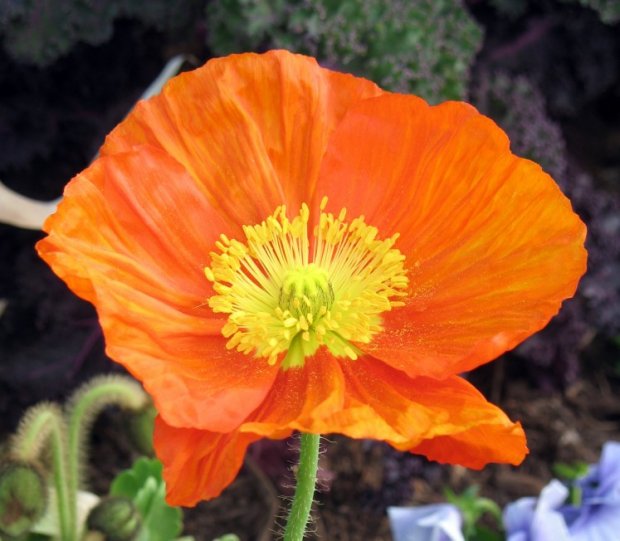 Iceland poppies are technically a perennial, but behave as such only in the northernmost parts of the United States and into Canada. In our climate, Iceland poppies should be treated as a cool-season annual, or biennial, if you will. In Texas, it's best to plant Iceland poppies in the fall, along with your pansies and violas. This allows them to put on a larger root system and thus produce a bigger spring show of blooms. Plants will bloom in the fall and until the first hard frost. Often, they will continue putting on blooms through the winter. Hard frosts will nip the blooms, but won't hurt the plants. In spring, you'll be rewarded with a burst of blooms in late February or early March, to accompany your tulips and daffodils. Plants will continue to flower until temperatures heat up in mid- to late May. Iceland poppies don't like the heat and will die off with the onset of summer.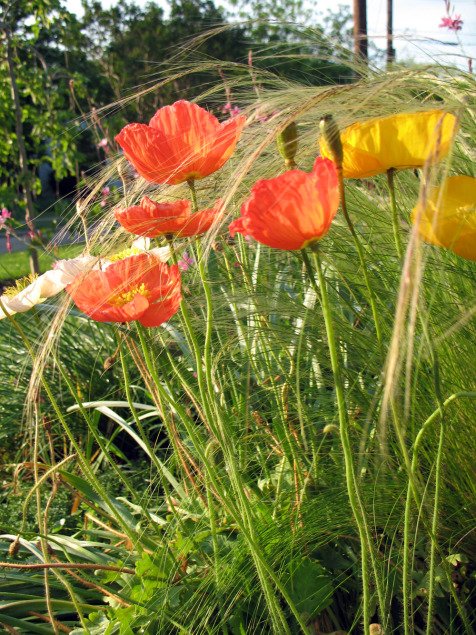 Iceland poppies make a loving spring companion to Mexican feather grass.
Every part of the poppy plant, from the silvery foliage to the unique furry flower buds, offers a bounty of interest. They are the perfect companion for other cool-season plantings such as parsley, kale, pansies and violas. In its natural state, Papaver nudicaule is usually found in shades of white and yellow. The recessive colors of orange, pink and red are brought out through selection, and all colors are generally offered as a mix in the garden center.
You can also plant Iceland poppies in the spring, but you'll get a much better show from them if you plant them October through November.
---