Blog posts categorized as: Making More Plants
Oct 7, 2017
Fall and winter are seasons that compel me to make more plants...be it by seeds or vegetative cuttings. Succulents are some of the easiest plants to propagate; all you need is one leaf and you can generate new plantlets.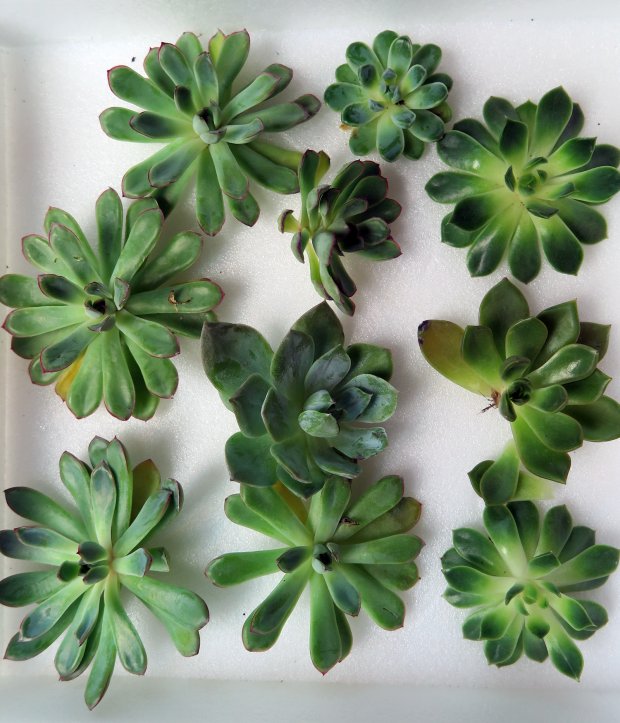 I was gifted this lovely pile of echeveria "muffin tops" that were left over from some wedding floral arrangements. There's no need for them to go to waste, they can be rooted as brand new plants!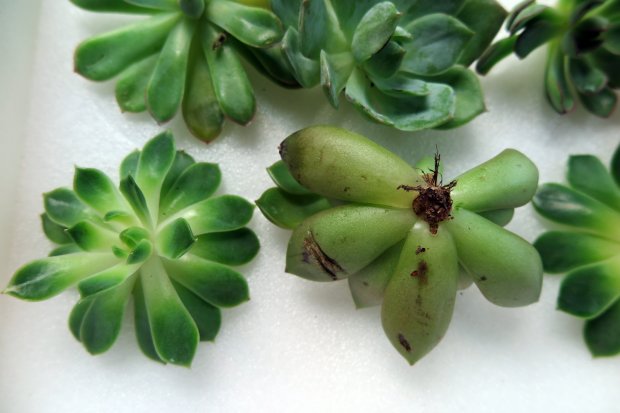 If you turn over the succulent tops, you'll see a stub leftover from the original stem. This section of stem can generate new roots. You want to let the cuttings dry, or cure, for a bit before you set the tops in new soil. Once they've begun to seal over, you can simply take the tops and set them on top of some potting soil in a tray or a new pot, making sure that the base/stem section is in contact with the soil (it doesn't need to be buried much). You can add a little moisture to the soil, but do not keep it wet or your succulents will rot before they root. Within a week or two, new roots will begin to develop from the base of the stem.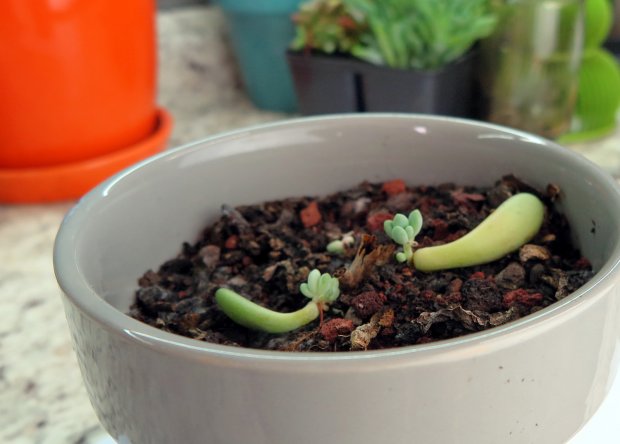 As I mentioned before, you can also grow new succulents from a leaf. When leaves fall naturally from a succulent, they can develop new roots from the base of the leaf tissue, and generate a new plantlet, as you can see in the photo above. So cute! All you need to do is set the leaf on top of soil, you don't need to bury it.
If you remove a leaf from a succulent to root it, make sure the entire original base of the leaf structure is intact, not broken or cracked. Again, it's best to let the leaves sit out to dry/cure a bit so the exposed leaf base isn't wet when you set it on top of the soil.
Making more plants? Always a good idea!
Oct 6, 2017
It just so happens that as I'm working on my new book on plant propagation, it's also the perfect time to collect and save seeds. During the fall season many plants form their final seed heads that are prime for the picking. Sowing seeds is one of the simplest and most inexpensive ways to grow more of the plants you love. But if you don't pay attention to the garden right now, you may miss out on collecting some of your favorites.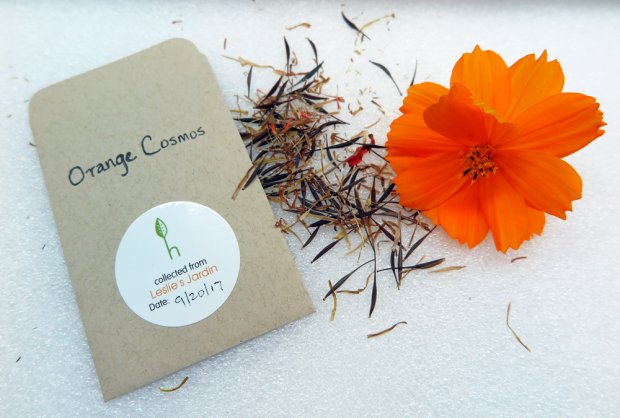 Orange Cosmos Flower and Seeds
Some plants are prolific seeders, such as orange cosmos; one of my favorite orange annual flowers. Right now plants are absolutely covered in mature seeds ready for the taking.
Plants I'm collecting seed from in my garden right now:
Cosmos
Tassel Flower
Clematis
Basil
Tomatoes
Peppers
Garlic Chives
Borage
Malabar Spinach
and more...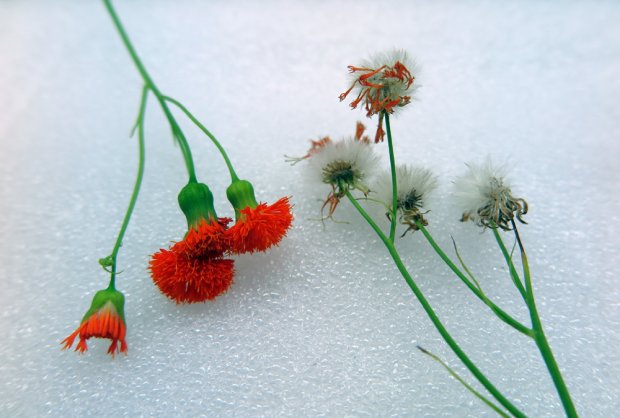 Orange Tassel Flower - flowers and seed heads
When collecting seeds it's best to allow seeds to mature and dry completely on the plant (unless of course you're harvesting tomato seeds, which are wet seeds that benefit from fermentation prior to storage). Keep your seeds in a dry sealed container. You can keep non-tropical seeds in the refrigerator to preserve them longer, but they must be kept dry in a sealed water-tight container. Be sure to mark your seed container with the date you collected the seeds, as over time germination rates wil decline.
So, if you want to collect seeds, now is a great time to look around your landscape for freebies!