Blog posts categorized as: General Gardening
Oct 6, 2017
It just so happens that as I'm working on my new book on plant propagation, it's also the perfect time to collect and save seeds. During the fall season many plants form their final seed heads that are prime for the picking. Sowing seeds is one of the simplest and most inexpensive ways to grow more of the plants you love. But if you don't pay attention to the garden right now, you may miss out on collecting some of your favorites.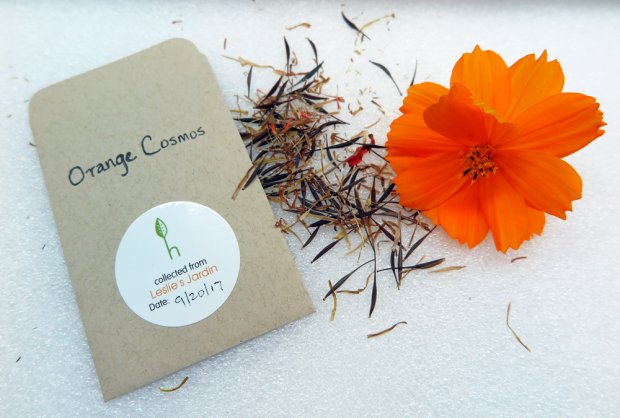 Orange Cosmos Flower and Seeds
Some plants are prolific seeders, such as orange cosmos; one of my favorite orange annual flowers. Right now plants are absolutely covered in mature seeds ready for the taking.
Plants I'm collecting seed from in my garden right now:
Cosmos
Tassel Flower
Clematis
Basil
Tomatoes
Peppers
Garlic Chives
Borage
Malabar Spinach
and more...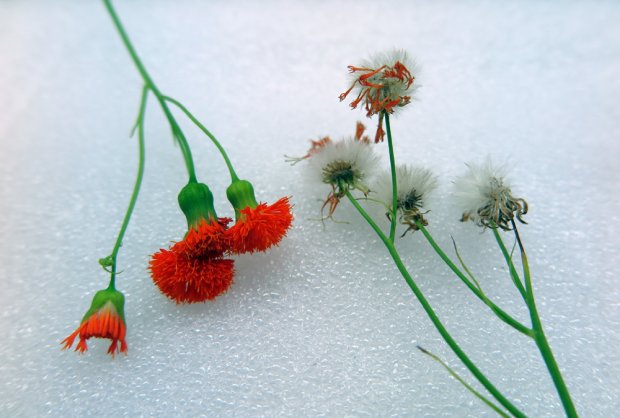 Orange Tassel Flower - flowers and seed heads
When collecting seeds it's best to allow seeds to mature and dry completely on the plant (unless of course you're harvesting tomato seeds, which are wet seeds that benefit from fermentation prior to storage). Keep your seeds in a dry sealed container. You can keep non-tropical seeds in the refrigerator to preserve them longer, but they must be kept dry in a sealed water-tight container. Be sure to mark your seed container with the date you collected the seeds, as over time germination rates wil decline.
So, if you want to collect seeds, now is a great time to look around your landscape for freebies!
Jul 5, 2017
It's too dang hot outside. I don't blame you if you want nothing to do with your outdoor garden at the moment. So why not take a break from the heat and focus your green thumb on your indoor garden? Now is a great time to refresh the indoors with some easy-care houseplants. Here are a few of my favorites for brown-thumbs and small spaces:
ZZ Plant: Short for Zamioculcas zamifolia (hence the nickname) is about as forgiving as a houseplant can be. ZZ plants can be grown in low-light indoors and hold up to rare waterings. If you forget to water or don't have bright light in your home this one's for you.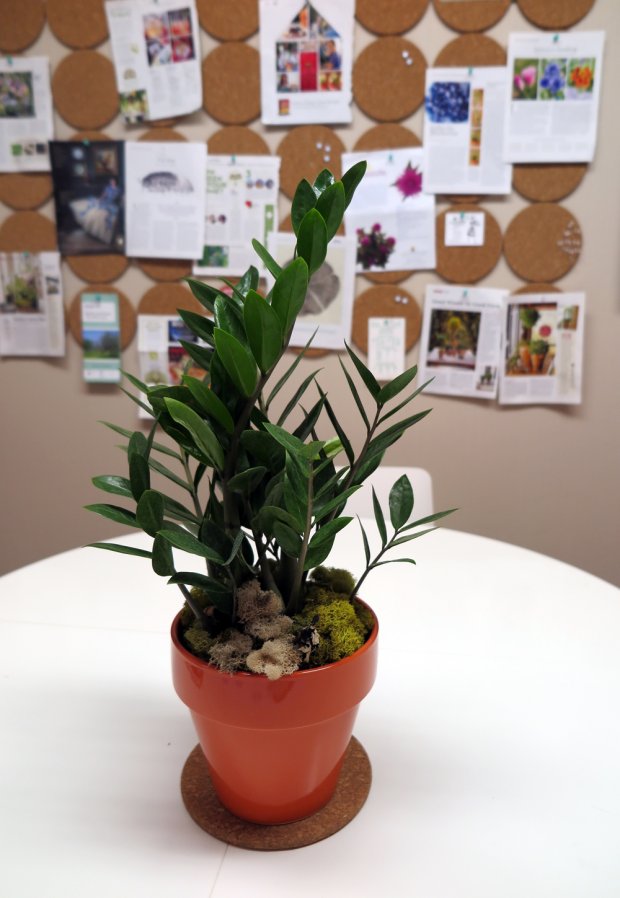 Mother-in-law's tongue: Sansevieria sp. earned their common name for their sharp, tongue shaped leaves. But it's their tough-as-nails constitution that makes them the perfect plant for hardcore plant abusers. Again, this plant will tolerate now light conditions and sparse waterings. I once tortured one in my office during grad school just to see how long it could go without water. It made it 9 months before it ever showed the slightest bit of stress.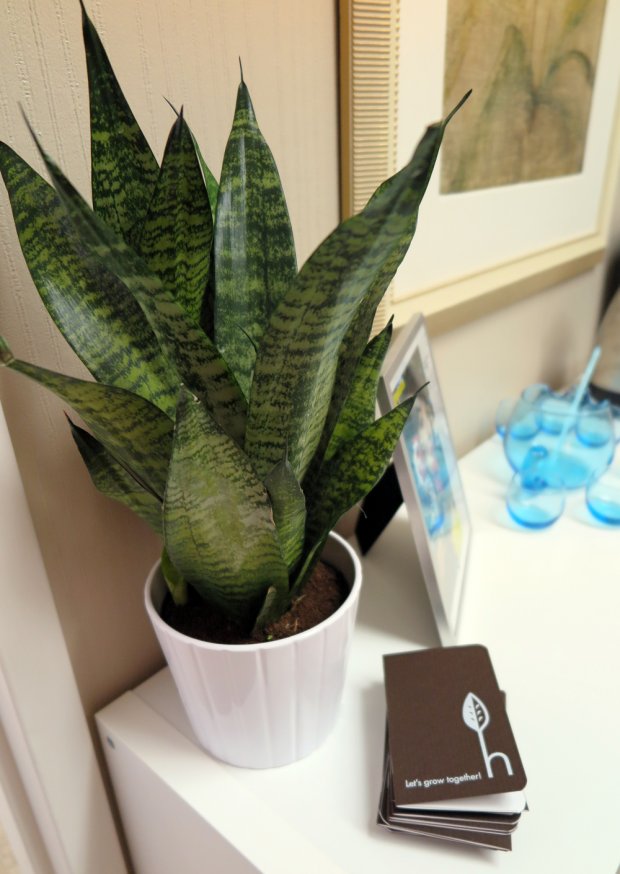 Chinese evergreen: Aglaonema sp. are easy to care for and new varieties offer up striking foliage colors. The new Aglaonema 'Red' sports wide tropical leaves splashed with shades of red and pink. Chinese evergreen will tolerate low-light, dry indoor air and forgetful waterers.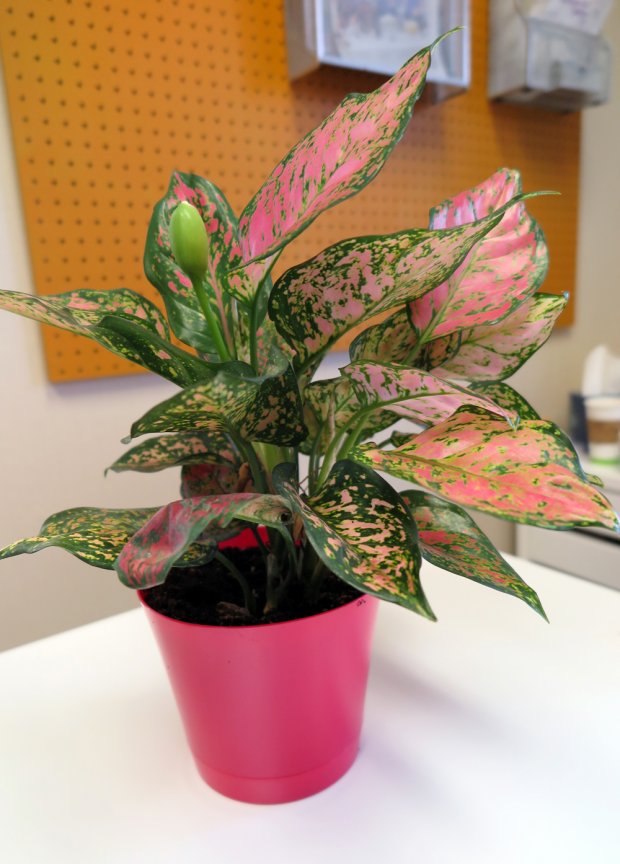 Now is a great time to feed your gardening need, but still stay out of the heat, by freshening up your home or office with a few new houseplant companions.
Jun 23, 2017
If you recently looked at the temperature forecast for the upcoming week you probably ended up uttering something along the lines of "ugh". With temperatures soaring into the high 90s, most of us are beginning to spend more time indoors. Despite the heat, your garden doesn't have to look dull; there are some plants that still strut their stuff in the midst of our ridiculous summer temperatures. Here are a few of my faves: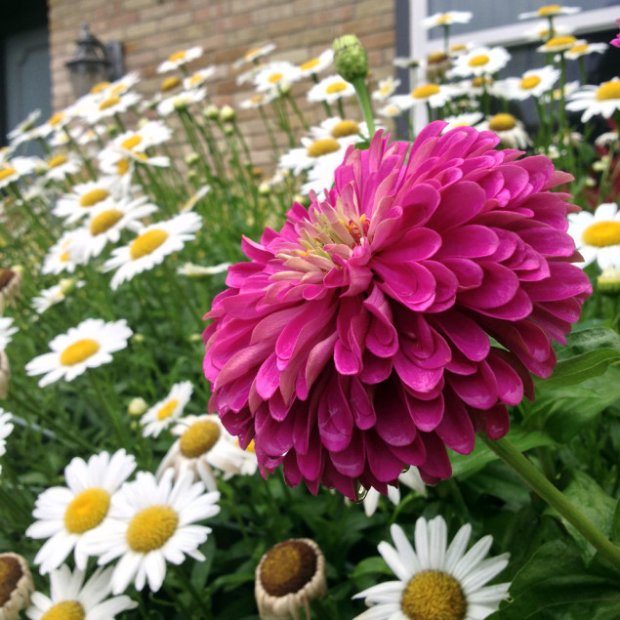 Old fashioned zinnas simply don't get the attention they deserve these days. If you're looking for easy to grow, heat-tolerant annuals you can grow from seed, there's hardly a better performer than tall zinnas. I throw seed out in the garden in spring, step away and let them do their thing with little to no follow up care. They make great cut flowers as well.
See those white and yellow daisies in the background of the photo? Those are shasta daisies. Shasta dasies are an easy and low-maintenance perennial plant that puts on an impressive show of spring-like blooms all summer. Again, a great cut flower.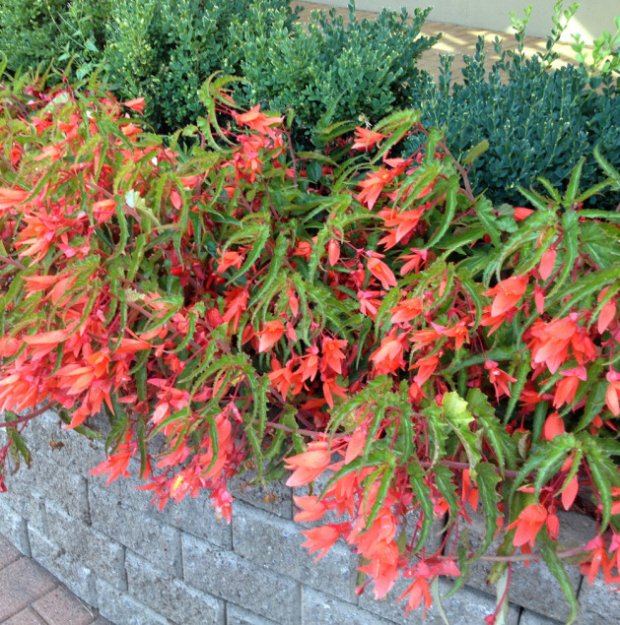 Begonias are as stable of the summer garden here in Dallas, but often you'll see the common garden begonia looking less than perky in August. Begonia 'Bonfire' bucks that trend and puts on a spectacular show through the heat of summer.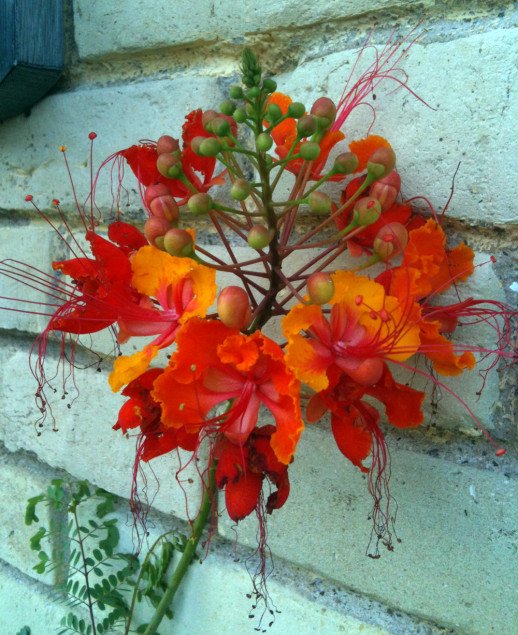 Mexican bird of paradise is not only stunning in the landscape, but stunning when temperatures seem unbearable. This large tropical shrub makes quite the summer statement and the hummingbirds love it.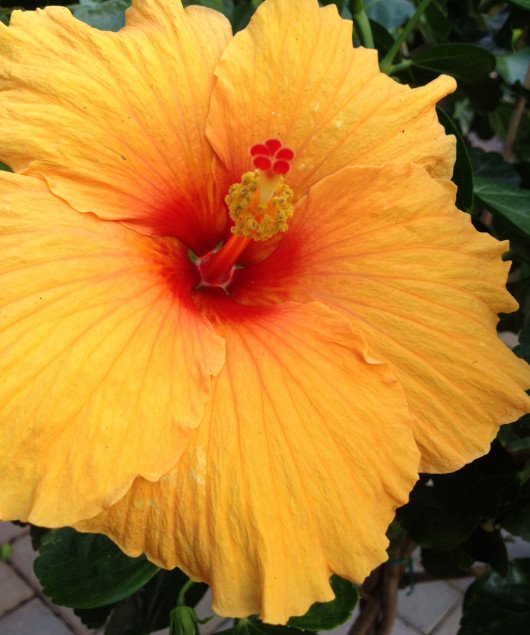 Hibiscus of all colors and sizes thrive in our intense summer heat. Their large and brightly colored blooms will bring your summer landscape to life; plus fill it full of butterflies.
There are many tropical summer bloomers that not only take the heat, but look great right through it. If your patio containers need a refresh, now's a good time to hit your local garden center for heat-tolerant bloomers.
Jun 19, 2017
I think most of us have been shocked by the heavy doses of rainfall and flooding we've experienced the last few springs in the Dallas area. We just had another rainy day and more storms may be coming through. While rain is usually more than welcome around these parts, excess rainfall does present some challenges to our landscapes.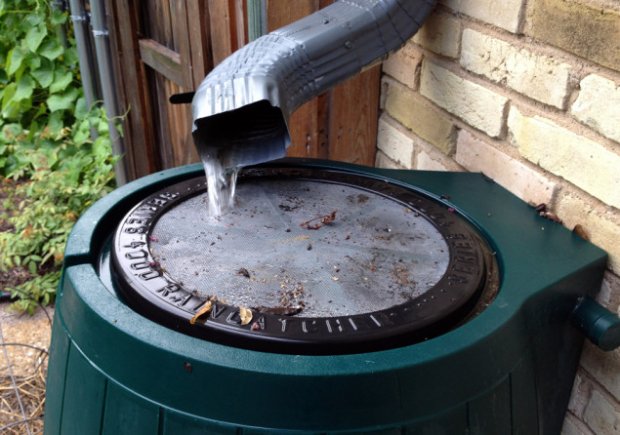 Be sure your rain barrels are covered to prevent mosquitoes from breeding.
Some of the issues you may be having in your garden as a result of all the extra moisture include increased insect and disease populations. Fungal diseases are especially happy right now. Black spot on roses, sooty mold on ligustrum, entomosporium leaf spot on photinias and Indian hawthorn to name a few. Brown patch, gray leaf spot and take all root-rot are in just about every St. Augustine lawn in town. Reduce the frequency with which you're watering and limit any supplemental watering to the early morning. Night watering breeds lots of fungus. If it's rained in the last week, do not run your sprinklers.
Insects that have been a problem this spring include whiteflies, mealy bugs, slugs, pill bugs and tent caterpillars. Slugs can be treated with Sluggo, a natural product, pill bugs can be knocked out with Spinosad and caterpillars treated with Bt (Bacillus thuringiensis). Mosquito populations are also booming due to the consistent moisture. Mosquito larvae can also be killed using the granular form of Bt, available in both bits and dunks. This is the best method (besides eliminating standing water) to prevent mosquito infestations. Visit your favorite local garden center for great tips on how to handle these diseases, pests and treatments.
Remember that your established landscape (trees, shrubs, turf) only needs an average of 1" worth of rainfall per week; be it from actual rainfall or your irrigation system. Water-wise and drought tolerant plants need less. So as long as the rainfall continues, keep those irrigation systems turned off. Once the rain subsides, you can add back in a weekly watering if you feel your plants are beginning to show signs of stress; as well as watering your foundation. Twice-per-week lawn watering is typically only ever needed in late-July and August when temperatures soar to the 100s. Even then, healthy lawns with a deep root system won't need watering that often. New plantings will require additional waterings until they root-in and become established. Remember that Dallas watering restrictions are permanent and are still in place despite the recent rains.
Even if you see our expansive clay soil cracking after heavy rains, realize that there is probably still a fair amount of moisture in the soil beneath those cracks. Those cracks are a result of the clay soil quickly shrinking at the surface as temperatures rise after heavy saturation. Over-watering your lawns and landscapes will only lead to more root rot diseases and overblown insect problems
Sep 14, 2016
Once you get addicted to gardening, you'll also find yourself addicted to certain plants. One such addiction of mine is the Iceland poppy. They never get boring, are always in style and I'd plant them year-round if they'd only cooperate.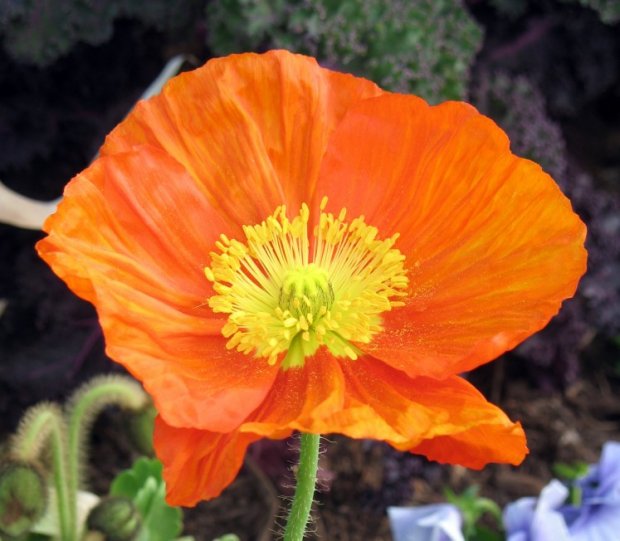 Iceland poppies are technically a perennial, but behave as such only in the northernmost parts of the United States and into Canada. In our climate, Iceland poppies should be treated as a cool-season annual, or biennial, if you will. In Texas, it's best to plant Iceland poppies in the fall, along with your pansies and violas. This allows them to put on a larger root system and thus produce a bigger spring show of blooms. Plants will bloom in the fall and until the first hard frost. Often, they will continue putting on blooms through the winter. Hard frosts will nip the blooms, but won't hurt the plants. In spring, you'll be rewarded with a burst of blooms in late February or early March, to accompany your tulips and daffodils. Plants will continue to flower until temperatures heat up in mid- to late May. Iceland poppies don't like the heat and will die off with the onset of summer.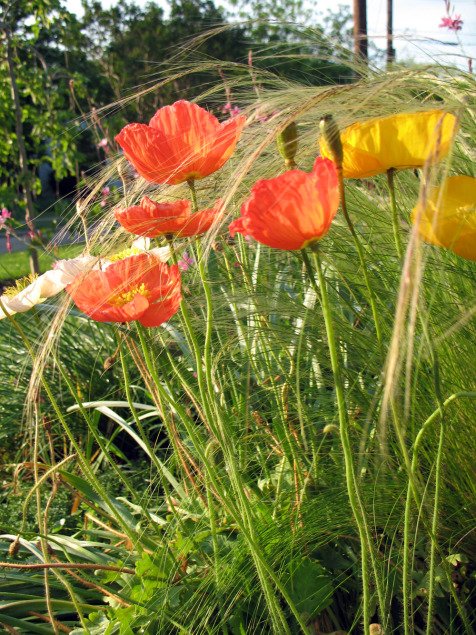 Iceland poppies make a loving spring companion to Mexican feather grass.
Every part of the poppy plant, from the silvery foliage to the unique furry flower buds, offers a bounty of interest. They are the perfect companion for other cool-season plantings such as parsley, kale, pansies and violas. In its natural state, Papaver nudicaule is usually found in shades of white and yellow. The recessive colors of orange, pink and red are brought out through selection, and all colors are generally offered as a mix in the garden center.
You can also plant Iceland poppies in the spring, but you'll get a much better show from them if you plant them October through November.
Jun 23, 2016
When we lived in Little Forest Hills, my husband and I had two-mile route we walked regularly through the neighborhood. Around the corner from our house was a lovely mature fig tree. One day, during one of our walks, he commented on the tree and asked what it was. "Well honey, that's a fig tree" I replied. "You mean, like Fig Newtons??" he asked in all seriousness. "Yes dear, that's a Fig Newton tree." I laughed, he laughed, and to this day every fig tree he sees is a "Fig Newton tree". This story reminds me that not everyone is that well acquainted with figs or how to grow them.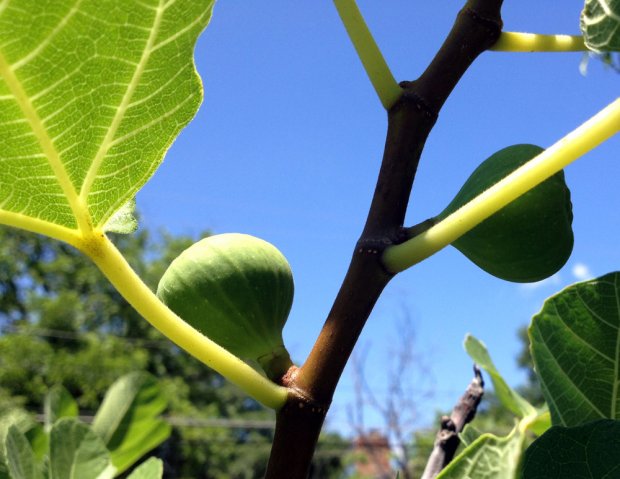 Fig plants need a full sun exposure to produce fruit. Full sun means a minimum of 6-hours of direct sunlight, but more is better. Make sure to find an open site with sun most of the day. If possible, plant figs on a southern exposure where the early developing fruit will be more protected from winter cold.
Mature trees are cold hardy to about 15 or 20 F. However, we often drop below 15 F in Dallas during winter months, which can kill all of the top-growth on your fig plants. Most often they'll grow back from the root zone, but it does set you back in terms of fruit production.Depending on the variety, they can quickly reach 15 – to 30-feet tall. While figs tolerate many different soil types, good drainage is key. Don't plant them in low spots in the garden where excess moisture accumulates.
Note that in times of heavy rainfall, plants may experience a growth spurt and push off developing fruit. So if you've lost many fruits at one time, it's most likely due to excess watering or rainfall in a short period of time.
Some of the best common fig varieties for Dallas are 'Celeste', which is very cold hardy, 'Brown Turkey', 'Alma', 'Magnolia' and 'Kadota'. We have four Fig Newton trees in our current garden, including 'Brown Turkey', 'Celeste' and 'Italian Black'.
Fig Fact: Common figs are unique in that they do not require pollinators for the fruit to develop. What you're actually consuming when you eat a fig is modified stem tissue, rather than mature ovary tissue. In common figs, both the male and female flower parts are inside the stem tissue. What you find in the fruit that look like "seeds" are actually just unfertilized ovaries that did not make fruit.
Jun 17, 2016
The basil is coming on strong in the summer garden and it's time to start harvesting.
While its closest association is with Italian cooking, basil is actually native to India and used extensively in Indian cuisine. This fragrant and flavorful member of the mint family was originally only used for medicinal purposes. Basil tea was used to treat anything from digestive problems to headaches and anxiety. Today, basil is a culinary essential and there a multitude of varieties and flavors to choose from. With more than 150 species of basil currently grown around the world, the choices can be almost overwhelming. Scents and flavors range from lemon and anise to cinnamon. There are large-leafed sweet basils that grow large and bushy, small-leafed upright varieties such as 'Sweet Aussie' and even a tiny-leafed miniature variety called 'Boxwood'. No matter your space or size of container, there is likely a Basil variety just right for you.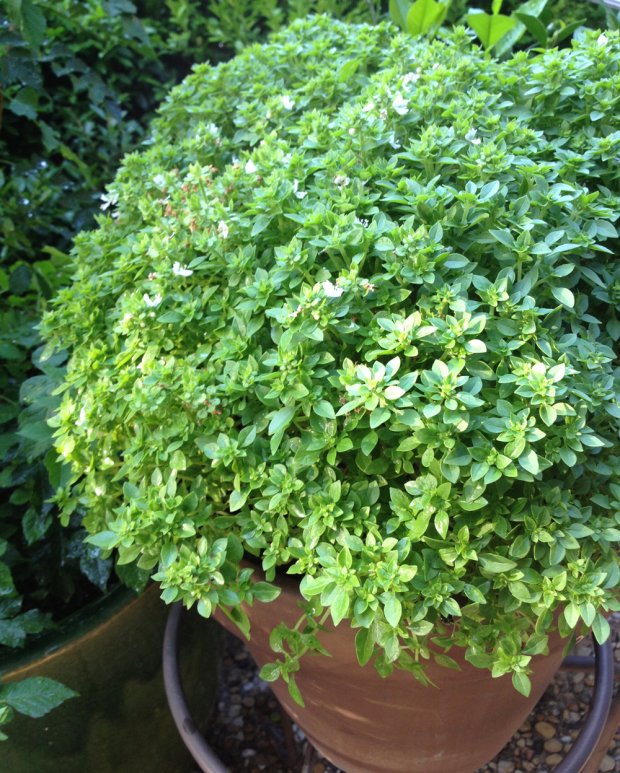 Basil 'Boxwood' has tiny leaves and a natural globe shape.
If you're as addicted to making fresh pesto as I am then a regular supply of fresh basil in the garden is a must-have. Once you've made your own pesto, store-bought pesto just won't do. The challenge with basil can be its tendency to go to flower and seed quickly and abundantly, leaving you with leggy plants that won't continue producing much if any foliage. You'll need to keep flower buds deadheaded proactively to keep plants producing new leaves. 'Pesto Perpetuo' is a variety that doesn't flower, leaving you with an endless supply of fresh foliage to harvest.
If you haven't yet planted your basil, you can do so all summer-long. Plants can be grown in patio containers or mixed into your ornamental and vegetable gardens. Basil needs a full sun location and semi-regular waterings to thrive.
Mar 21, 2016
Temperatures are hitting the 80s, the fruit trees are beginning to bloom and the bees are buzzing. Spring is upon us! Finally.
With intense spring storms surely on the horizon, now's the time to give your trees a bit of post-winter TLC. If you haven't had your trees inspected by a certified arborist in a while, do so now, before wind or hail storms make it into the forecast. Often, hazards that aren't obvious to you can be lurking in your large shade trees. Damage caused by physical injury, ice or decay can quickly split large branches or fell entire trees once a strong gust of wind comes along.
Poor tree pruning runs rampant in Dallas. If the person you have hired to prune your trees shows up with a step ladder and a pole pruner, I'd highly suggest you cancel the appointment and run. Always ask for proof of ISA Certification and make sure your tree care company is insured and bonded. Pruning trees is a science and it takes knowledge and experience to do it right. One bad pruning job can ruin your precious tree and leave it more susceptible to storm damage, pests and diseases.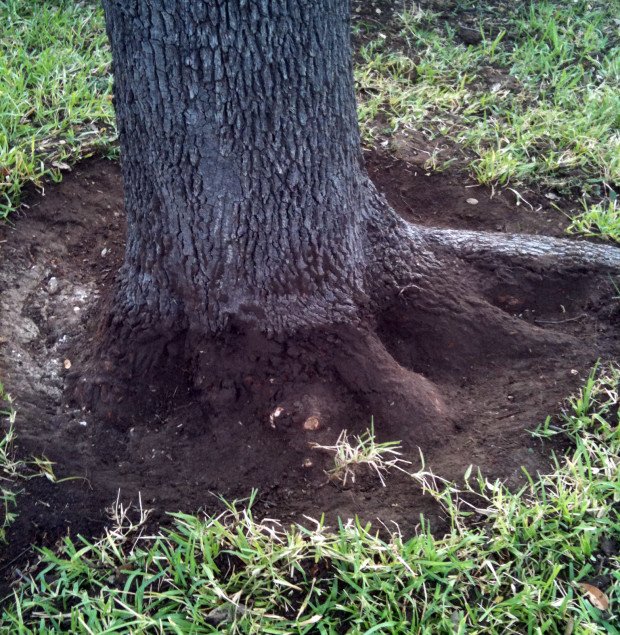 Large girdling roots were removed from this live oak and the root flares properly exposed.
Oak wilt disease is already on the move in our trees in Dallas and Fort Worth. This destructive disease can kill large oak trees within a matter of weeks. It also spreads from tree to tree through roots that connect the trees underground. If you have oak trees in high risk areas, you may want to have preventative treatments administered to your trees now. Oak wilt disease starts spreading actively around the end of February in Texas and continues through mid- to late-June. It's best not to have oak trees pruned during this time, unless a certified, qualified tree care specialist has recommended specific pruning and knows how to handle disease prevention.
I've noticed a lot of trees around town right now with girdling roots. These are roots that wrap around the base of the trunk and the large structural roots and they can cut off the supply of water and nutrients, not to mention restrict growth. Girdling roots should be professionally pruned away before they cause big problems.
I've also seen mistletoe coming on strong in many trees around town. Mistletoe is a parasitic plant that sucks water and nutrients out of your tree. Mistletoe is more easily removed before your tree has leafed out, so there's still some time to have this work performed.
---