Blog posts from October 2017
Oct 11, 2017
I have to have a bit of a horticultural temper tantrum this morning, which has to do with plant labeling...or rather incorrect plant labeling. Plant imposters, if you will. When you're planting blooming shrubs, it can take a years for plants to establish and begin to fill in to a more mature growth habit and size. So it's pretty frustrating after all that time only to end up with the wrong plant species. Such is the saga of my Texas sage.
While there are many beautiful varieties of Texas sage, my particular favorite happens to be Leucophyllum langmaniae 'Rio Bravo'. Varieties of this species differ in growth and blooming habits from the more common Leucophyllum frutescens varieties. The former having a wider base, sprawling growth habit and heavier blooming, versus the later having a wider growth habit at the top of the plant - often developing naked knees syndrome.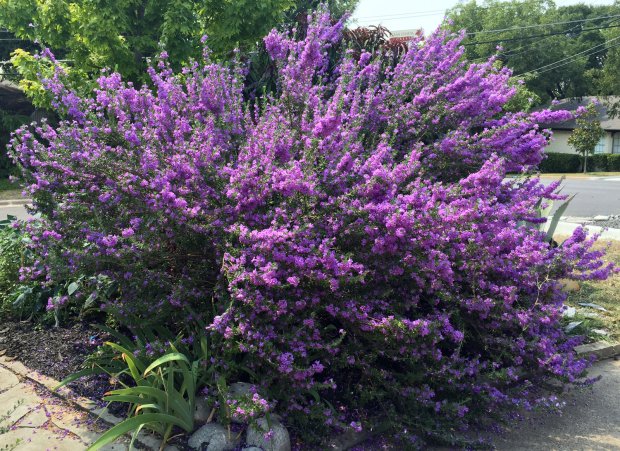 About 4-5 years ago I purchased and planted 3 more specimens of what was supposed to be 'Rio Bravo' Texas sage. I have plantings of a few types of Texas sage in my front yard and the 'Rio Bravo' is always the most stunning bloomer and the pollinators adore it. Adding a few more to my hellstrip would help fill out the space and provide more color and food for insects.
Early on, I suspected something wasn't right, as the small plants began to differentiate and the foliage didn't look similar on all three. As the three plants continued to grow and become larger, it became apparent that one plants was definitely 'Rio Bravo'...but the other two? Not sure...because they never bloomed. And I mean, never bloomed. It was bizarre. After doing some research, the best I could figure was that perhaps these two non-conformers were some sort of parent species of 'Rio Bravo'...or maybe 'Lynn's Legacy'...but again, without any flowers, I couldn't be sure. I thought, ok, whatever this variety is, maybe it has a juvenility period and it needs to mature longer before it will bloom? .
It really peeves me when nurseries and garden centers get their plant labeling wrong...it has long-term and expensive consequences for the home gardener.
By now of course, the three large shrubs have grown in somewhat different forms and don't "match"...which is highly irritating. The one real 'Rio Bravo' in the bed blooms it's head off like it's supposed to...while the other two grow in a different shape and don't bloom. Which throws the entire planting off whack. And again, I was really confused as to why these two Texas sage just refused to bloom. I've spent the last three years grappling with the idea of ripping them out and starting over. Finally last year, I got the first few blooms showing up on the two non-conformers - just a hand full in late fall. While the adjacent 'Rio Bravo' was buzzing with pollinators, not a single insect would touch the flowers on the mystery plants. So..gee...is this variety photoperiodic...a short-day plant maybe...which is why it's only putting on a few flowers in fall? I've been grasping at straws here. About a week ago I committed to just ripping the now large established shrubs out this winter and starting over.
And then THIS happened two days ago, just ahead of some rainstorms that passed through (Texas sage develop flowers in response to increased humidity, changes in barometric pressure, and rainfall):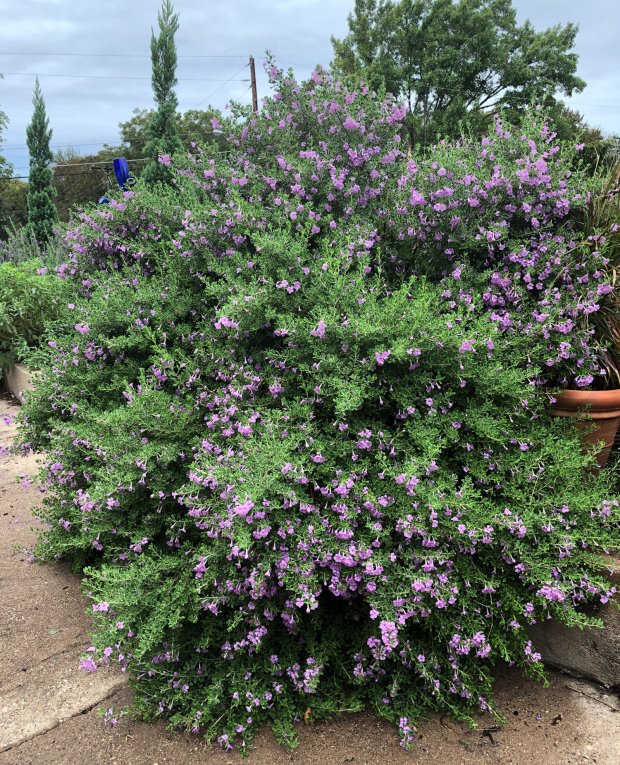 What the??!! It's like it heard me tell it I was going to rip it out...so it got to blooming in fast order! Only took 5 years. So both of these mystery plants are now in full bloom and pollinators were visiting the flowers - for the first time in my observation. Again, best I can figure these are 'Lynn's Legacy'.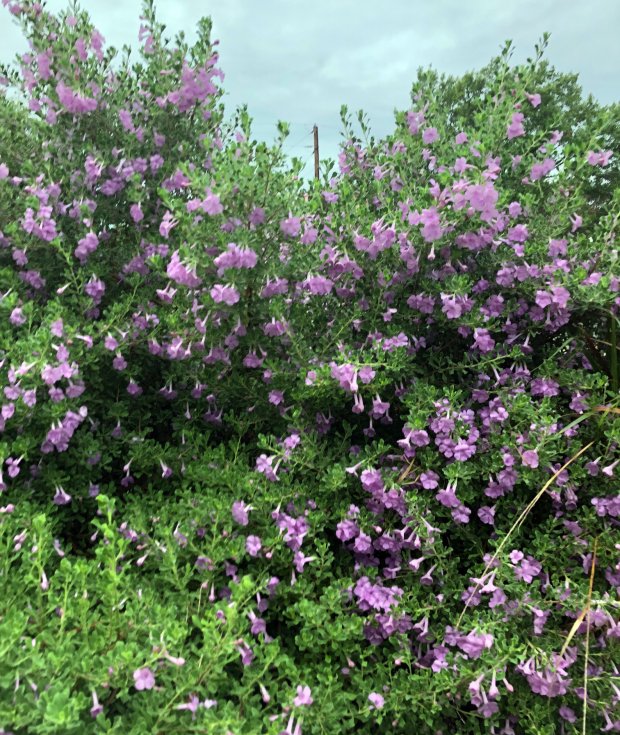 The flower are a bit too pink for my taste (I prefer the deeper violet on the 'Rio Bravo')...but now that plants are actually blooming, I have to decide if they'll stay or go. Grrr.
I've noticed a few sites online that are listing this plant as 'Rio Bravo'...so beware. Alright...plant rant over, I need to go have more coffee!
Save
Oct 7, 2017
Fall and winter are seasons that compel me to make more plants...be it by seeds or vegetative cuttings. Succulents are some of the easiest plants to propagate; all you need is one leaf and you can generate new plantlets.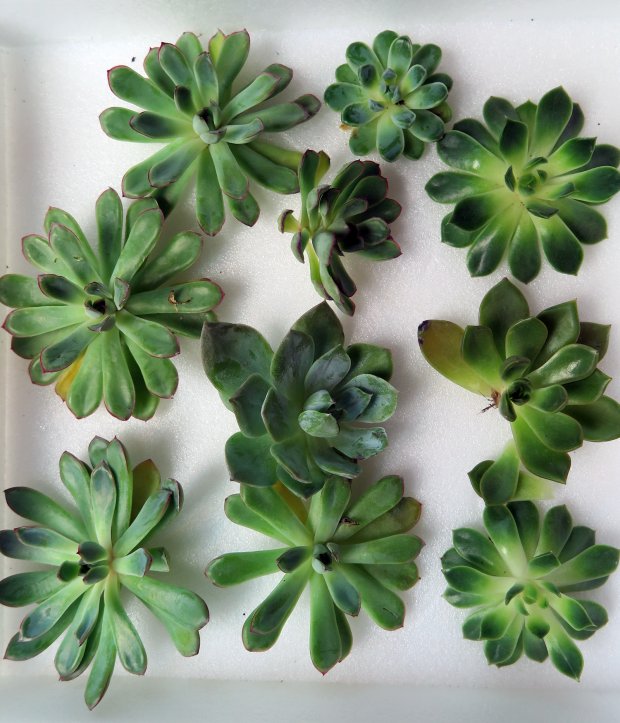 I was gifted this lovely pile of echeveria "muffin tops" that were left over from some wedding floral arrangements. There's no need for them to go to waste, they can be rooted as brand new plants!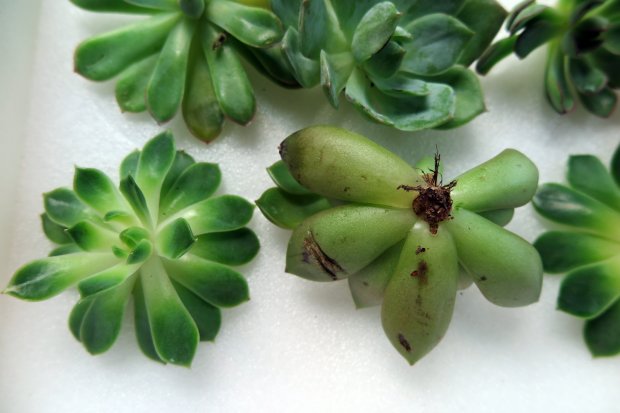 If you turn over the succulent tops, you'll see a stub leftover from the original stem. This section of stem can generate new roots. You want to let the cuttings dry, or cure, for a bit before you set the tops in new soil. Once they've begun to seal over, you can simply take the tops and set them on top of some potting soil in a tray or a new pot, making sure that the base/stem section is in contact with the soil (it doesn't need to be buried much). You can add a little moisture to the soil, but do not keep it wet or your succulents will rot before they root. Within a week or two, new roots will begin to develop from the base of the stem.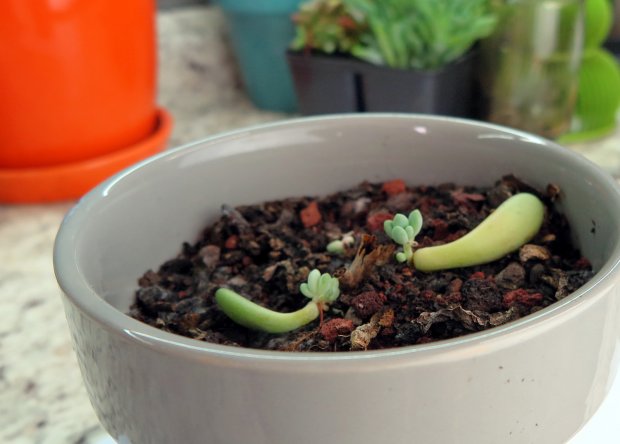 As I mentioned before, you can also grow new succulents from a leaf. When leaves fall naturally from a succulent, they can develop new roots from the base of the leaf tissue, and generate a new plantlet, as you can see in the photo above. So cute! All you need to do is set the leaf on top of soil, you don't need to bury it.
If you remove a leaf from a succulent to root it, make sure the entire original base of the leaf structure is intact, not broken or cracked. Again, it's best to let the leaves sit out to dry/cure a bit so the exposed leaf base isn't wet when you set it on top of the soil.
Making more plants? Always a good idea!
Oct 6, 2017
It just so happens that as I'm working on my new book on plant propagation, it's also the perfect time to collect and save seeds. During the fall season many plants form their final seed heads that are prime for the picking. Sowing seeds is one of the simplest and most inexpensive ways to grow more of the plants you love. But if you don't pay attention to the garden right now, you may miss out on collecting some of your favorites.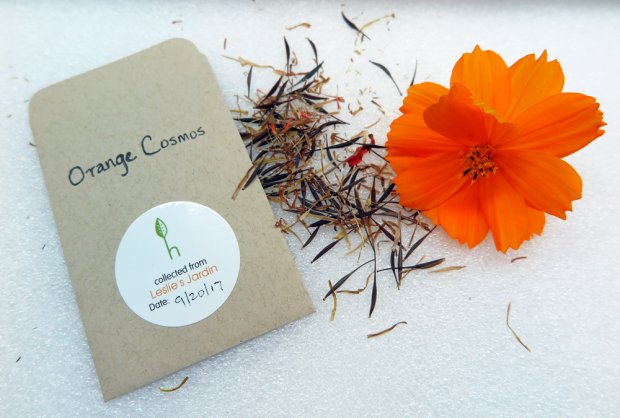 Orange Cosmos Flower and Seeds
Some plants are prolific seeders, such as orange cosmos; one of my favorite orange annual flowers. Right now plants are absolutely covered in mature seeds ready for the taking.
Plants I'm collecting seed from in my garden right now:
Cosmos
Tassel Flower
Clematis
Basil
Tomatoes
Peppers
Garlic Chives
Borage
Malabar Spinach
and more...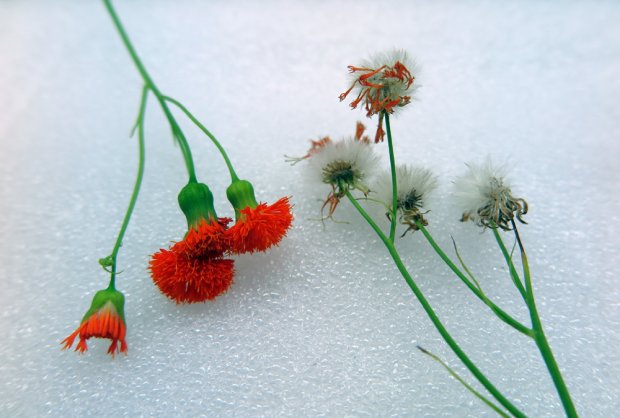 Orange Tassel Flower - flowers and seed heads
When collecting seeds it's best to allow seeds to mature and dry completely on the plant (unless of course you're harvesting tomato seeds, which are wet seeds that benefit from fermentation prior to storage). Keep your seeds in a dry sealed container. You can keep non-tropical seeds in the refrigerator to preserve them longer, but they must be kept dry in a sealed water-tight container. Be sure to mark your seed container with the date you collected the seeds, as over time germination rates wil decline.
So, if you want to collect seeds, now is a great time to look around your landscape for freebies!