Blog posts from March 2017
Mar 10, 2017
Daffodils are about to throw down in Dallas.
If you love daffodils like I do, then you might also be tapping your fingers on the window whilst repeating "open, open, open…". Daffodils are just about to throw down in Dallas. You may have seen a handful pop open just before this last ice event. While it might be tough for some of those blooms to recover, there are plenty on the way that have yet to open. If you want to add daffodils to your garden this fall, now is the time to start paying attention to what's blooming so you can pick your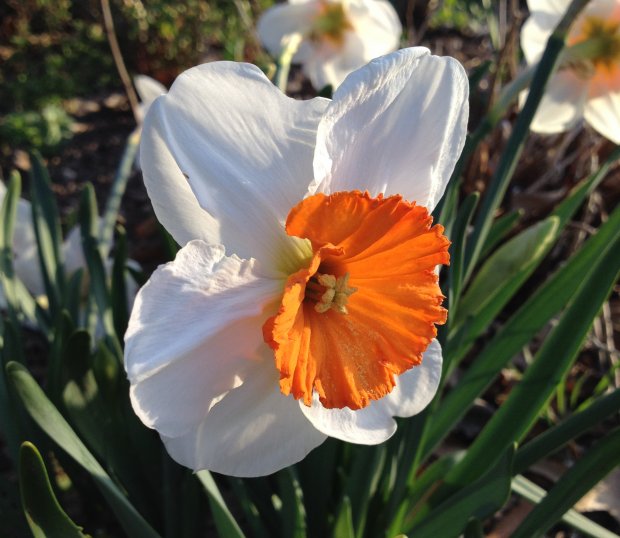 Narcissus 'Professor Einstein' dressed smartly in orange.
Planting these easy-to-grow bulbs is one of the best things you can do to brighten up late-winter landscapes. With at least 25 different species of Narcissus spp., and more than 13,000 hybrids available, possibilities seem endless. Mail order catalogs offer the most variety when it comes to purchasing daffodil bulbs, but choosing the right ones can be like rolling the dice. While traditional yellow trumpet daffodils are the most recognized daffodils, they certainly aren't the only choice for Texas gardens. In fact, many of of the trumpet daffodils can leave you disappointed if you were hoping to perennialize or naturalize your bulbs. Large-cupped, Small-cupped, Triandrus and Jonquil hybrids tend to perform better in our climate and soils.
Here are a few of my less traditional daffodil favorites:
'Thalia' (Triandrus daffodil) If you love white flowers then 'Thalia' should be at the top of your list. This tough and reliable perennial creates large clumps and features pure white flowers with a wonderful fragrance. Each stem produces clusters of 2 to 3 blooms. A late-bloomer, 'Thalia' will close out the daffodil season in April.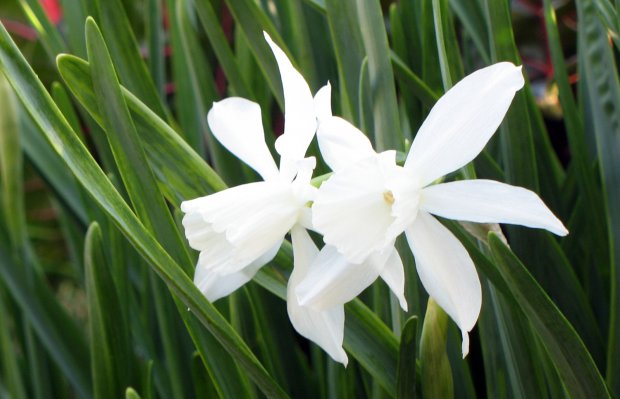 Narcissus 'Thalia is stunning in white.
'Professor Einstein' (Large-cupped daffodil) I can't resist a pop of bright orange in my garden, so 'Professor Einstein' is a must-have. The bright orange cups paired with pure white petals creates a showstopping combination. This award-winner is a good perennializer in our climate.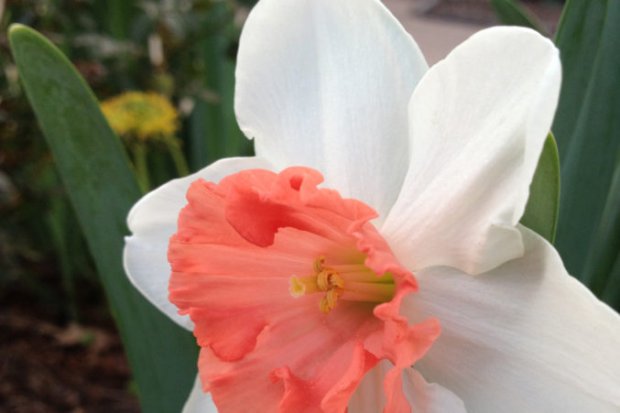 'Chromacolor' (Large-cupped daffodil) I have a hard time resisting the peachy-pinked cupped daffodils as well…I'd have to say 'Chromacolor' is the best of them. The huge flowers can reach 5-inches in diameter with an intense coral to pink cup. One-of-a-kind and gorgeous.
Mar 6, 2017
If you grow vegetables, berry bushes or fruit trees (or all of the above) then you already understand the importance of successful pollination. Flowers need to be pollinated in order to successfully produce a fruit. Even if you don't grow your own produce in your backyard, your trips to the grocery store would be pretty bleak without pollinators. While there are many pollinators in the insect world, honey bees have traditionally been the workhorse pollinators of agricultural crops. But it's not just our food crops that need pollinators. According to published research, cross-pollination by bees supports at least 30% of the world's food crops and 90% of wild plants. Bottom line: We need bees.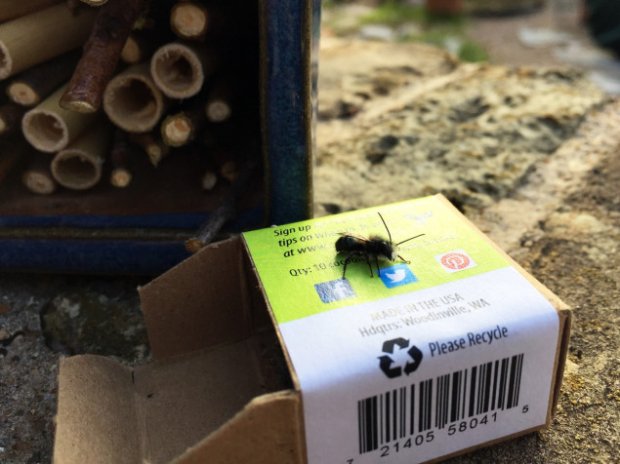 A baby blue orchard bee emerges from its cocoon in my garden. Hello!
You probably know that urbanites have taken to beekeeping with more interest in the last few years. I personally keep several honey bee hives myself. While we need more beekeepers, the reality is that beekeeping is not for everyone. It's costly, requires hands-on education and a serious commitment to tend your hives and continue learning. If you have small children that regularly use your yard, then you may not be able to accommodate beehives on a small urban property. Here in the city, you also have to take more precautions to safely keep bees, being that we all have neighbors close by. So then what do you do if you want to increase your home garden yields and help the overall bee population, but you're not prepared to become a beekeeper? Mason bees are the answer.
Did you know? There are thousands of bee species in North America other than the European honey bee. If you've ever spent time watching the blooming plants in your garden, you've probably seen many different types. If we can boost all of their populations, our food supply will be in much better shape. In fact, by boosting populations of other species, we can help mitigate some of the pressures on honey bees. Mason bees are a group of what I call "gentle super pollinators". They don't produce honey, but they don't sting or require hive maintenance. While the females do have a stinger, they rarely if ever use it. The Blue Orchard Bee, which occurs naturally in our area, is one such mason bee.
Now is the time that baby mason bees will begin hatching out of their winter cocoons. You can pick up dormant cocoons of blue orchard bees and nesting materials right now at local garden centers (call ahead to check availability or have them order for you). Mason bees, unlike honey bees, don't build honey comb in a hive. They simply nest in narrow holes or tubes they find in wood and hollow twigs. I've even seen them nesting in holes in my home's exterior brick. You can purchase mason bee houses, which you fill with paper or reed tubes. It can take several seasons for your own little mason bee population to build up and that hinges on you providing nesting material. Other than the nesting material, all you have to do is sit back and let these powerful pollinators do their thing!